SomTom Der and Zabb Elee are located within two blocks of east village. On this year's Michelin list, one Thai raised, the other fell. We visited both places in October to determine whether we should trust the system when it comes to asian cuisine.
Both SomTom Der and Zabb Elee listed to be Authentic Thai cuisine. To be specific, a Northeastern Thai region name Isan. According to wikipedia, Isan bordering with Laos and Cambodia. The majority of people that lives there are actually Laos. And the Lao's influence not only to the language there, also culture and food as well.
The one that raised is SomTom Der, got it's first star this year. With addresses in 3 different cities, we are calling it a chain. This location in alphabet city is the only one outside of Asia, the other two are in Ho Chi Ming City and Bangkok.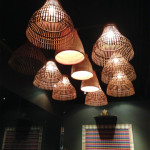 Somtum Der (one star)
Opened mid 2013, got one star this year, Somtom means papaya salad. We arrived on a early evening, the place was very empty. Despite the fact we have a reservation; the hostess said we can only be seated when all parties are here. And so we waited patiently at the little bench at the entrance. Our co-conspirator was running very late that night. After about half an hour, we finally asked to be seated so we can start ordering. Turns out that we just need to ask the right person.
Long commute table in the middle, fish traps lights, pine wood wall & ceiling. Very modern asian. Huge menu with colorful pictures, everything looks appetizing, but a bit confusing. The sets of menus we were given did not match each other. Make it somewhat difficult for us to communicate what item on what page we want to order. On the last page of the menu, there are two full pages of "Recommended Combination", but no price listed. There were a set that matches what we were going to order, so we asked the waitress.
"Oh these are only suggestions of what would be a good combination. They are not actual sets. You would still have to order them individually." She explained.
WHAT?! I'm confused!!
You have a nice idea, already put together, but not go through with it. I don't understand.
So we continued to study the menu. They don't have pork neck meat!?!  But they have raw sausage…? That's interesting. Never had raw pork sausage before. Didn't think pork can be eaten raw. But we tried it anyway. It was… interesting. Didn't taste like pork at all. Wasn't smoky either. The texture was kind of like the cold spicy chicken feet that you can found in Hong Kong dim sum. It is definitely interesting, but not sure if I would want to order it again though.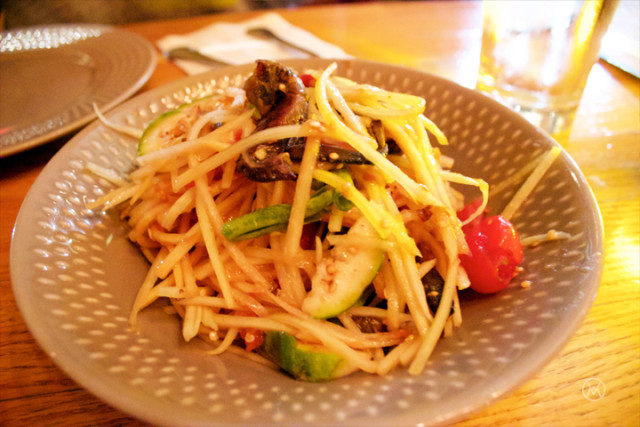 SomTom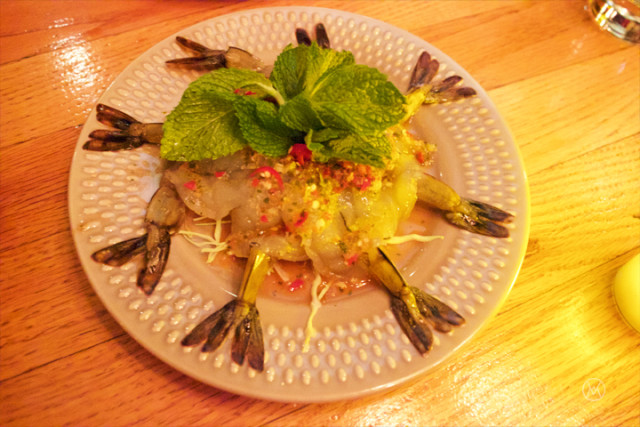 Goong Chae Nam Pla– Thai prawn sashimi with house special green chili sauce.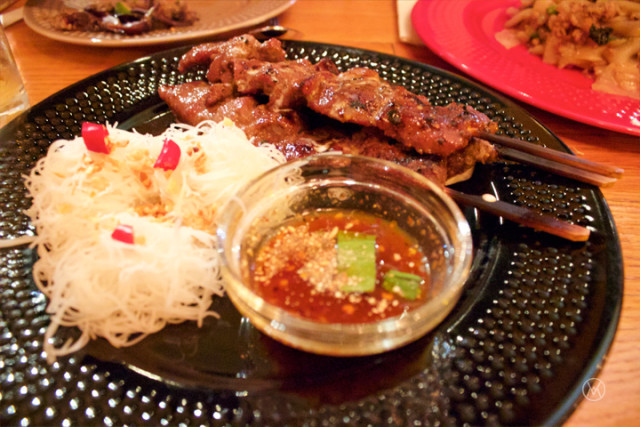 Moo Ping Kati Sod– grilled coconut milk marinated pork skewers.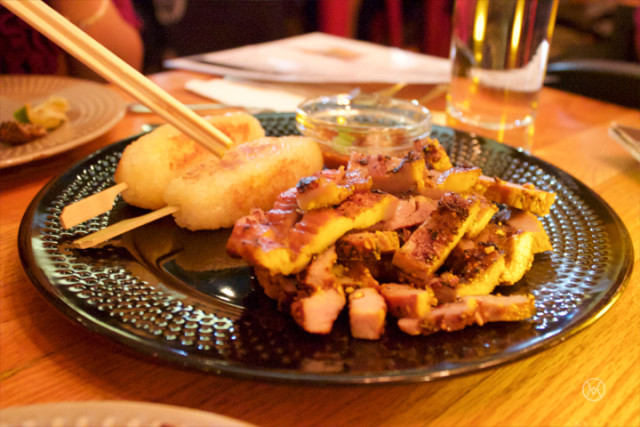 Moo Rong Hai Der & Khao Ji– house special grilled marinated pork.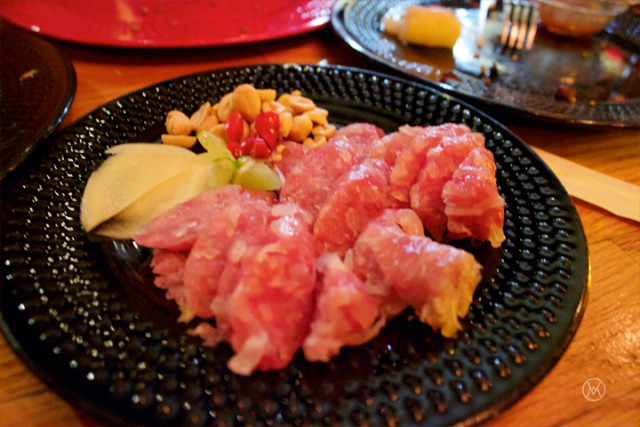 Nam Sod– marinated raw pork sausages
Food are decent, but nothing to write home about. Service is warm but slow. Aside from missing order, dishes came out fairly slowly. Some certain staff obviously need training, he couldn't help us with the menu, and don't know what some of the dishes are either. Is it worth a michelin star….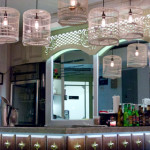 Zabb Elee went another direction on décor. It is clean and white. Instead of fish trap, they use bird cage instead, for the lights over the bar.. What's up with Asian and cages?? It is simple and elegant here. Staffs are nicer and service is faster here.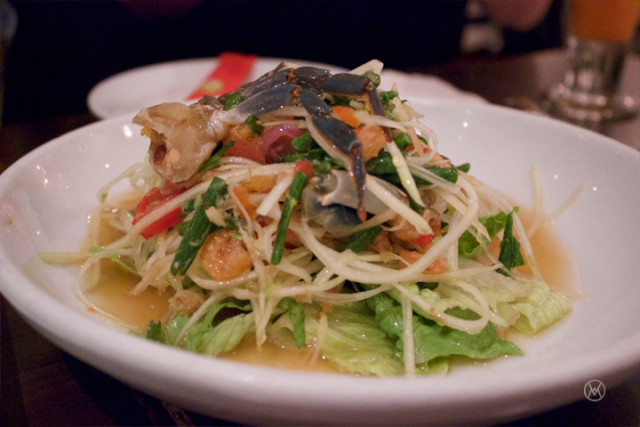 Som Tom Poo Plara– Papaya salad with preserved crab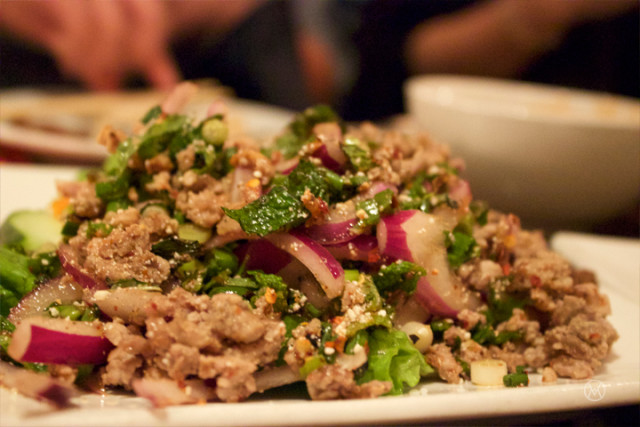 Duck Larb– shallot, fresh mint, scallion, cilantro, chili powder, and lime dressing.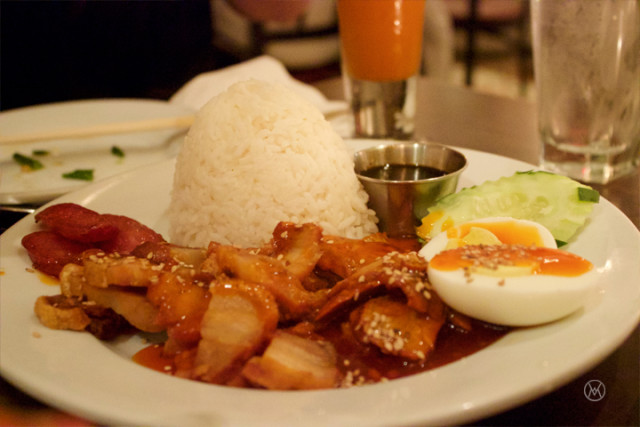 Kao Moo Dang– roast pork, sweet sausage, half boiled egg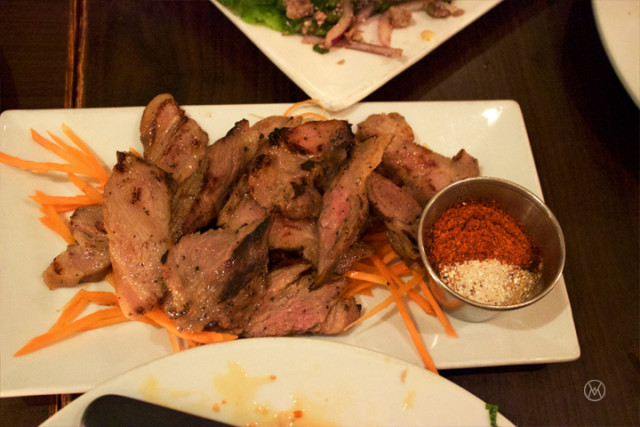 Moo Yang– Grilled marinated pork with sweet tamarind chili sauce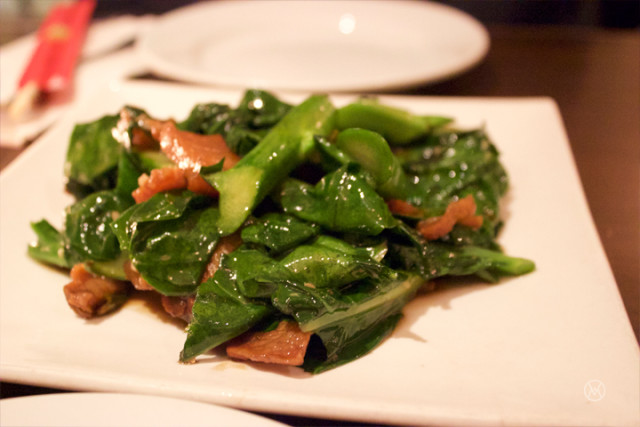 Kana Moo Krob– Sauteed Chines broccoli with crispy pork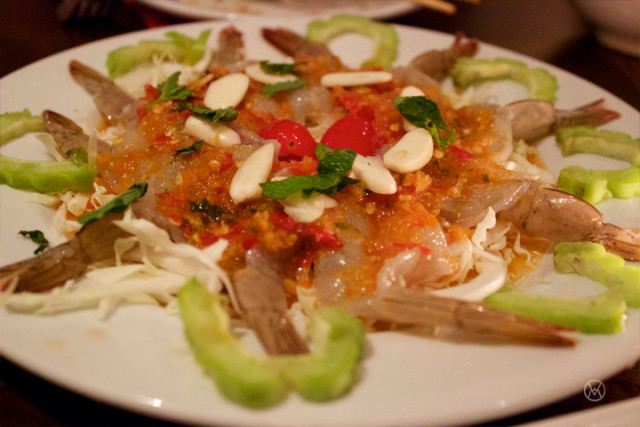 Goong Chae Nam Pla
Pla Dook Dad Deaw– Crispy Marinated catfish with Thai Herb with sweet tamarind sauce
Like most non-high-end asian restaurants in town, both places could care less which plate is appetizer or main course. They either all come at the same time, or come out whatever whenever it is ready. It is not much of a problem I guess, if the table is big enough to place it all.
Really spicy!!! But very authentic. The burning sensation is not a joke. I couldn't say which raw shrimp I like better but I certainly like the SomTom more here at Zabb Elee. And I would definitely rate it higher than SomTom Der. But the grills pork neck meat is still the best at SriPraPhai.
(October, 2015)