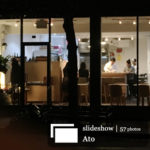 If i have a choice, i would always chose counter seating in a Japanese restaurant. The counter eating habit is a culture itself. Not only we can view the whole process of the kitchen, it also let us cultivated a personal conversation with the chefs. It doesn't need to be a verbal conversation, it could be a mutual admiration, a look, a smile and even a facial expression when we are enjoying the dish. A chef once told me that, that his biggest reward is not an award, a star or a great review; it is a satisfying smile on a patron's face when they are truly happily enjoying his food. That is what make his day. The motivation for him to continue, or inspired. Japanese counter eating culture does not stop at sushi. Yakitori is another one, so is ramen. We have seen it extended it's reach, or got adapted by other culinary mastermind. Our experience at chef's table at Brooklyn fare is an excellent example. And it was well worth the money and the hoops i jumped thru to get a reservation. I mean, how often would you have a master chef cook for you, in front of you. We might spend the same or even more money at eleven Madison park or French Laundry, but do you know Daniel Humm or Thomas Keller is really in the kitchen, pouring his heart out on a dish? To me, it is not just a meal, or a fantastic dinner, it is an experience, then turned into memory, forever remember. It is personal, it is intimate.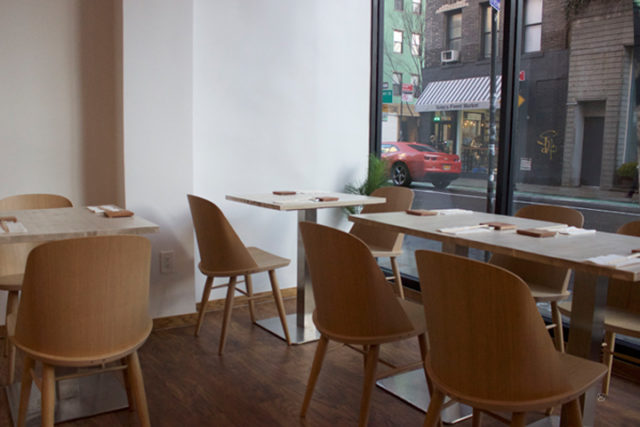 Restaurant Ato is one of those night that is close to heart. It is a fairly new place in the west side of Soho. Right across the street of David Burke' kitchen. A tiny store font with complete view of the whole kitchen. No backroom, no basement. We can clearly see everything from outside. There are room for only four person at the counter, the whole restaurant sits about 20. The bright little room cannot afford anything but minimalism. Light bond wood furniture blended into the white space, it is all very zen. On the night we went, this 6 months old restaurant was very quiet. We got to have the chef all to ourself.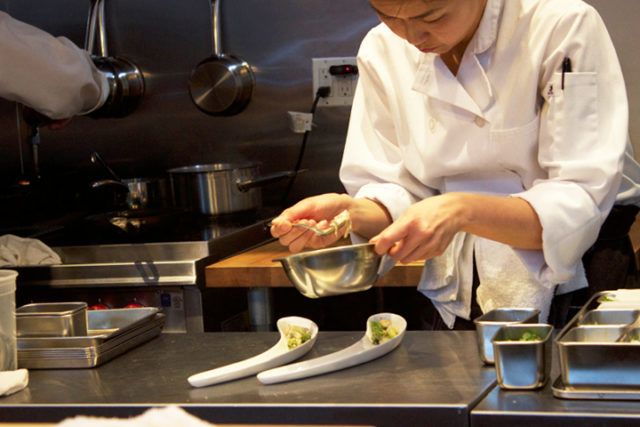 The young chef is a vet of Jean-Georges, Morimoto, and Masa. Needless to say his background is French/Japanese cooking. The best description I can give about Ato is, it is a modern "French-Japanese" seafood focus restaurant, with a chance of sushi Omakase. Chef Shen incorporated both French and Japanese technique in his cooking, every dish is not only eye-pleasing, also thoughtful and with impressive flavor. So why a chance of sushi? The night we went, upon sat down, we were told the chef will not be making sushi tonight. They were going to focus more on the innovative menu than traditional sushi. Jaw dropped, shocking, we were disappointed. How could this happened…. I guess it was mistake on my part that I didn't do my research before heading to Ato. From all the pictures I saw on Instagram, I just assumed this a sushi place. I was wrong, however, I was happy to be wrong. Ato's modern French take on Japanese dishes definitely works. Every plate is a work of art, tastefully, visually. Maybe because I was able to watch each masterpiece being constructed, not only I enjoyed each bite, I certainly appreciate the hearts and efforts that's put into it even more. The courses were actually rather small. Fifth course in, we looked at each other and share the same thought. We were still hungry, would this Omakase actually fill us? Would we go home hungry? The answer is absolutely NOT. Yes, each plate is small, but they add up, because the pacing of each course was actually rather quick, it didn't hit us just yet.

The frequently changing tasting menu is 17 courses. That's right, 17. There were a lot of times we were hesitant when ordering the chef's tasting menu, with a side of worrisome. We had been through quite a few long dinner, the longest record we had was 5 hours. An supposedly enjoyable night ended up being somewhat a pain. Real pain, cause my back and my bottom gave out before my main course arrive. Normally there's no way to know how long an tasting menu would last, so we just have to roll our dice, and tough it out. Luckily that is not the case here at Ato. The 17 courses' pacing was extremely well timed. There's little to none wait time, just as we finished one course, after a sip of water of wine, the next one is ready. And since we are watching the performance of the kitchen, there is no dull moment.

All the dishes are seafood base, except for the warm asparagus salad, and the seared mouth-watering A5 wagu beef. Supreme quality, perfect temperature, unbelievable flavor, so good that makes my jaws went sore.
Our night at restaurant Ato is not just a dinner, it is theater. Every single piece of tableware and silverware are artfully crafted. We were told that each place is unique. The little dots on the plate represent an island in Japan. A small detail of the craftsman, but remind us where all these exquisite samples of sea are originate from. In between these artfully constructed tasty delicacies, we watched the kitchen staff carefully tender to sear a piece of fish, Chef Shen prepped and cooked and placed every masterpiece. Half way through the dinner, the house manager chatted us up and ask what is our favorite so far. It is really hard to put a favorite tag on one single dish. Every dish is a new experience, a new adventure.
All the ingredients are familiar, but we are still amazed by the combination and use of sauce and seasoning. For example the hamachi with diet coke jelly and quinoa is really interesting. I would be happy to have the fire fly squid plain, but the sesame dressing is like frosting on a cupcake. Then there came the cherry, Chef Shen decided that he can make sushi for us. So, at the beginning of our dinner, the kitchen had made clear that Chef was not going to make sushi that night. Perhaps our disappointment on our faces, perhaps the night was slow, perhaps chef has a change of heart, either way, it was our gain. We have sushi!!! as imaginative and innovative as it is, Chef Shen said that traditional sushi is a thing he hold close to heart. Something that needs all the focus, and attention, one rather not make if not 100%. and really we were in for a treat. Chef Shen's sushi is as good as any great sushi chef in the city. I did felt that the sushi rice need a bit of work. The first batch was a bit mushy, but the second batch was way better. But that is no fault on the kitchen. After-all, they were not prepared to make sushi that night.
Everything was exceptional. But for a restaurant this young, and have some kinks that needs to work out. There were a couple dishes we felt the sauce was a hint too much, and then there were some that was so good, that we search for a "non-exitent" spoon. The miso egg drop soup was on the salty side, and I strongly felt we could have use a better soundtrack than listening to Rockabye or Rihanna's latest hit on Spotifly. But overall this is excellent contemporary Japanese fine dinning that could be something extraordinary. I can't wait for it to flourish and I can't wait to go back.
Ato | 28 Grand St. | April, 2017