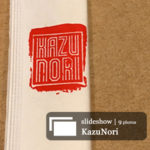 KazuNori, the so call original temayaki (hand roll) bar in new York city, a spin off from the LA based, highly popular Sugarfish, which also landed in NYC last year. Now I have not been to Sugarfish. I have to admit that the pictures of Sugarfish on social media are not very appealing. It is amazing how a few pictures could change our interest in a place. I am in no hurry to go to Sugarfish, but I thought I could try out the more affordable Kazunori first to get a feel what the Californians rave about.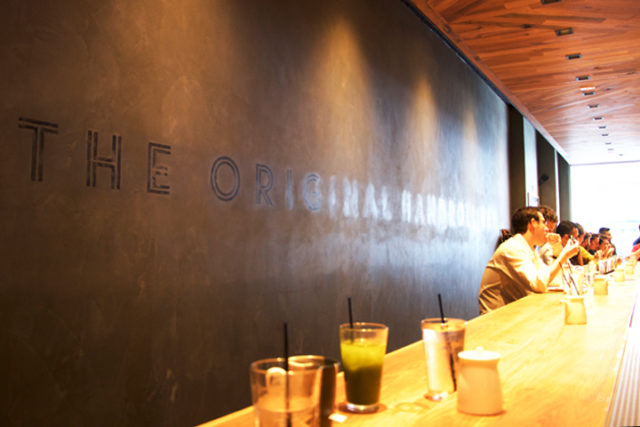 I strolled into the counter only dining room in NoMad on a sunny afternoon, just passed 1pm. Cashier right at the door, there is no hostess, but a velvet roped line defining waiting area. Next to it is the menu stand, the handroll place offers an eat-in and a take-out menu with lightly different items. 
The lighting was dimmed, almost dark, the place seemed packed and I couldn't look past 1/3 of the long hall. I stood around looking for seats, and also at the menu. 5-10 minutes had passed, I thought I was waiting in line for an open seat. I finally walked up to the counter and waved at one of the servers to inquire about seating. Then he directed me to the deeper end of the bar. Turns out there were plenty of seats in the back. So, yes, it said seat yourself, but it would be nice that someone would tell me there were seats available. it was really too dark inside to know there were empty space ……  Did they think I was standing there for something else?   
I finally sat down at the deep end of the bar, since I had plenty of time to look at the menu, I was ready to order. But then unfortunely, I was informed that I was looking at the take-out menu. Well…. The two menus look the same…. Yes, I guess I should have read.

Turns out there were no special on that day, snapper was sold out too. L instead of snapper, it was salmon instead. That helped me chose the 5 handroll set instead of the 4.
Where I was sitting gave me a full view of the prep station. Almost like a Chipotle counter, everything is already prepped, just scoop, scoop, andwrap. The toro looked like they were blended instead of chopped. All mashed, and that was the first one I was served. The toro had completed lost any texture at all. So mushed, I couldn't tell what I was eating. It felt like some cold meat. If this was in fact toro, I am hurting for the tuna fish. It scarified for nothing.
The nori was crispy enough, but the rice….. the rice was hot. Extreme temperature difference between fish and rice, the mashed toro was on the cold side and the rice was almost hot enough to have steam. Once the rice hit nori, all the crispyiness was gone. I was sad. Not only it lost the crunch, after the second bite, the nori was so mushy that I cant even seprate it with my teeth, ended up stuffing the whole thing in my mouth. And in the process, a handful of rice and fish mixed ended up in my palms. Yes, there were no back stop. So if you have to finish the handroll in 3 to 4 bites, chances are, your hand would be quite messy, as the rice fall off the back end. There's not much you can do at that point. Eat off your hand, Or push it off to the plate and use chopsticks to try and pick up the pieces. There are no good choice here, and I hope you washed your hand.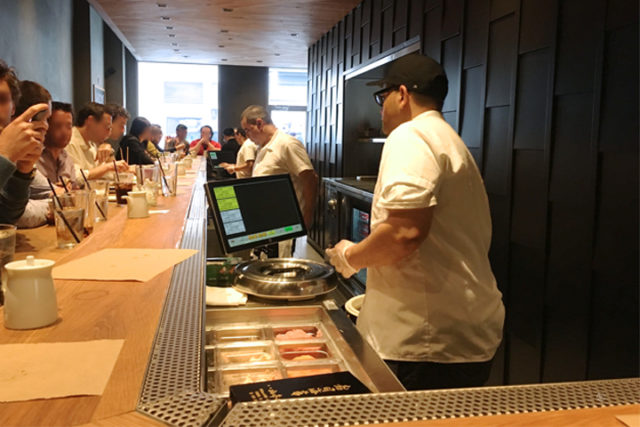 Almost to the end of my meal, the "manager" look alike came up and asked how was everything. A routine gesture, just a polite thing to do. Normally I never really say anything. I don't know what hit me that day, I spoke up. I guess he was surprise too. I told him my honest opinion about the rice being too hot, and totally "melted" the nori. He responded politely and said that it is something that their customers like specificity, the rice being warmer than room temperature. Well, I am impressed; I am impressed that he came up with a "logical" answer off the spot. It totally felt rehearsed. However, it still haven't change my mind about hot rice, and I certainly wouldn't call that "slightly warmer than room temperature", it was not steaming, but it was straight out of a rice cooker.
Original or not, there are other hand roll bar in NYC. The price is attractive, but I don't know if that could made up for the quality. I might actually defer to sunrise mart and have a couple boxes for the pre-made refrigerated rolls instead. But if you have to come here, try the baby scallop. Between the mushed toro and the heavily mayo'd crab, the baby scallop would be my choice.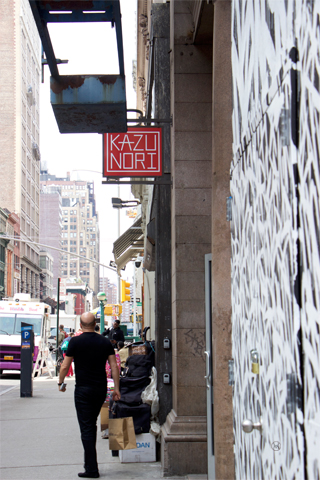 KazuNori | 15 W 28th St.