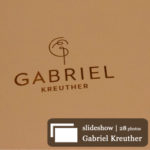 I always feel very fortunate to be living in/ close to NYC, one of the best gourmet cities in the world. There are so many talented chefs here; new restaurants popping up every day, offering a wide range of varieties and options. However, the price may be steep.
An average cost at the city's most prestige restaurant- Per Se would cost at least $600 per person (which I have yet loaded enough to pay a visit). With all the supplement, it would easily gone over 1200 for a night for two. The cost of fine dining tasting menu keeps getting higher and higher. However-much I would love to get a taste at these luxury establishments, the $$$ and opportunity cost had me pause and stunt. Once in a while (maybe more), we put on our fancy pants, dole out, and allow ourselves to be indulged. Our latest "guilt" meal was at Gabriel Kreuther.
If Gabriel Kreuther is not a household name for you, it should be. Sure, he is not as big a star as Thomas Keller; doesn't have as many restaurants as Jean George; may not be as "hip" and popular as David Chang; all the restaurants he ever had his magically touch on are a huge success. His first solo venture The Ritz Carlton earned him a 3 stars review from New York Times. The Modern (@MOMA), one of my favorite restaurants in NY, was wildly praised and landed 2 Michelin stars. his one year old namesake restaurant already got a Star from the "tire man", and recently Chef Kreuther even opens a chocolate specialty outpost to feature his sweet delicacy. if it was fame and fortune Gabriel seeks when he came to New York, he has found it.
We love the simple elegance at The Modern. It is bright and sleek, but of course the space was designed to fit the museum. And it did just that. With Gabriel Kreuther (the restaurant), we learn the true color of Chef Kreuther. This is his house, and it is more luxury with extravagant details. And I think Chef Kreuther is obsessed with cranes.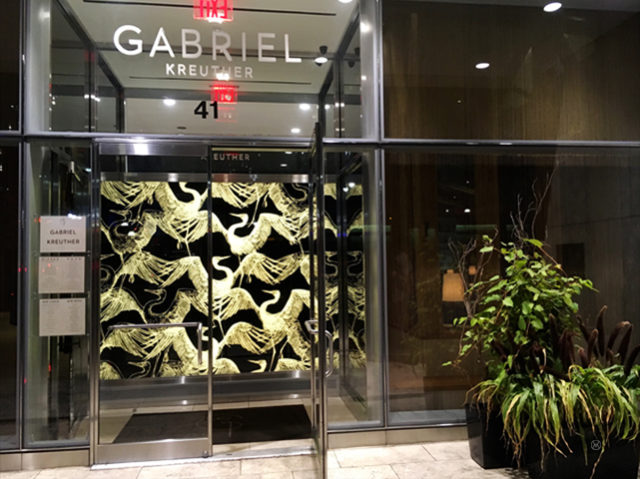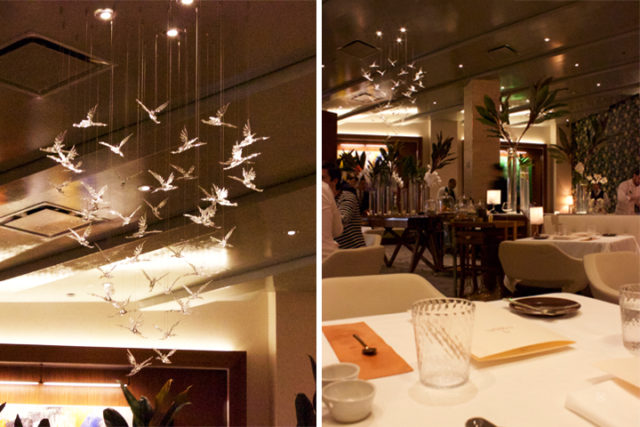 Prior entering the restaurant, we were first greeted by a façade of golden cranes. If I didn't know better, I would have thought this is a Japanese or Chinese restaurant rather than contemporary French. In Asian culture, cranes are often refer as the bird of happiness. They are mythological creatures representing food fortune and longevity. As we sat down at the comfortable coach (overcrowded by cushions), we found more cranes. There is a crystal/glass cranes chandelier hanging from the ceiling over the center piece of the main dining room. Once we settle down and look closely, we realized that the logo for Gabriel Kreuther is actually a his signature's letter G drew as a crane. Lots of crane here, plenty of luck to go around, and we feel very lucky, as we are fortunate to be here, to enjoy this extraordinary meal presented to us in the most aesthetic way.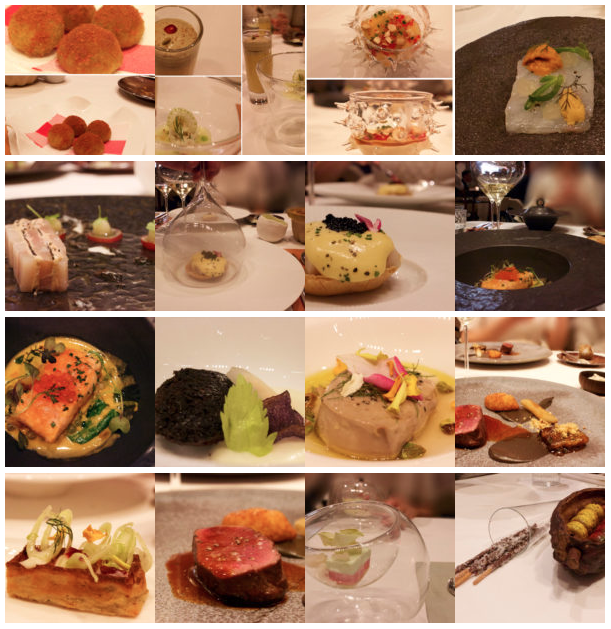 We had the Chef's tasting menu. It seems only fit since we were at Chef Kreuther's house, we should have his vision of a meal, in the way he thought could be best presented, bringing out the ingredient's best quality. The nine courses tasting menu lasted about 3 hours. We started with some very fluffy, pillow soft bread. The scallion chive bread along side with herb whipped butter, by itself, could be a meal already. Then there came these bite size mozzarella cheese balls. Dusted with tomato powder, I feel like we need at least a dozen of them, but then I might not have room for all the exquisite plates that follows.

The tasting menu is more seafood focused, we started with uni and langoustine, then yellowtail, and the third and fourth course were both fish. Every single plate looked incredible. I, for one, would love to have some more of those sweet sweet langoustine tartare, that thin layer is "not enough" to fully appreciated, but that is just me being selfish. The Hamachi Mille-Feuille was layered with truffle and foie gras, rich and sweet at the same time, it is a genius combination. And it melts! On my tongue!!! Sturgeon & Sauerkraut Tart was not only eye pleasing and mouthwatering. To appreciate this course, in sequence, we started with visual first. Underneath the bell shape glass cover, the sturgeon tart was like a crown jewel. Once the serving cover was lifted, it's Applewood smoke aroma was freed, like releasing a dream to us. The crispy bottom tart layer was paper thin. Hand down for the pastry chef!!! However, the truly dreamy course of the night was the foie gras.
Chef Kreuther's foie gras is always dreamy. The pan seared one at Modern was amazing, years later, I still remember the crispy first bite and it's ultra creamy texture. When it melts in my mouth, the feeling of satisfaction is overwhelming. I wasn't sure what to expect with a poached one. I worried that without the crispy seared layer, it would be too mushy. It totally surprise me. it was soft but firm. Since it is poached, it ridded the oiliness and just the true flavor of the foie itself.  It left me speechless… so silky smooth, sooo goood!!!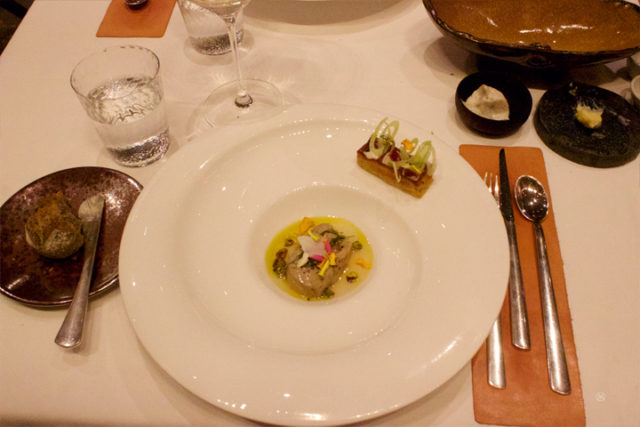 Our utensils and plates changed at every course. Flatwares are beautifully crafted, and the plating are extravagant, the tool at hand feel elegant. but not everything was a hit. Some courses felt out of pace. The sequence of courses was separated by the bread. I don't quite understand the purpose of it. I mean, it has to be intentional, because it felt disrupted. Between every few courses, a new bread plate/ basket appears on the table. Was that meant to be a course as well? Or did it meant to be "intermission" to let the kitchen catch up? Anyway, there were a lot of bread. Not that they are not good, it just a lot of it. And sometime, the bread was so good, it took the spot light away from the main course. The char for instance, was not not ordinary. The note fell short, It just couldn't quite bring out the flavor. Th Venison with hazelnut crumble felt misplaced. Plating looks great, but couldn't feel connection between the 3 bites on plate. the I have to say the first half of the tasting menu was stunning and wonderful; the second half, starting with the fish, other than the foie gras, it wasn't as outstanding as the appertizers. It fell flat. Honestly, we felt that most of the tasting menu these days were like that. Appertizers were fablous and playful, but main dish became less shinny in comparision.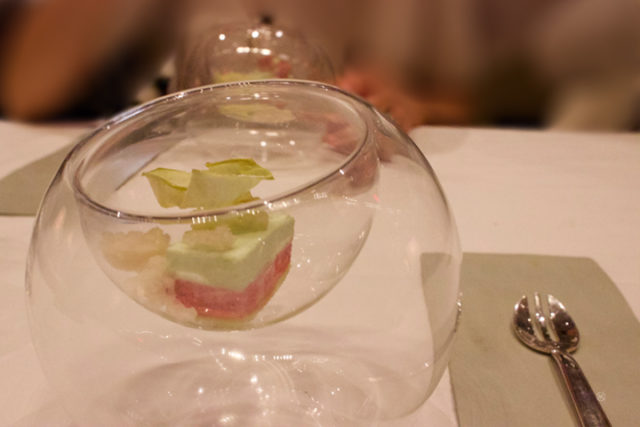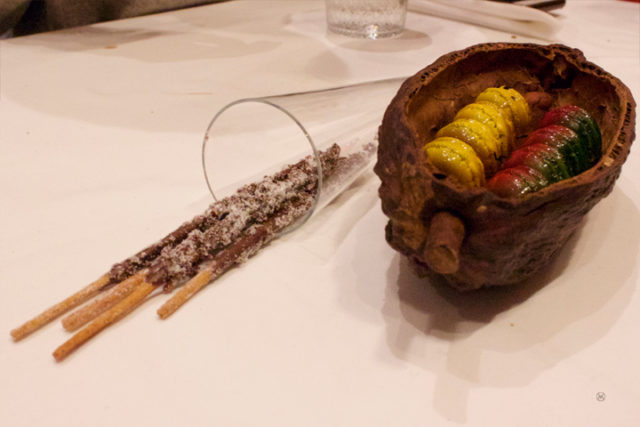 Dessert didn't woo us either. Beautiful it is. Their "fancy" version of pocky sticks are great to snack on, and those chocolate delicacies are great with coffee. And, they are just so petty. However, a bit too sweet for our taste.
At the end of the night, our server gave us a "gift" for us to better understand how they kitchen works. No, it wasn't a kitchen tour, but he gave us a kitchen slip, with the timing written down for each course. How very thoughtful of him.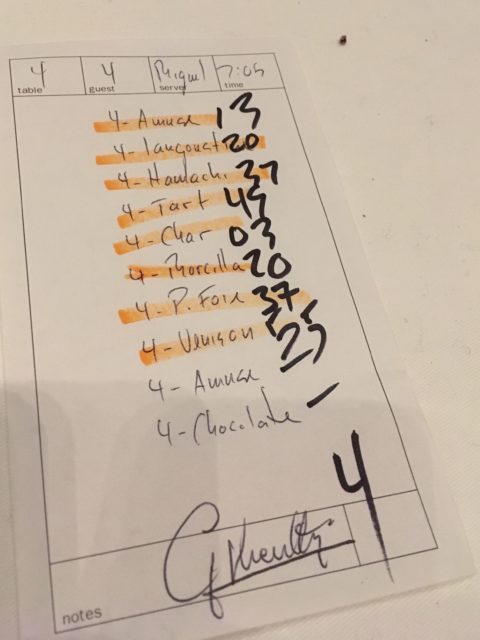 Gabriel Kreuther | 41 W 42nd St | Nov, 2016