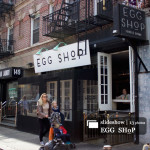 Breakfast, the most important meal of the day, to be honest, I rarely ever have breakfast. I don't have them doesn't mean I don't like them. I do enjoy a good full breakfast. Eggs, sunny-side, Canadian bacon, country fries, burnt, that's my all American diner breakfast. I also love a full English breakfast. Those blood sausages, when they are good, they are awesome. I once had a poach lobster eggs benedict with smoke salmon and lobster. Oh man, that's absolutely glorious. To me, I don't think eggs should be limited to just breakfast, it should extended to lunch, dinner, even midnight snacks. There is obviously a reason why McDonald would expend to all day breakfast right? Those marketing research has to mean something. But these days, all day breakfast diners are hard to find. That's what Egg Shop in Nolita is getting at. All day eggs menu!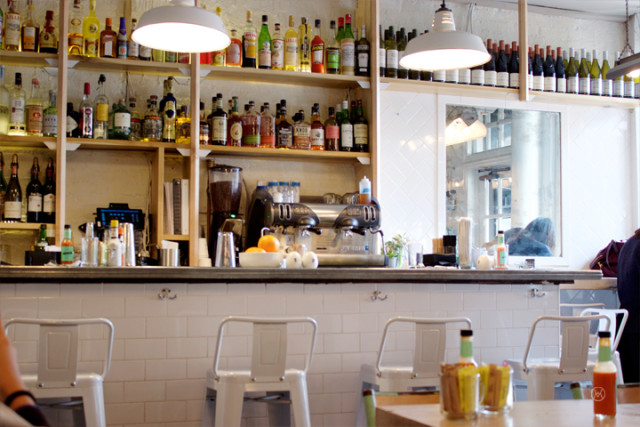 Opened early Summer last year, on a quiet block of Elizabeth street, Egg Shop turns a small storefront into a sunny California hideaway. Driving by or walking by, you can't miss the place. White oversize sign printed EGG SHoP, with while little sea foam green industrial lamp shade, the whole place is flooded with white. Big white french doors open up the whole front, on a sunny warm day, that would extended to sidewalk cafe. Floor to ceiling subway tiles, light wood furniture with sea-foam green painted legs and oxidized mirrors with the same color trim brighten up the place and makes it look bigger than it is. Above the open kitchen, a chalk board displaying the hand written day's special; and behind the stacks of plates on the kitchen counter, we can see the full actions of the chefs. There are about 30 seats in this cute little place, I imagine when the summer comes, we would want to occupy those window seats, but today we were seated right next to the kitchen bar watching every move in the kitchen.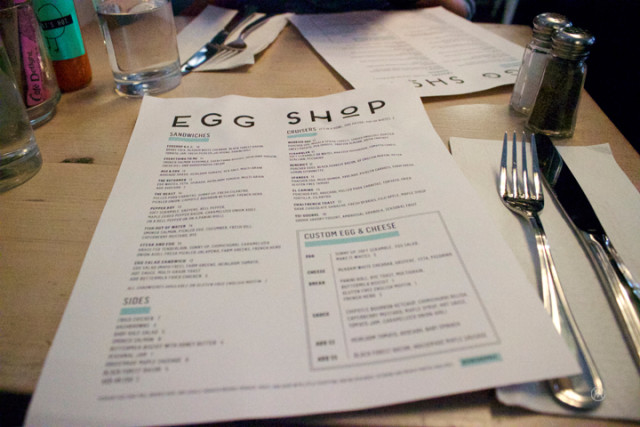 We arrived at lunch time and the place is packed. 2 main sections on the menu: sandwiches or cruisers, with a small sections of sides and another column of customized. Sandwiches vs bowls = carbs vs no carbs, that's how I dissect this one page menu. The item on menu do seem interesting, though the waitress was not help in recommendation. The only thing she seems to keep pushing was the oversize biscuit, but we didn't ordered that. Out of 9 different sandwiches and 7 cruisers, we ordered the Egg Shop ESC and the El Camino with poached bowl with a side of hash-browns.
As we wait for our breakfast/ lunch to arrive, we peeked at the kitchen and what other people were having. It was busy and a little crowed. We couldn't help but noticed that there seems to be a difference in quality. Eggs, poached egg on the bowl and broke yolk on the sandwiches, their not all running… in my friends words, some were just "walking", which is what a broke yolk didn't come rushing out. Unfortunately, those noon-running yolks happened to us as well. The broke yolk on the BEC barely move when we poke it, we kind of have to squeeze it to create the "running" effect. And the poached egg… would be "standing still", it was clearly a little over done. But Egg should be this place's speciality, right? Shouldn't all the eggs has the same consistency? On the other hand, The combination of el camino was great other than the egg not "movable". Stacks of big slides of avocado, mixed together with tomato and pull pork was quite hearty.
There were plenty of carnitas in the El Camino, almost too much. We couldn't finish al the meat. We ended up bagged and make a great sandwich at home.
The hash browns was the best out of the three things we sampled. Crunchy crispy on the outside, and mushy on the inside. We were really glad that we ordered it, and very happy with it.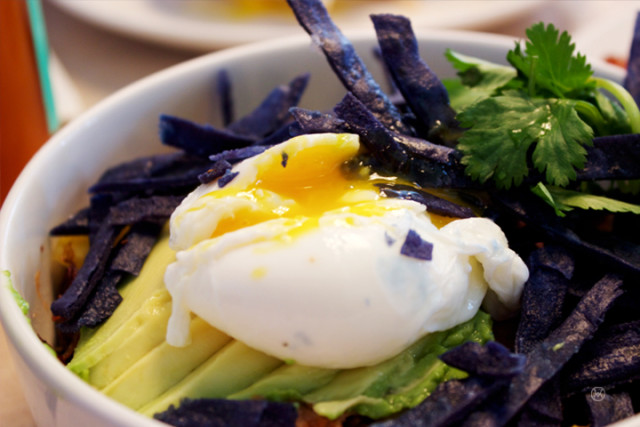 EL CAMINO $13 – POACHED EGG, AVOCADO, PULLED PORK CARNITAS, TOMATO, FRIED TORTILLA, CILANTRO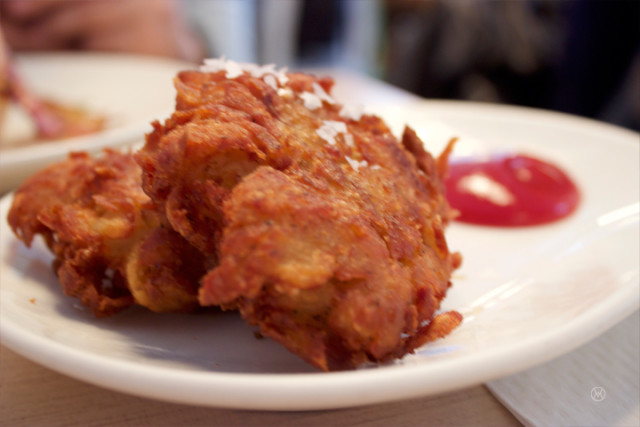 HASHBROWNS $4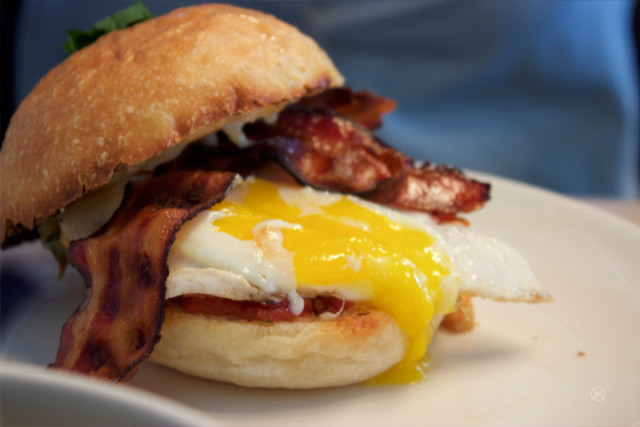 EGGSHOP B.E.C. $10 – BROKE YOLK, MCADAM WHITE CHEDDAR, BLACK FOREST BACON, TOMATO JAM, FRESH PICKLED JALAPENO, PANINI ROLL
Back to the BEC, I found it no that special than a simple egg and bacon sandwiches from my usual roadside breakfast cart. The difference would be, the breakfast cart guy would cater to your egg preference if he has the time and he knows you. And those breakfast sandwiches on hard roll toasted, only cost $4.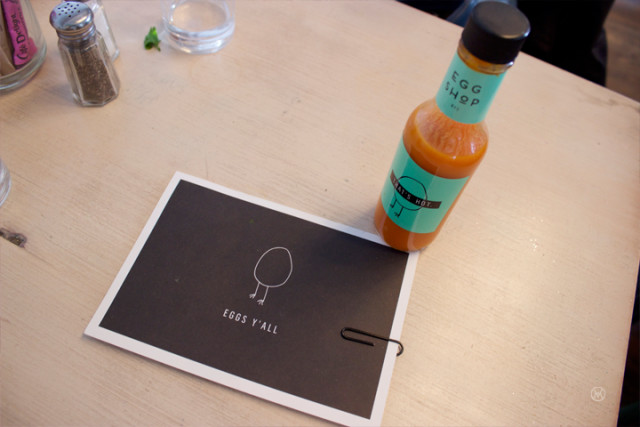 Egg Shop | 151 Elizabeth St | March 2016