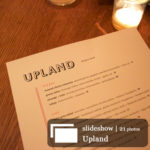 What exactly is California inspired cuisine?? We have no idea. California is so big; there are different cuisines in each city, different produce, and different local flavors. So which California is Upland referring to?
Upland is a city in San Bernardino county in Southern California where Chef Justin Smille grew up. His 88 seats mid-town restaurant is backed by the famed restaurant mogul from Philly- Stephen Starr. Starr now has 6 restaurants in the city, all are highly popular, including the almost 2 years old child with Chef Justin Smille – Upland.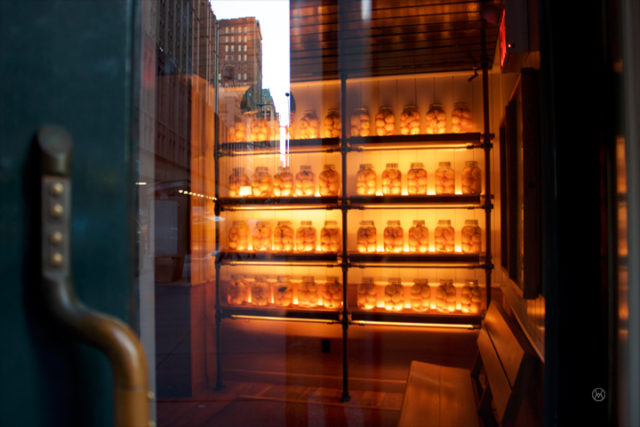 Opened the door to Upland, we were greeted by a huge wall of jarred lemon. Reminded me of Bouely's shelves of fresh apples. Welcoming everyone that came through the door. Bouely's apple wall gave out fresh scent, and the sweet smell wraps you around gently and awakens your senses. At Upland, it is way more "environmentally conscious", the lemons are all in huge mason jars, pickled. Eye pleasing, welcoming, and the lights behind it, turn each jar of lemon into a beautiful citrus lamp .
The bar in the front has been buzzing every night. Thanks to its extensive wine list. A little short on cocktails, only 9 on the menu and all over $14; but look, there's even Japanese whiskey on the list. It is crowded.
If you are getting dinner here, make sure to get a reservation, and get seated in roomy dining room. The dining room is huge, well lit. white wall, dark green booths, rounded corner chic little wood table, checked table cloth, it feels like we walked into an rustic but modern farm house. We settled into a comfortable booth. Even in the dining room, illuminated jars of lemon are still everywhere on the brass/ copper shelves, along with some decorative flowers in the center give off a very cozy, warm vibe. Staffs all dressed in checked aprons, and ours were extremely friendly and attentive.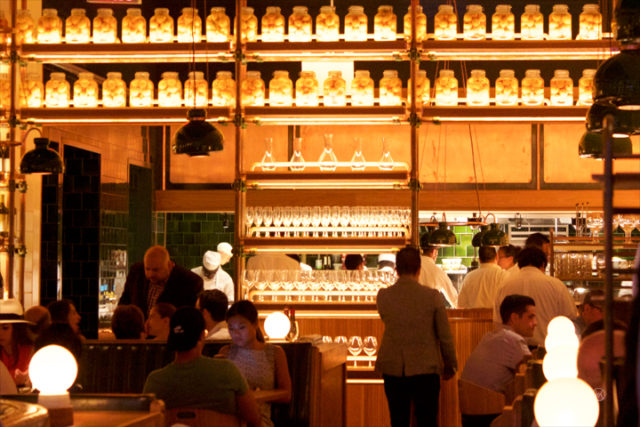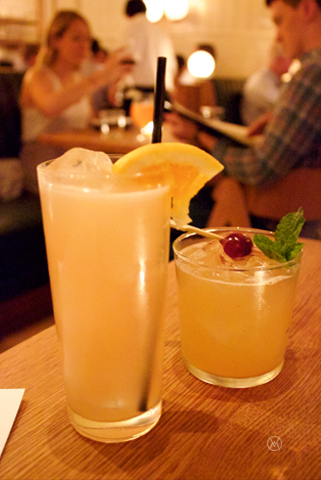 Everyone praised the mushroom. It is very interesting, almost broccoli like. But in my opinion, it was "overly" deep fried. It lost all its juice, and I would even call it dry. The herbed cheese whip became essential to the dish, and I ended up asking for more lemon to spice it up. Also deep fried, on the other hand, the crispy duck wings are a must here. Almost confit like, and the thoughtful staff kept a single bone for easy pick up. No forks need, it is "Finger licking good". This would be the best finger food to have at any game day. There was a hint of heat, and the yuzu combat and complement it perfectly, keep us craving for more. The wings is a rather big portion, we worked thru it slowly. As we paused and sipped our drinks, our waiter whisper to us that he had the kitchen slow down on our entrée, so we can take our time. How thoughtful!
The chicken liver Estrella is everything everyone raced about. Plenty of big chunks of liver, heartwarming delicious goodness. If anything, I would prefer a spoon rather than a fork for this dish. The liver and pasta doesn't really "gel", but they go so perfectly together. The bucatini was good, but could use some heat, and maybe some more sauce as well. Both pasta dishes are light and hearty, reminded me of Tuscany.
At the end of our night, we found ourselves belly full and denying dessert. We found that it is unfortunate that most restaurants have stunning cocktails, amazing appetizers, great entrees, but weak desserts. After a long happy night, we could not end on a decent sweet note. It is like a great novel with no ending. May be it is intentional, to make us come back. After all, we still don't know what California cuisine is…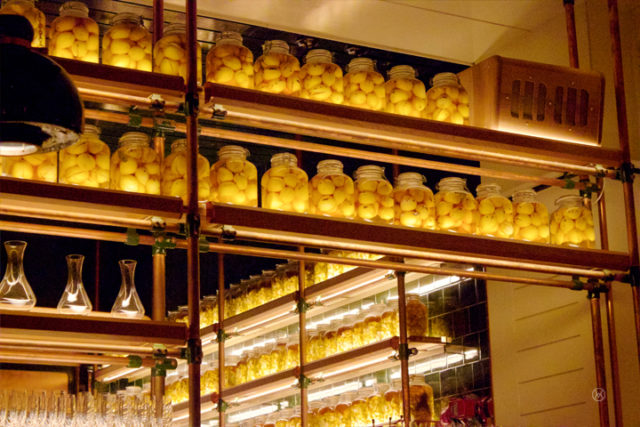 Upland | 345 Park Ave S | Augest 2016