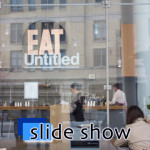 Ever since the New Whitney museum opened next to the High Line park in May 2015, we were excited to pay a visit to the museum's ground floor restaurant by Danny Meyer, Untitled. Whitney is the second museum to choose Danny Meyer's operation, the first one is Modern at MOMA, which we love heartedly! We came close once, when we dined at Santina, we got a sneak peak at the "glass box" restaurant, but it took us half a year to circle back in.
The Renzo Piano-designed Whitney Museum is a contemporary building with an industrial character. It's asymmetrical ground floor entrance created a convenient tucked away space for the restaurant. It's floor to ceiling glass exterior put the restaurant in full display for every patrons and museum goers that pass by, and vice versa. The cement floor on the street transition to bluestone in the restaurant. During warm season, when out-door dinning is appropriated, it makes outdoor/ indoor dining seamless. The large doom overheard lamp and the "EAT" light box above the bar makes this clean-line design restaurant ties in well with the museum and eye pleasing. But, there's always a but.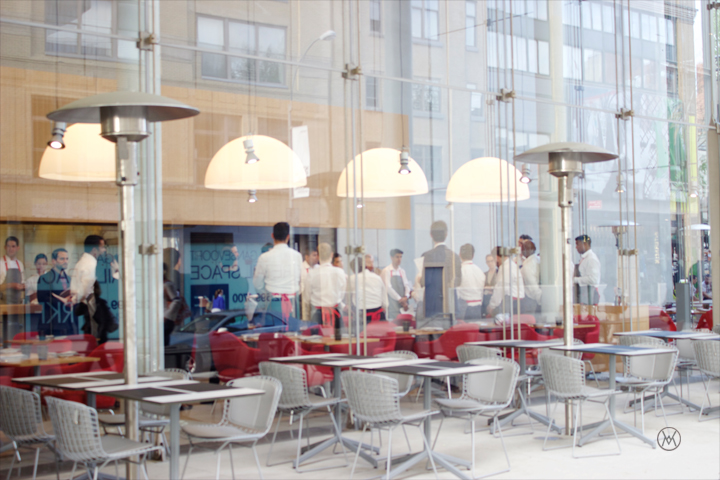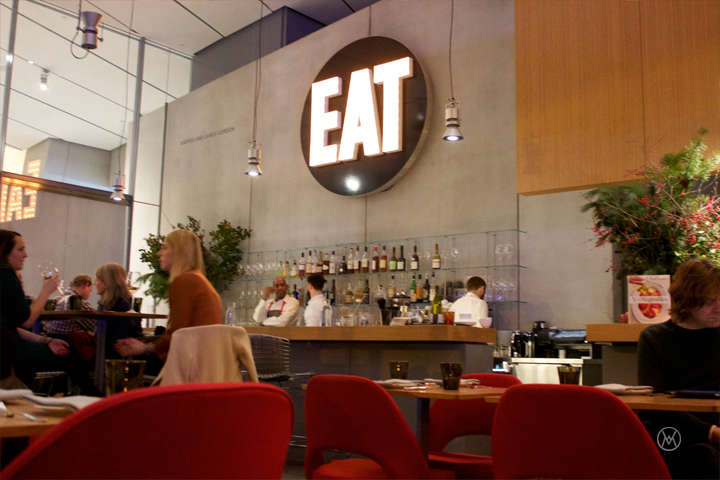 No offense to Mr. Renzo Piano, we can called this museum restaurant very cleverly designed, or, it was an afterthought. The space is already there, let's put up glass panel to block the perimeter and call it a day. And once we settled down, we felt that this minimalism could use some touch up. First, those cute little red chairs are very uncomfortable. It sits too low for the "sleek" wood furnish table. Stone floor makes rainy days messy and slippery. Glassware feels like cheap plastic. And the bathroom, I'll only say that the bathroom at ikea feels expensive to this one.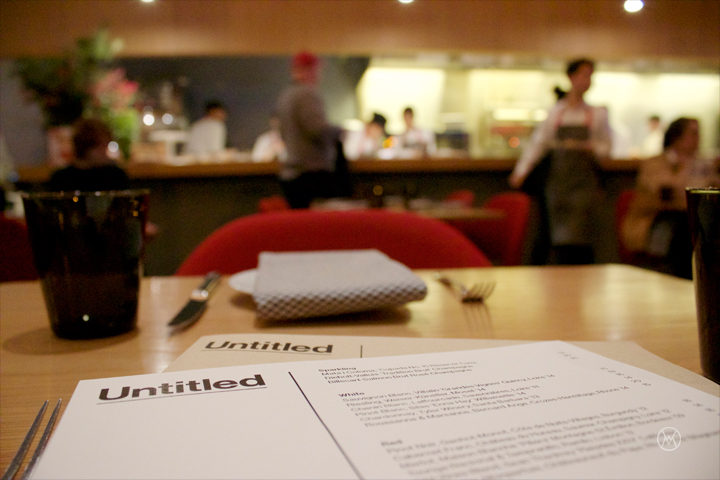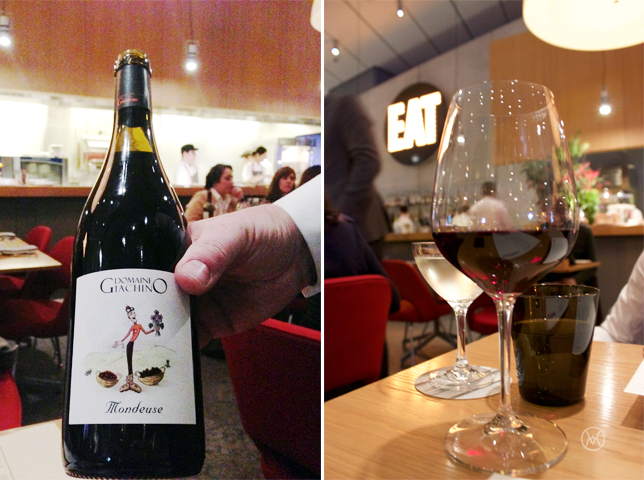 I have to say, I was a little more agitated than usual on the night we visited Untitled, and those chairs really didn't help. Also, our service was slow. Yes, it took me more than a minute to decided what I want from the underwhelming cocktail list, but our server didn't make his way back until 20 minutes later. The bread basket, didn't make it's landing until moments before our appetizers arrived.
While the wine list looks extensive, the cocktail list is limited and needs work. There were only 5 selection, all were less than inviting. The night's special was a French red, which was nice. When we finally got our bread, the butter that came with it was tasteless. I know I sound very bitter at this point, but all is not lost, thanks to the appetizers, because they are amazing.
The menu by Michael Anthony (of Gramercy Tavern) is divided into 4 sections with no section labels. I suppose I can call them snacks, appetizers, vegetables, and entrees. Each have 5 selections, and there were 6 desserts to pick at.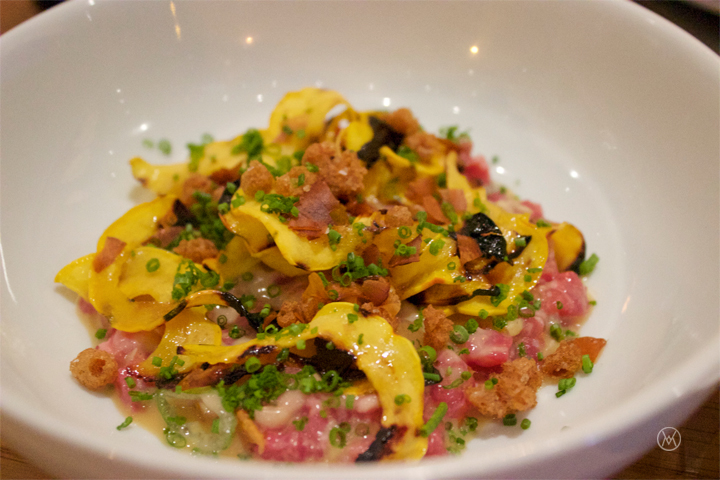 Beef tartare, chestnut, delicata squash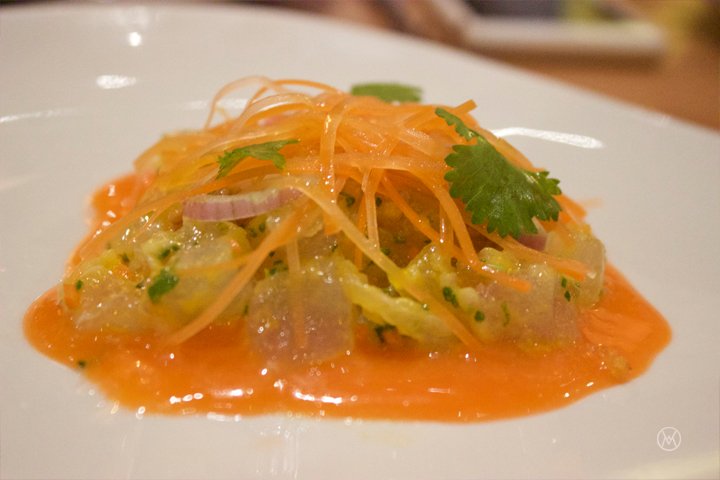 Cured fluke, carrot, preserved lime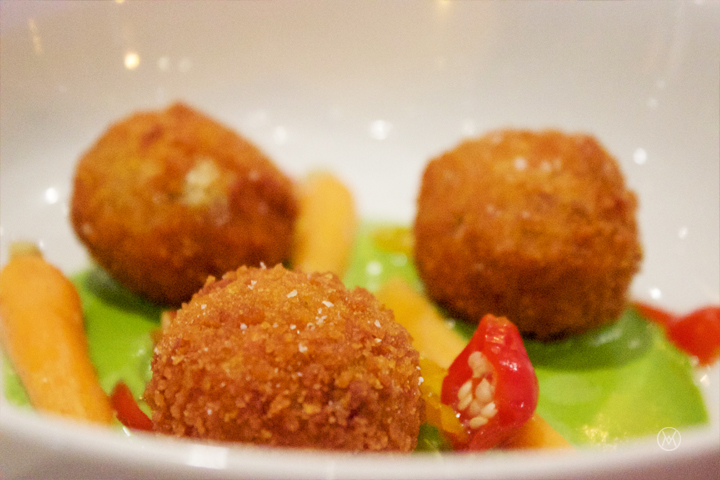 Carolina rice fritters, chicken liver, pickled carrots
We very much enjoyed the very creamy beef tartare. The squash and those crunchy crumbles make great contrast texture for the dish. So remember I said the butter was tasteless? Well, forget butter, we found ourselves dipping the bread in the carrot- lime sauce from the cured fluke. Fluke, while it's sweet and fresh by itself, became a perfect carrier for this mouth watering sauce. The round fritters are dense yet moist, and packs a little heat, though I have no idea where the chicken liver went. And look at these colors, they are undeniably beautiful.
So entrees… we were struggling to choose. We narrowed down to maybe the black bass and/or monkfish, so we asked for suggestion. Our waiter suggested that we split the chicken. He said the menu changes very frequently, but the chicken remain the best seller, and it would be enough for the two of us. Despilte our doubt, we trusted him, and he was right about the portion. The chicken 2 ways was already splited up before it made its way to our table. By the look of it, each plate could have been by itself. The roasted chicken was very moist, and tender. But the fried chicken was … while it's very crunchy, and not oil dipping. It was… dry. Almost like it's got suck out of all it's air, and became waterless, lifeless crispy, jerky meat. And the vegetables bed was salty, way way too salty. So salty that we couldn't bare more than one bite. What a disappointment! With this so highly praised dish. And what happen with the beautiful color we saw from the appetizers?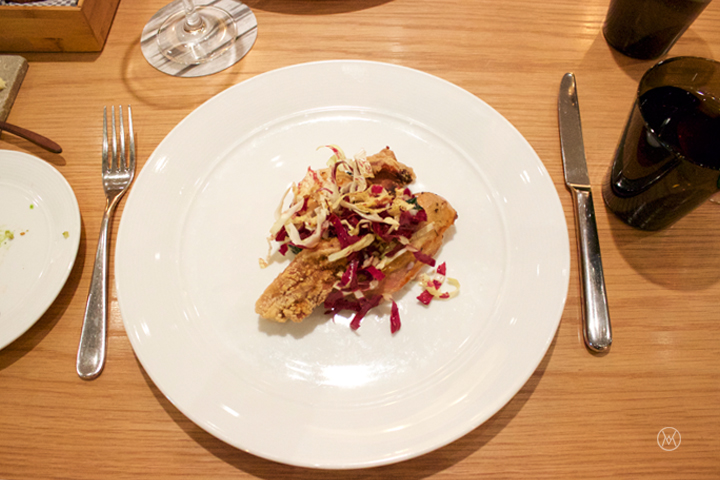 Roasted and fried chicken, kale, radicchio
At this point, we are an hour and half into our dinner. Our backs and bottoms were starting to hurt, and the entree is not making up for the uncomfortableness. We were going to skip on dessert, especially when the strawberry-ricotta pound cake which was highly recommended by Adam Platt is not even on the list, we opted for the Triple chocolate chunk cookie, which, has been buzzing on the internet.
The triple layer cookie came with a tiny mason jar of milk. Cookie was very soft. Crumbles layered with melting chocolate. It sounds very sweets, but thanks to the added salt, it finds its balance. It is a very good cookie, but we definetly have had better elsewhere. And that mason jar… are we suppose to dip the cookie? Jar mouth is not wide enough… hmmm.

Untitled | 99 Gansevoort Street, Meatpacking District | Dec, 2015