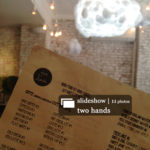 It is usually packed around at this cute little cafe, a hidden gem in the chaos of Chinatown and little Italy. On a sunny Spring afternoon, it would be so nice to grab the bench chairs outdoor. But the day I stopped by, the outdoor seats are not set up yet. I stepped into the airy room with exposed brick wall painted over in white. It is dreamy, with clouds and starry lights hanging over head.
The open kitchen setup is pretty simple. Expresso bar with couple cook tops. Then again, two hands cafe's menu doesn't have a lot of cook options. There's plenty of healthy choices, that not require cooking: fresh juices, smoothies, coffee, tea, fruit bowl, granola bowl…
I ordered the avocado toast with flat white.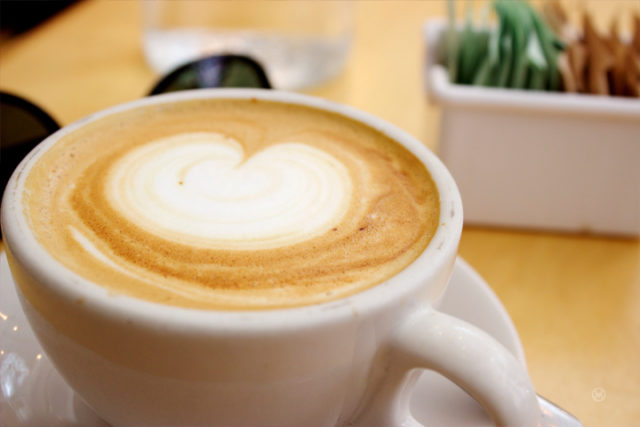 Flat white is silky, smooth but not strong enough, perhaps need another shot. My toast arrived before my next table neighbor. But they have been here way before I did. They were not too happy. Apparently the cook decided to make scrambled eggs all at the same time. Two tables over, the two girls were having the same thing. And it all arrived at once.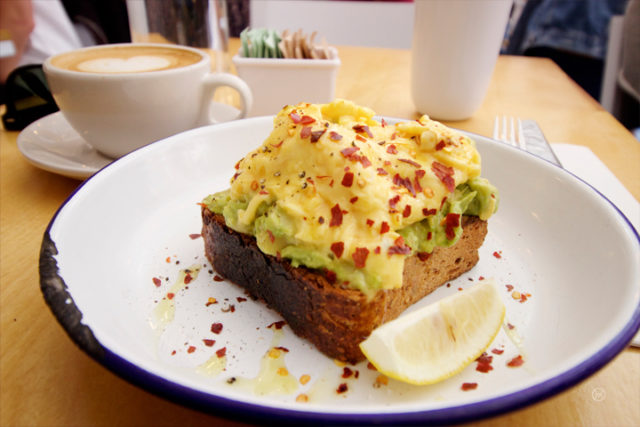 Scrambled eggs were fluffier than it expected. Possibly the best scrambled egg I have had in a long time. I rarely order scrambled eggs ever, they were often too dry and too hard. But the scrambled eggs here were moist, fluffy and even creamy, buttery. These eggs certainly better than their neighbor Egg Shop, which is only one street over. Scrambled eggs atop the mashed avocado, makes it richer and creamier. That's where the wedge of lemon comes in. For people who's likes it a little zest. The chili flakes sprinkled around it added a crunch. However, the toast is where it hurts. The thick cut wholegrain is a very heartily choice, but the crust were tough to bite or cut. One would required a streak knife to start pulling through. Armed with only a regular silver utensils, I almost flip the table over trying to cut my first piece. My neighbor seems to have the same trouble. Cause we were elbow to elbow wrestling with out toast. How I wish I have my ceramic knife with me. Honestly, this is a very simple dish, once you get the scrambled eggs right, which they did here, it is hard to mess up. If the toast is any crunchier or more airy, it would have been great. The bread as listed on the menu, was from Sullivan St Bakery, so how does it become like that? A good comparison would be Dominique Ansel's Kitchen. DAK also have an avocado toast, and his Egg-clipse was extraordinary. But now of course, not everyone is Dominique…. We could only wish…
Aussie dudes know their eggs, but toast need to get toasted, mate!
Two hands opened on Mott St for close to two years now. It is widely popular with the lower Soho crowds. So much so that it opened another outpost in TriBeCa. I passed by it a while ago during lunch time, and it is packed. Heard that the menu there is a little different since it is a all day "restaurant & bar". I look forward to a detour there.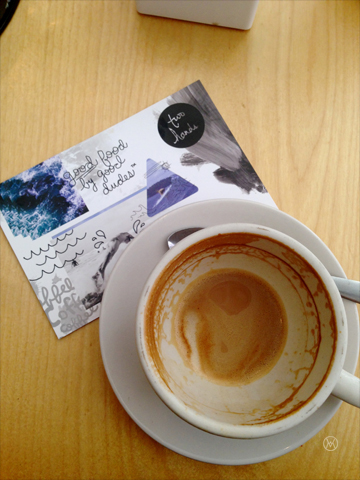 Two Hands Cafe | 164 Mott St | April 2016