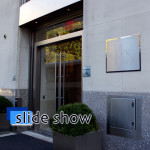 In the early 1900s, The MetLife Company Tower, aka the Clocktower, was the tallest building in New York. Well, time has passed and a lot has changed. As we all know, New York has a brand new tallest building, and MetLife has long outgrown that space and moved in 2005. Since then, the building has undergone renovation. Early this summer, this beautiful landmark opened its door to become the new outpost of Edition Hotel in New York. And it feels natural to have Michelin starred chef Jason Atherton operate its fancy hotel restaurant. After-all, the acclaimed young British chef already runs the restaurant at the Edition in London.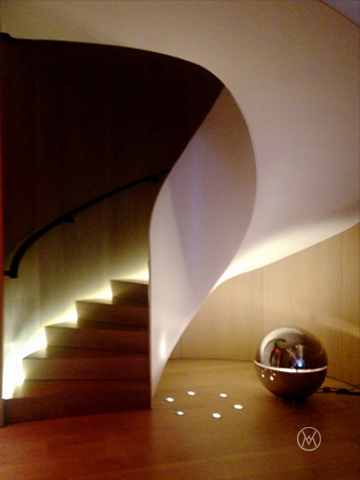 From the lobby, pass the bar, at the end of the living room like fireplace sitting area, there is a spiral staircase, or rather a beautiful twisted curvy sculpture. Follow the dimly illuminated stairs, it will take you to the second floor of the boutique hotel, The Clocktower restaurant.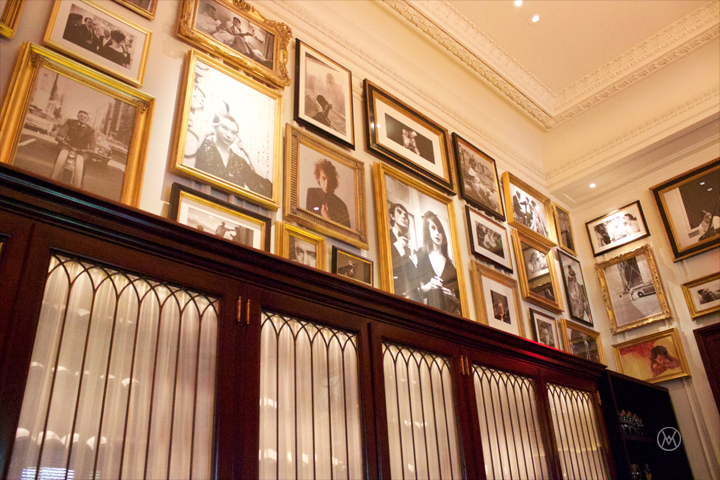 The room is GRAND. I was told that this was once the office of MetLife executives. Wow! I would want to work here too! This gorgeous place feels more like a fancy cigar clubhouse than office. Mahogany wood paneling, marble fireplace, purple velvet pool table, these all smell very old money. The place is classy, comfortable, and artsy. There are walls to walls of gold trim framed vintage photo of celebrities, 50s, 60s, 70s, its glorious. It needs a moment, actually, more than a moment, to take these all in. look around and let my imagination flows… cigar smoking gentlemen in their tailor-fitted 3 pieces suit chilling by the fireplace; elegant ladies in the little black dress or ballroom gown, wearing their artsy headpiece slipping cocktail, quietly giggling… anyway that's what I imagine the scene would be in early 1920s.
Back to reality. So what to do in such a fancy clubhouse?
You get a drink!!!
The cocktails here are excellent!
There are 7 mixed drinks on the menu. Each one is unique, creative, and playful.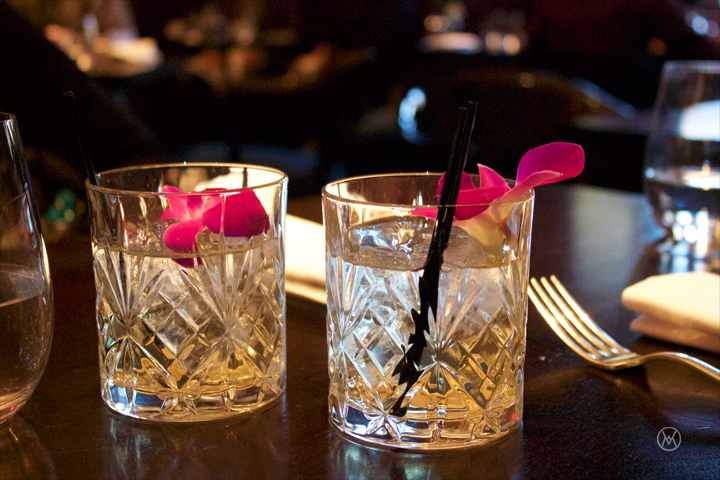 All 3 different cocktails we had are fantastic. I don't really get why Gap Year would be served in a tiki bamboo glass, although it does have the tropical flavor thou. I'm complaining only because I didn't have enough. The American Cereal Killer is absolutely killing it! The glass milk carton contain and the red and white swirl straw, with milk like liquid. So playful and adorable. Just don't feed it to the kids.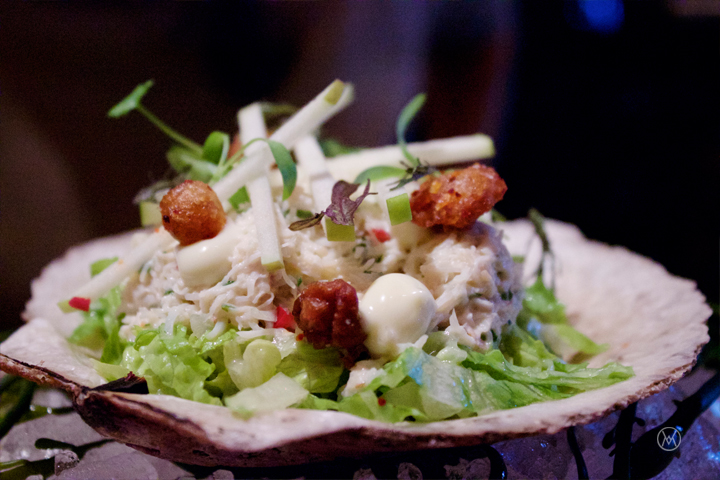 Dressed crab, crispy uni, apple batons, lemon purée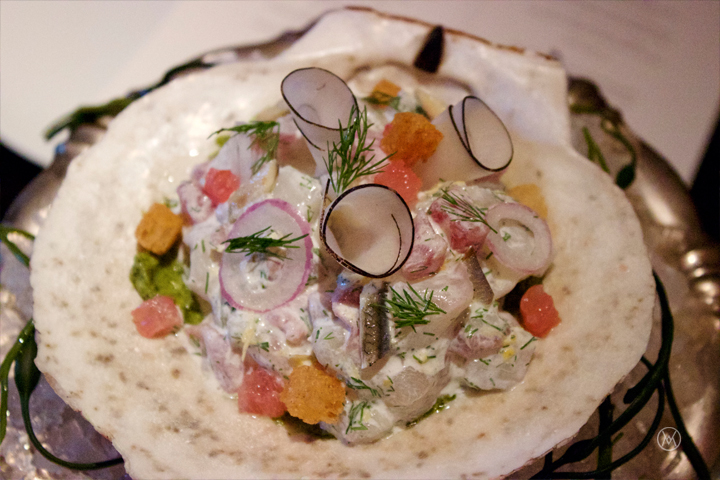 Diver scallop, radish, pomelo
Both dishes are beautifully plated, severed on half shell on an silver plate ice bed. Cevchie/ curdo are very fresh. Both are delightful but… both have excessive amount of sauce. Scallop and crab are practically drowning in the dressing. And what a waste of uni. If someone told me those curton, I wouldn't know the difference. I couldn't taste the rich, velvet flavor of uni. If they could hold back on the dressing, both would be a stunning dish, look and taste.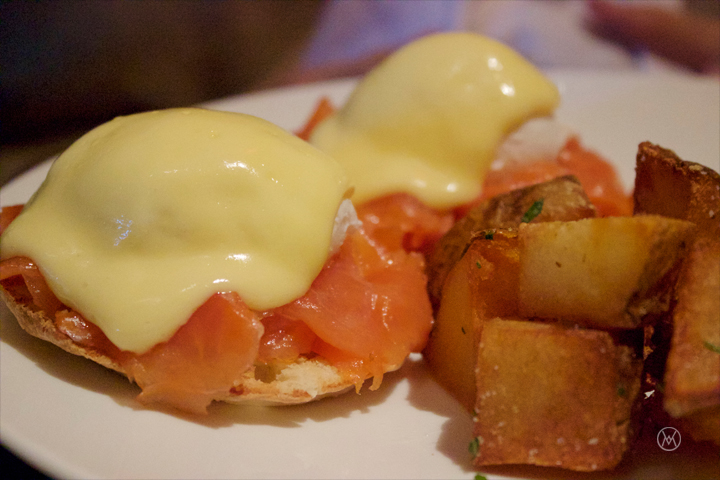 Smoked salmon Benedict
Home fries were great. Not oily at all, perfectly crisp. The Benedict is… Benedict. It is decent, nothing wow about it.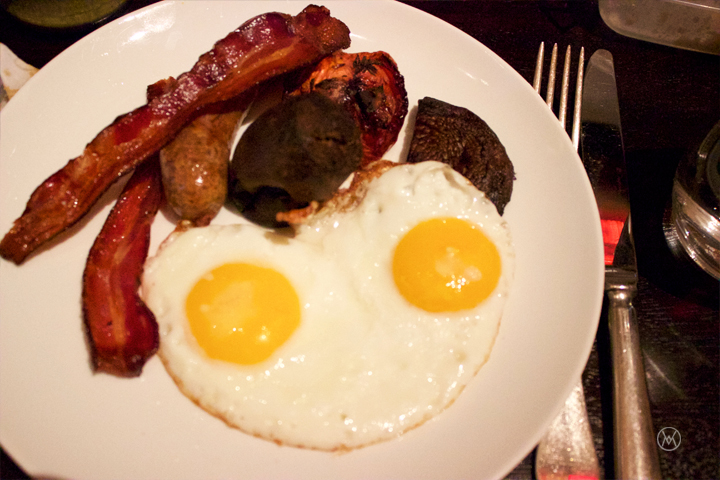 Full English breakfast two eggs any style with toast, garlic and herb pork sausage,bacon, tomato, portobello mushroom, black pudding.
Being an English restaurant, we would think they would nailed the breakfast. Honestly, I was disappointed. Pork sausage and black pudding were blend, dull, desperately need seasoning. The bacon is stiff, should be call bacon jerky. That tiny little piece of burnt tomato and half a tiny slice of portobello mushroom were … pathetic. The corner supermarket's breakfast wrap at where I stayed in Dublin was better than this. I was really disappointed…
why did Grub street name this place the best brunch in town?? should we not have get the breakfast?
The burger on the other hand was excellent.
Dry aged ½ lb burger, bacon, cheddar, churchill sauce, red onion, chips
My friend who had the burger said it was fantastic, even better than the black label burger at Minetta Tavern. Meaty, juicy, and that little heat in the sauce makes it perfect. The fat cut potato fries… chips are great, but just five!?! a little stingy, are we?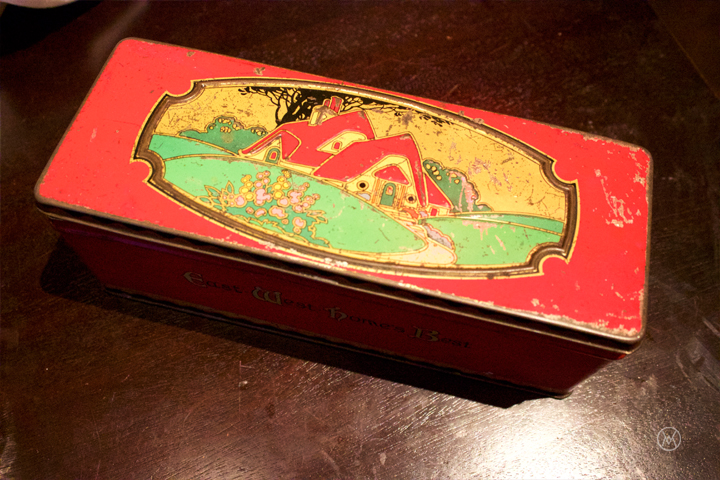 Came along with the bill, was a little treat in a vintage tin can. Reminded me of those from the 70s, where from the look of it, you know those fancy biscuits and crackers inside are $$$. those kinds of can that when you finished all the goodies, you still keep the tin can for keepsake, to keep your childhood treasure in. And inside is exactly those little fancy treats, soft crumbly shortbread cookie is my favorite. I took a toffee brittle for later and slowly savor in the savory dark chocolate chip covered with peanut crumbles. And yes, I do want to keep the box.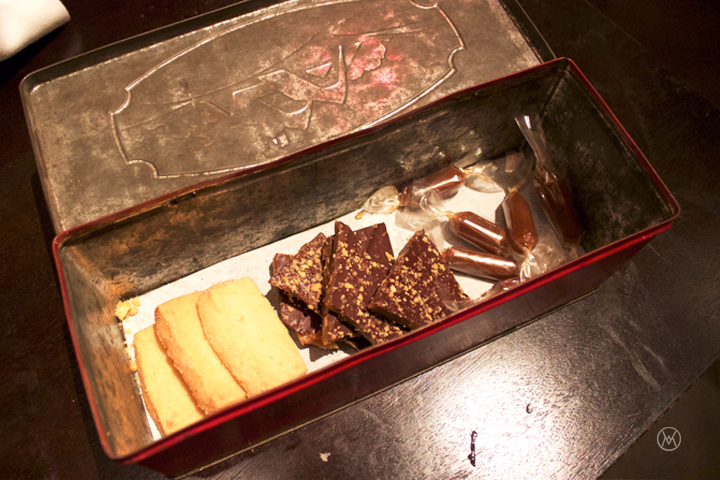 For the drinks, we would definitely come back. Maybe we will find time for dinner. But what I really want…. is to sit by the gold plated oval bar, pretend to be one of those legendary folks that are in the picture on the wall. Or perhaps a game of pool on that purple velvet table?!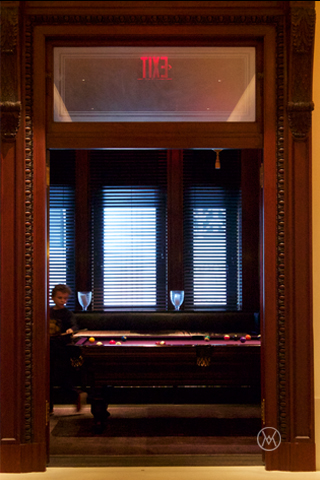 (Nov, 2015)