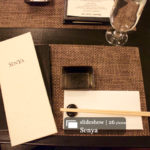 1st ave is filled with great eateries. Among countless neighborhood gems, SenYa is one of them. The place opened in march 2015, I must have passed by it more than a few thousand times and not notice. It is a small store front. Outside, plain and simple; inside, it is deep but narrow. We came across this place by word of mouth. Before our visit, I was a little skeptical. I fear that it is one of those California roll take out places. But we are so happy we did. Here is what we have—
There's no seat at the sushi bar here, therefore we don't get the intimate connection with the chef. But that didn't matter. We were very pleased with the Kumamoto oyster. Although it is smaller size than the one at Saikai, but it is equally great quality. And it did prevented us from fighting over the last bite. Sushi variety is not as wide as the other more expensive places, but for $55, I did not expect to see toro or truffle. More importantly, quality was just as good as some of the more pricy places, and just as creative (please note that Dojo is right across the street, and price significantly more). Yes, the nori could be more crunchy but I'm not complaining. I couldn't resist and ordered 2 more pieces, and absolutely would regret if I didn't. Afterall, we do not see Akamutsu or Shirauo as often as we should.
Then, there was the water cake, aka the raindrop cake. Served with a spoon of red bean paste and sugar syrup. It didn't need neither. How could I describe it… It's like a fresh breath of air. Like the first drop of water you drink after hours of thirst. It has a hint of sweet, just a hint. Almost feel cleanse. It's so refreshing.
SenYa provided an affordable option. Nothing fancy, just reasonable price with great quality. New York need more places like this.

Side note… nothing against Dojo, but on this particular Wednesday night, SenYa was not busy but with a steady stream of customers; Dojo, on the other side of the street, without David Bouhadana, was empty.
SenYa | 109 1st Avenue | March 2016