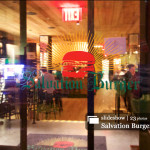 From the creator of The Spotted Pig, The Breslin, Salvation Tacos, and the John Dory, the Michelin starred chef April Bloomfield and gang present their latest project — Salvation Burger. Just opened its door in February at the Pod 51 hotel. In-house butchered grass-fed burger, house-made buns, house-smoked hot dogs, boozy shakes make up high-end fast food/ pub food.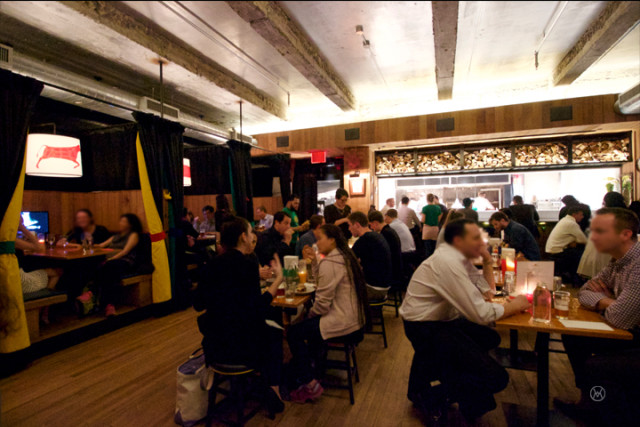 Salvation Burger currently only takes walk-ins, #noreservations
Because of its raved review and April Bloomfield's fame, I was worried. We arrived on the warmest evening this spring yet, and the place is packed. There was a crowd outside the door. Different parties scattered over the block. Our original estimated wait time was 1.45 hours. We were suggested to wait by the bar or the hotel bar next door. Be patient. I thought. At least they have yummy cocktails. But there were no space to stand or sit around the bar. Do we move to the hotel bar next door? They do serve the same cocktails, but the different is, the hotel bar next door doesn't have cocktails on tap, which means your Moscow mule will be less bubbly than mine.

The deco is fun and playful at Salvation Burger. As we look around, we discovered lots of cows surrounding us. There were different framed illustrations of cow hanging on the wall next to the open kitchen; above the bar, there are ceramic cows hidden in between the bottles; lamp shades above the booth are stamped with cows; all the coat hanger are ceramic cow head!!! And how often you look under the bar? There is a line of colorful cow heads waiting for the ladies for hang their purses. Well, If cows creep you out. Just stare at the wall of burger. You can't miss it. Right when you walk through the front door, that's the first wall you will see. It a wall of squeaky burgers sticking together. Please, squeeze them, I beg you. Asides from burgers and cows, chopped wood blocks are also used as decoration. Above the open kitchen, and above the front wall, they are stacked up to create a playful texture, clever. As we are looking around waiting, we noticed that there were plenty of people gave up waiting and just eat at the bar. So that area is very crowded. Waiting patrons holding their 2nd or 3rd drinks, while diners waiting for their food to arrive.
Table turn-around rate is slow, kitchen is playing catch up, therefore even a table is open, and they are not sitting people. Based on our observation, from the moment people sit down, to the minute they get their burgers were about 45 to an hour. I watched a gentlemen sitting at the booth finished his whole ice cold creamy heavy milkshake long before his burger arrived. Well, the restaurant is still very new, given time, the pace should pick up. For now, we enjoy our drinks and practice our patient.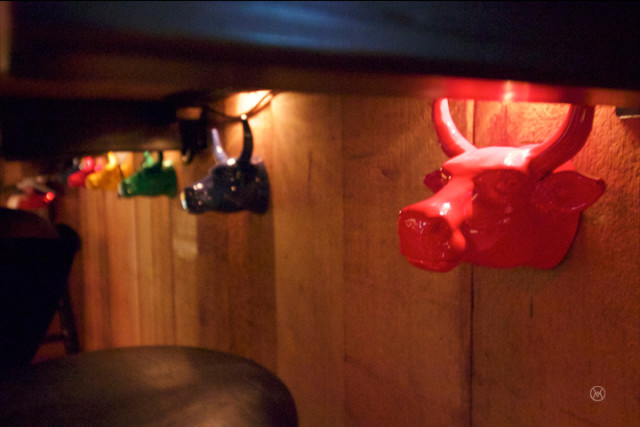 An hour in, couple cocktails later, we were starving. That's when we saw an opening on the side bar area under the wall of burgers. We hinted at the maître d that we can sit anywhere, not necessary a table. And she sits us there moments later. So if you don't mind not sitting face to face with your dinning partners, voice up!!
Since there is a decent wait time for the kitchen, we also deployed a different strategy. We let our waitress know immediately that we are ready to order the second she sat us. And yes, we studied the menu while we were waiting. Also, I would like to take a moment to thanks the PR/ social media person who handled Salvation Burger's Instagram account that night. Here is what happened: soon after we sat down under the burger wall, I posted a picture and sort of whined about how long we waited. Literally seconds later, someone from their camp responded and left a comment(see below). About 5 minutes later, our marrow and oysters arrived. And burgers followed about 10 minutes later. I really don't know if it is anyhow related to me posting and whining, but it sure seems that we are getting our food a whole lot faster than most parties we observed. Based on the time stamp of my pictures from the "burger wall" to burger arrival was no more than 20 minutes. If it is the power of Instagram, PR/ Social Media handler, I applaud you! Thank you!!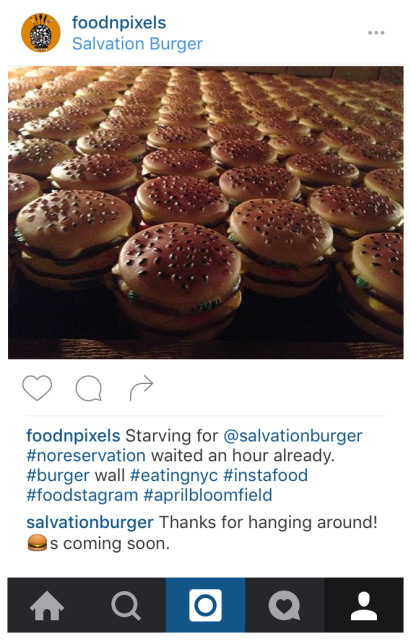 Ok, back to the food. There is no menu on the website yet, my guess is, they are still expanding. On the night we went, there were wood roast oysters ($13) and bone marrow ($12), and they were both great! We usually prefer our oysters raw, but this one was awesome. Although roasted, it was perfectly done, just the right temperature, and the condiments on it make it really appetizing. A little spice, a little sweetish, just perfect.
The roasted marrow had us drooling. We dipped/ soaked the nice crunchy toast into the marrow, sprinkle a little dash of that green rock salt and top with the greens that came with. We are loving it.
Now the main star—burgers. As advertised, the buns, condiments, and pickles are all made in-house. The 2 choices: the namesake salvation burger and the classic, we ordered both, medium rare.

The classic burger comes with 2 patties, special sauce in between, and pickles, no cheese. It reminds me a little bit of Big Mac, no!!!! how dare I compare it with Big Mac. I found the burger patties a little more done than medium rare. I was hoping for a little more red. But it is still juicy and savory. And there's really something special about the special sauce. A little tart, absolutely fantastic.
The salvation burger comes with a much more meaty patty. Double the size of the classic, if not triple. It topped with a layer of caramelized onion, and taleggio cheese. Caramelized onion was supposed to be sweet and balance out the grease and the heaviness of cheese, but the taleggio cheese was way too strong for the onion. For a moment, we mistaken taleggio as blue cheese, because that's how strong it is. We felt … overwhelmed. The patty was gorgeously medium rare though. Compare the two, we both like the Classic more, but we kind of wish we can combine the two and create a third. Take the hefty patty from the Salvation, pair it with the special sauce and pickles, cheese or no cheese we shall see. We felt that the Classic by itself is great, but the Salvation was a little too heavy, it needs that tang, sharpness to balance out. I only have half of each, but I doubt I could finish a whole Salvation by myself.
As we were on our way out, we managed to take a peek in the kitchen behind the curtain. April Bloomfield of course was not in sight, but versions of burger sketches were displayed on the wall, more to come? Or inspiration? We can't wait to see.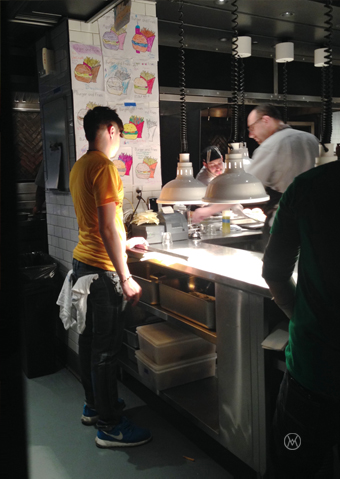 Salvation Burger | 230 E 51st St | March 2016