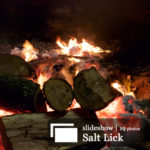 I felt a little unsettling without having good BBQ in Austin. We did go to more price friendly BBQ joint, but still found unsatisfied. I heard that Kreuz Market is great but it is an hour out of my way; Black's does not open on Monday and I am out of time, my friend shared my disappointment with Franklin's and decided to take me to Salt Lick, I finally found a bit comfort in ribs and briskets.

Salt Lick is located in Driftwood, kind of in the middle of nowhere. I found myself double checking, triple checking google map to make sure I am on the right route. On the way driving there, the blue sky slowly turned pale pink, violet, then pitch black. Off the main road, about 5 minutes into a little farm road, I started to worry. Following the direction, I made a right onto a dirt road into total darkness. I couldn't quite see anything, just that there is a wooden gate, and looked like I was on a farm. Am I trespassing on to some private property? That's when I saw the signs under some very dimmed lights.


I was at the right place after all. About a minute later, I pulled up to a barn, and I can smell the BBQ fragrant in the air. Turns out the dirt road/ farm from the gate I pulled in is a huge parking lot. I can't imagine if it is all full, how long the way it would be.
There are two barns on the property, the main dining hall on the left, and take out place and banquet hall on the right, there's also an outdoor garden that have live music performance. The night I was there was clearly too "cold" to have any audience. I followed the smoky inviting aroma into the barn, and found my friends waiting by the fire pit, being fascinated by all the juice-dripping meat on the pit. I too, found my eyes got stuck starring at the meat smoking "magical" fire pit. Next to the pit, is the meat cutting station. How the meat is being handle and masterfully dissect is in full display. It is almost a torture to watch, I keep swallowing my saliva.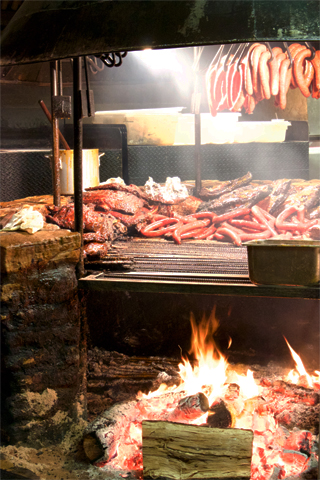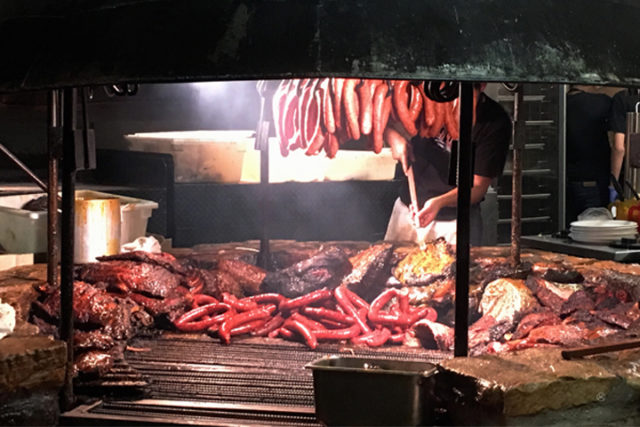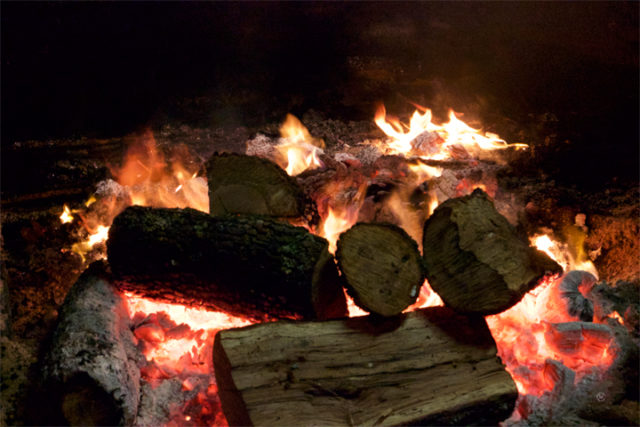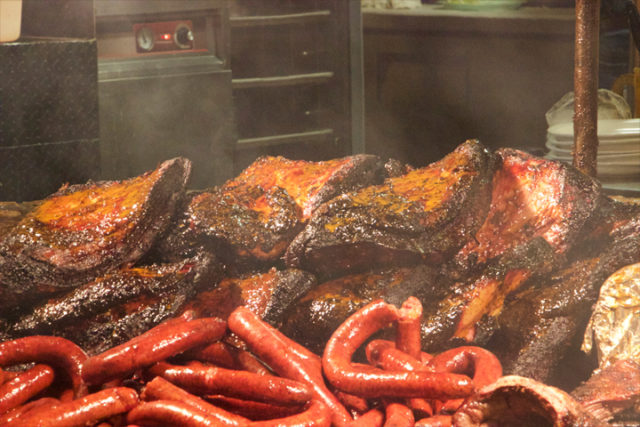 At Salt Lick, primary cuisine is beef. Beef brisket, sausage, and ribs. Chicken, pork ribs, turkey, pulled pork and prime rib are also on the menu. All these meat are cooked/ smoked with the traditional open-pit barbecue technique. As I understand, there are only a handful of open-pit barbecues are left in Texas, Salt Lick is one of the few remains. This pit is built by a World War II veteran, Mr. Thurman Roberts, and his wife Hisako Roberts. The two met during the war in Hawaii, and returned back to Mr. Roberts' home state Texas. They settled in Hill Country just outside Austin. And Salt Lick was one of their retirement projects. It started as a gathering place for family reunions, then words of great food got out, it became so popular, and eventually became a restaurant and opened to the public in 1969. Traces of the history of Salt Lick can be found from the pictures hanging on the walls. Salt Lick is still a family business, currently owned by Mr. Roberts' son Scott and his wife Susan. And that fire pit, they said the fire has been burning since 1967.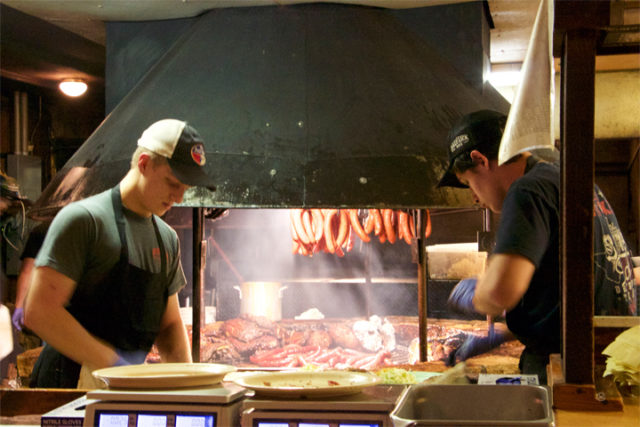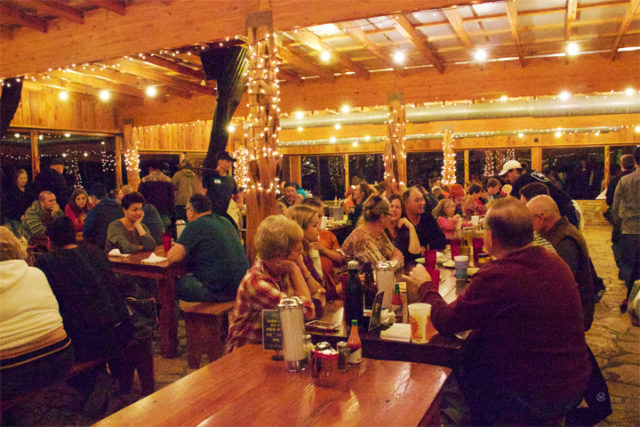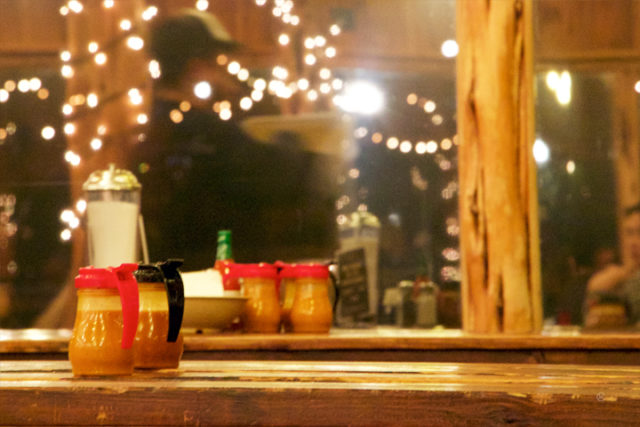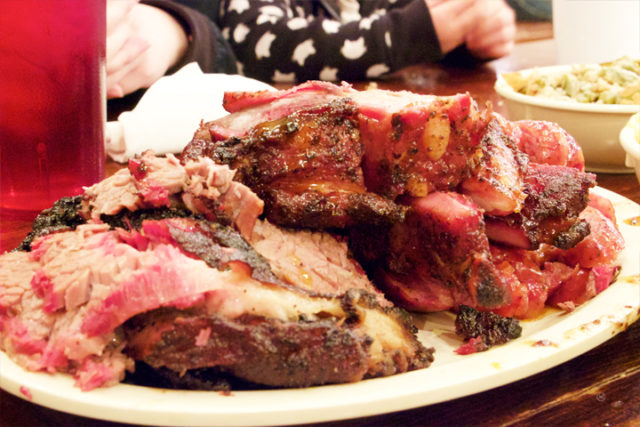 The dinning hall is a huge barn, Texas size. Tall ceiling and loaded with long picnic tables. After about 15 minutes wait, we sat down on the far side by the window. All the meat are by pounds, but also have a combo option, family style, as well as kids section. The laminated menu also shows what part of meat they use. We got some sausages, brisket, pork ribs, and it is a feast! The sausage was the best I have had yet, so juicy. Such smokiness and flavorful is far beyond compare by Franklin's (sorry!), so is the brisket!
The finger-licking, tender, juicy goodness got me going back the next day before my flight. Yes, I went and order "to-go" for my plane ride, and save and share with my friends who didn't make the trip. Yes, I could have buy it from their shop at the airport, but I fear it might not taste as good. And yes, they do have online order and I could have it deliver to me. But I just couldn't wait.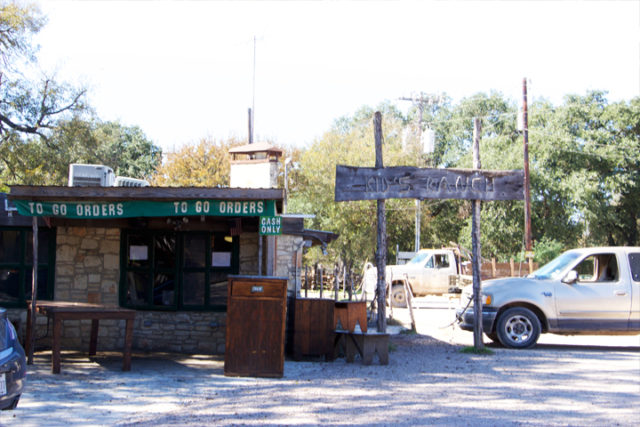 Salt Lick | 18300 Farm to Market Rd 1826, Driftwood, TX