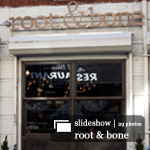 This year's restaurant week came early. Instead of starting in February, it surprised us in mid January. And as winter weather finally arrive, we are in need of comfort food. So screw that new year resolution, I need some fried chicken.
Root and bone is a cute little place in Alphabet City. This much hyped place open back in mid 2014, offering southern comfort food. Mainly fried chickens and waffles, grits, devil eggs, the goods. Afterall the chef/owner couple did made their reputation at Yardbird, Miami. I am a big fan of Yardbird by the way. However, it seems like Chef Jeff Mclnnis and Janine Booth didn't want to be linked to the South Beach restaurant that earned them the James Beard nomination. Check out the root & bone website, there were no mention of the framed restaurant on their website. Perhaps they didn't want to be compared?
Yardbird isn't the only place we got to know this pair of picture perfect couple. They did both appeared on "Top Chef". Jeff was on 5th season, and Janine was on the 11th. They didn't win. But looks like they won each other. It's an interesting read, their story, it's like reading page 6 of the cooking world.
But enough of the gossip, i'm here for fried chicken.
Restaurant week menu is offered for both lunch and dinner at Root & bone. But both are the same. In that case, of course I show up for lunch. The little narrow door on 3rd street opened into bakery like front- take out counter. Small "foyer", just enough to stand 4 people with no apparent Reception area. Thru a small door way, it's the main dinning room, with open kitchen and a eating bar. I chose to sit in the smaller dinning room by the bar. It's like a little breakfast nook. With sunlights beaming in, and heat blasting, it feels more like a chill spring morning than a freezing winter afternoon.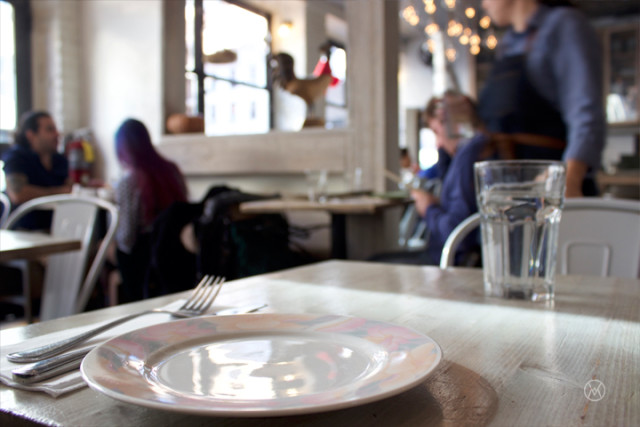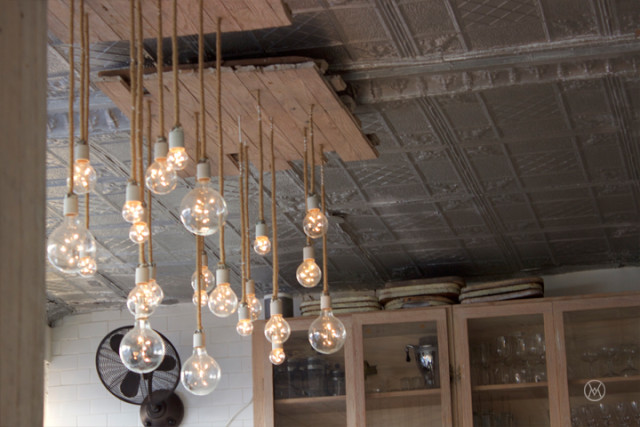 The place is adorable, feels like I am sitting in the kitchen in an farm house. Aged White oak or birch wood cupboard and bar; exposed brick painted in white, edison light bulbs hanging from the sliver polished tile ceiling. Little birch wood tables paired with steel chairs, rustic, warm and comfortable.
I sat down by the bar and watched the room slowly warming up.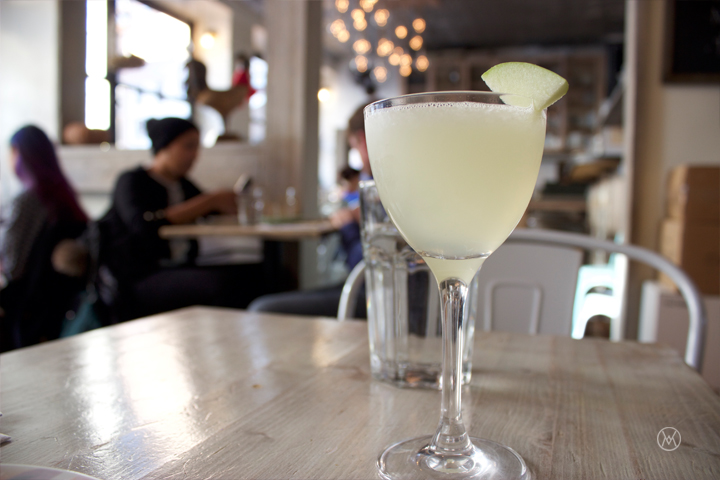 Promise ring– white whiskey, green apple, elderflower and lemon.
It's very light. Perfect for early afternoon drink. What. Too early?!? It's 1:00 already.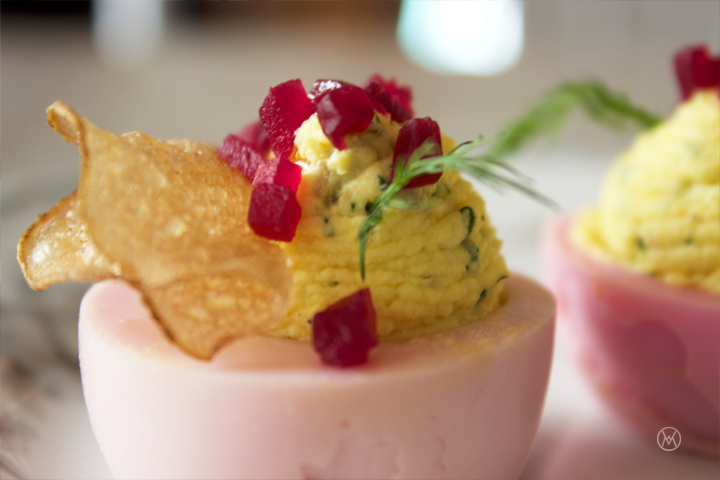 Drunken Deviled Eggs– Catskills farm eggs, pickled roots and chips
Egg white is pale pink. Creamy yolk is stabbed by a crispy chip. I don't think there is ever a deviled egg that's not good. So simple yet so satisfying.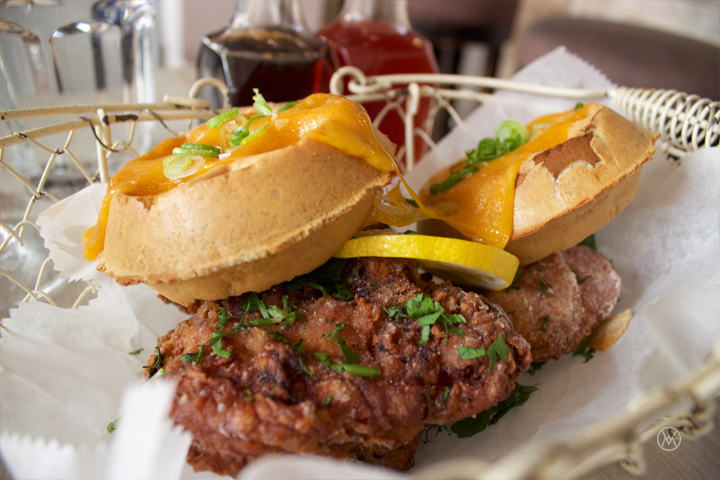 Root & Bone's award winning fried chicken and waffles, sweet tea brined, lemon dusted, spiked Tabasco honey and buckwheat cheese waffles with whiskey maple syrup.
This is the dish that supposedly earned chef McInnis the nod. The dish that I'd fly to Miami for (among other things).
Chicken and waffle arrived in a basket, along with whiskey maple syrup and tabasco spiked honey. The wheat waffle is placed with a piece of cheddar, half melting. The zest of Lemon made the whole plate smells good. And so, the famous chicken… Here at root and bone, they let you chose white/ dark meat. Me? Always dark meat. Dark meat tend to be more tender. If root & bone is anything like Yardbird, given my experience there, it should not matter whether it's dark or white. Sorry, hard no to compare. I got a thigh and a leg. However, this famous chicken was a bit of a disappointment. Dry… And too much crust. The skin was fried too long and had became tough. Can't even cut through with a knife. There's no moisture in the meat anymore. Where is that faintly sweetened, juicy, tender, award winning chicken? That should be where the house made spicy sauce came in. The sauce taste like a mild spicy version of the sweet and sour duck sauce.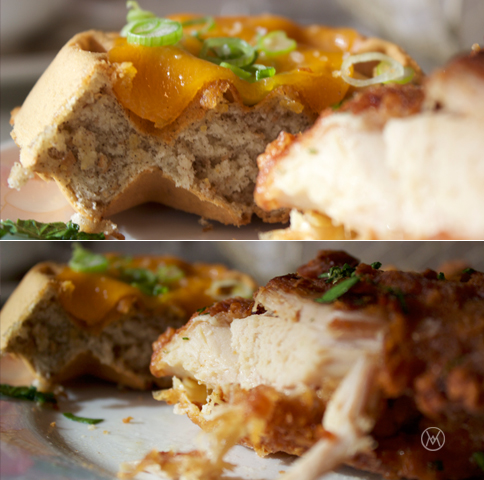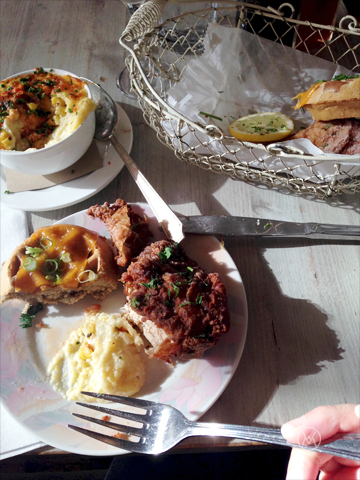 On the positive side, root and bone's restaurant week menu comes with more than 3 course. Other than the appetizer and main course, they also give the table a side dish. Two choices, Mac and cheese or grits. I got the grits.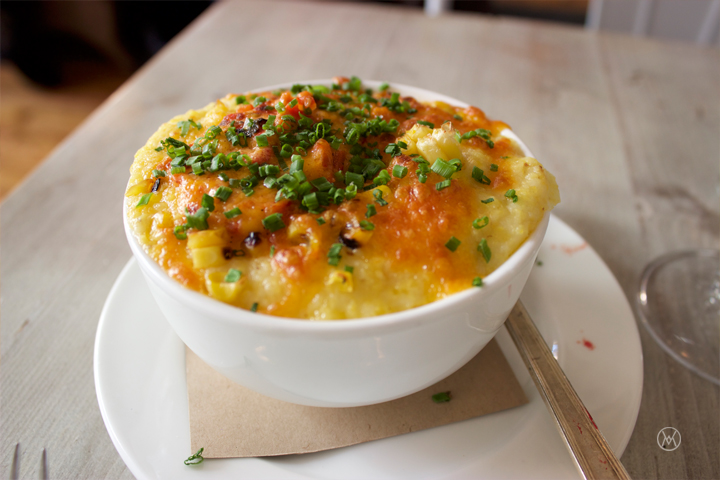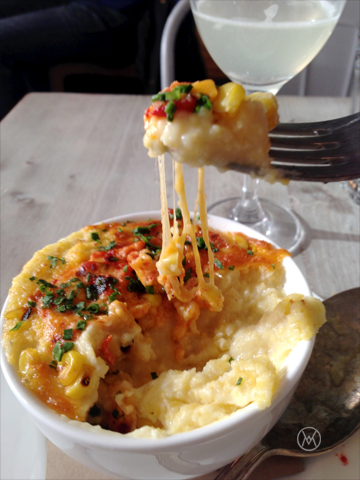 Citrus custard- blood orange sorbet, pistachio grahams & crunchy meringue.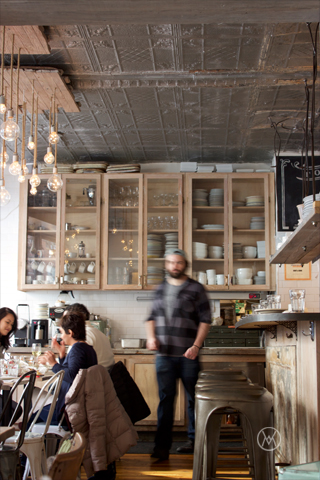 All in all, for $25, it is still a good deal! Wait, there's still dessert to come. And after a heavy meal, the blood orange sorbet is a better choice.
So, since summer 2014, New York has upped the chicken game. There are way more choices and players in the game. Looks like Jeff and Janine have works to do. But for the moment, let's just say, I just planed a trip to Miami.
root & bone | 200 E 3rd St | New York Restaurant Week Winter | Jan, 2016 | lunch