These are probably old news now, but I have been busy (eating), and finally get around to organize what we did in Miami……
Most people go to Miami for the sunny beach paradise, or the hot night scenes, some for the infinite pool side parties with frozen beverages, but I come to Miami for one thing, food… well, mostly. The sweet fried chicken at Yard Bird itself is enough reason for me to hop on the plane, plus the stone crab, and all the Cuban food… Honestly, I really don't know how folks who live in Miami keep up with their beach body. Though our visit to various eateries, everything had been amazing, and we were very satisfied and keep going back for more. But, there's always a but. During our most recent visit to Miami, we have encountered our first disappointment.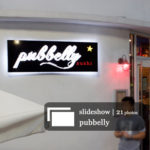 The Pubbelly boys, a trio of rising stars in the culinary world base out of Miami. Since the opening of Pubbelly in 2010, this empire now has 6 restaurants under the brand. All are critically acclaimed. Pubbelly and Pubbelly Sushi in Miami are both on the Eater Miami heat map for a long time, and still are. In fact, the year that Pubbelly opened, Chef Mendin was nominated for the James Beard Foundation's Best Chef South award. He made it to the semi-final, then again and again, four years in a row. The other Pubbelly boy is Chef Navarro. The brothers met while working together at Nobu Miami and Sushisamba. Between this dynamic pair, Mendin takes cares of food, while Navarro gets in touch with his designer talent, and whatever they are doing, they seem to be getting it right. But….. we feel very differently.
With all the nice PR, and great reviews, we figured we would take a break from our Cuban food feast to see what the fuss was about. Pubbelly vs Pubbelly Sushi, which one should we go? That would have been an easy decision, we LOVE sushi! But I have had very bad experiences at SushiSamba New York, so the original Pubbelly it is.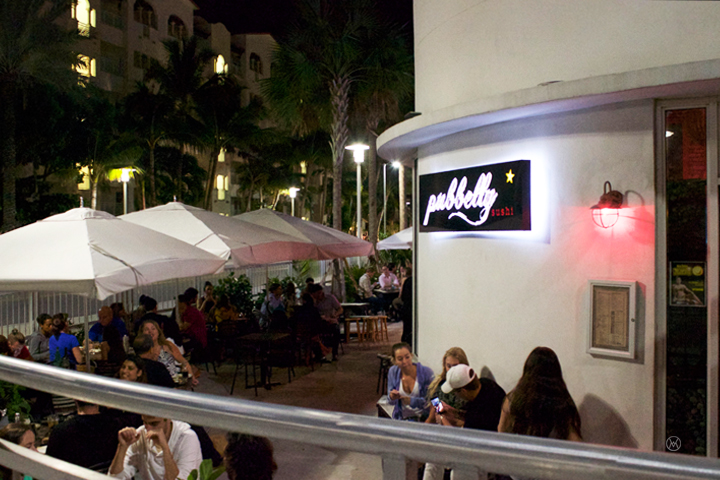 It was early Sunday evening when Uber took us to the West Miami Beach restaurant. It is a quiet residential area, with a number of trendy boutiques and places to eat. Pubbelly and Pubbelly sushi occupy the corner space outside a white painted concrete building. Coming from east side of Miami, we didn't see the sign until we turned the corner. Pubbelly Sushi's patio seating was packed, but Pubbelly was quiet. While Pubbelly sushi is adapting sushi Samba's model and taking the high end trendy sushi route, serving up dishes like fish tacos, sushi burritos, oversize rolls with excessive sauces; Pubbelly is a gastro pub cooking up "Asian-fusion" fare. It is dark inside even with the tall ceiling. The place is airy. Exposed brick wall, exposed ductwork ceiling, and slightly reflective table top, industrial lighting with a raw bar in the back. There are copper pots and pans hanging around the air vent above the bar. It is chill, and comfortable. It did seem slow for a Sunday night. When we sat down, we were one of the 3 (only) groups of customers there, however, I would say service was… questionable. Read on and you will find out why I said that.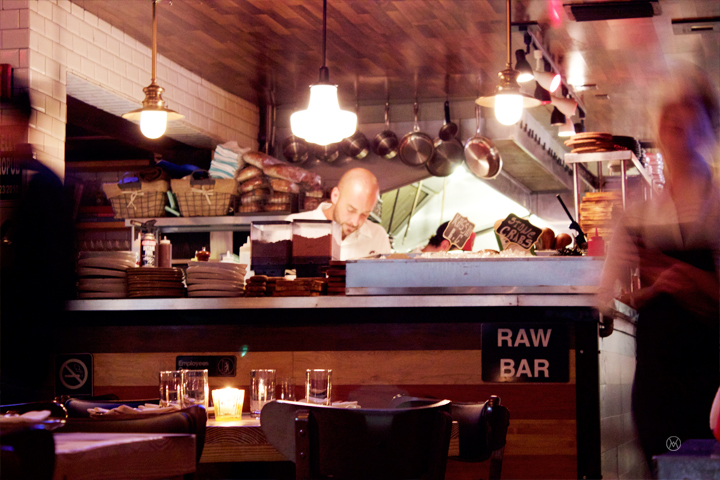 Despite the place is practically empty, we were seated by the exit. It wasn't a problem in the beginning, but as the night went on, the waitress keep going in and out via the door next to me was a little annoying. I should learn how to demand. Obviously I didn't think it through. Before water get to our table, a little cup of chili pepper got to us first. How does it related to the restaurant? What do these go with? I got absolutely no clue. I'm probably thinking too much into it. Had a glance on the drinks menu, only 4 cocktails listed, and nothing really interesting. It is a Gastropub, maybe we should have beer. Moving onto the menu, quite a list of starters, appetizers, and finger food, and bread service? So turns out that here at pubbelly, no bread is provided, but bread service is available for $8. We didn't order the bread, but judging by the reception from other tables, as far as I can tell, they were not overly excited with the bread. Another thing, on the day we were there, Stone Crab was unavailable (but it was in season!?!).
The brussels sprouts were the first to arrive. Completely darken, and falling apart all over the place. By the look of it, it is a bowl of black mass, beyond recognizable. The plating of this dish is not the only problem. They are overly salty. There is no control, no balance over the miso, garlic and salt. I would call it triple X salty. So much that it came to be bitter after several bites.
I have not have veal brains before, I imagine it would taste like sweetbread. Thanks to the meuniere, veal brains come with a slight crunch. The "crust" of it is crispy. The black butter did its job and made the plate really dark, but not necessary eyes appealing. Raw bean sprouts scattered on top was a good thought, it did add a crunch but did little to help the plate. Again, it is heavy on the salt. As for blue crab. I didn't know it was there. I only tasted salt.
Scallops that followed weren't much better. It is perfectly cooked, but it is buried under a mountain of breadcrumbs which was soaked in the garlic butter. Where is the shiso flavor?? Like the other two appetizers, it is very salty, and I did push off the breadcrumbs but still…  Well, at least they are consistent. Really wish there were more lime.
Now here is the interesting part. We ordered four appetizers and a uni spaghetti as a main course to share. We got the spaghetti before our fourth appetizer got to us. I honestly forgot about it until may be the second bite of the pasta or chunking down my third glass of water, then I felt we were missing something. May be secretly I didn't want it to come because everything have been disappointing so far. We were going to let it slide. If they don't remember, we are not paying for it. It did eventually show up, about 10 minutes we have our pasta. But let's get back to the uni spaghetti first.
How should I put it? It is a mess. Pasta sauce is very spicy and salty, can't really tell what is there and what isn't. spaghettis might as well be a mash dole. Way over, over, overcook, very very very mushy. Uni was not very fresh either, but it could be because it has been overcook. It was briny, and fishy, the overdose of garlic didn't help, almost made it worst. What a waste… If we could replace the garlic with tomato, this dish might be savable, but that gooey mess of spaghettis really killed it.  At this point of the dinner, we have passed the point of disappointed, we just want the dinner to be over with, get the check, get out of there and may be go get some tacos. Then the foie gras finally make its appearance.

Foie gras is listed as a starter, but we are at the end of our dinner. When the server placed it down on our table, she didn't say a word, didn't offer an explanation, didn't apologize. Actually, come to think of it, throughout the dinner, no one ever come to check on us. Well, it is finally here, and guess what, this last dish is the only one that wasn't crazily salty. Foie Gras, the rich, buttery delicacy can hardly go wrong. This foie gras is very well cook, pan seared, the caviar is left alone on the side with a little cube of bread. Each of the piece are very good, just seems so … disconnected. I think caviar was totally not necessary. And the bed of chocolate "dust" was not needed either, it was supposed to create a contrast of texture, but since every piece is so isolated, it wasn't doing its job. I would love to have that bread service with this fat, thick piece of foie gras. But the fact this starter arriving last would totally defuse the purpose.
I don't think I have every been so hash on any restaurant I've been to. There's always at least one dish I like. In Pubbelly's case, half a dish. Did we order the wrong items? but not only it failed to impress, 4 out of 5 dishes were almost a recipe to high blood pressure. Quite frankly, they might not be all that bad if they were not all heavily salted and seasoned. Are these all meant to trick people to drink more? Either they have serious problem in quality control or I have very different palates than all other people. Each dish was more disappointing than the one before.
We left the place upset and with anger. What was the rave about?? I sincerely hope this was a one off night.
Pubbelly | 1418 20th St, Miami Beach | April 2016