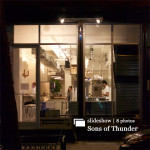 I love raw fish, sushi, sashimi, crudo, carpaccio, tartare, ceviche, hoedeopbap… I love them all. These are all easily found in New York. However, there is one that we have been lacking for years, the american one– Poke!!!! I can call it American right? I mean, Hawaiian is American. For years, New YorkCity, our great culinary palace of the east coast is missing this raw american dish. Yes, Noreetuh serve up great Hawaiian dishes, but we need a poke joint, like those in Hawaii. Relax, no frills and cheap. Our wish was granted. Late last year, the pacific cool breeze finally blew through New York City. Now, there are about 5 of them scattered on Manhattan Island. Last week, we found ourselves on the benches of Sons of Thunder, the first poke joint in decades that open in new york. We are hoping this is the first of many.
Very much reassembling a Japanese Tekka Don or Chirash or a Korean Hoedeopbap, Poke is a raw fish salad, mix with shoyu, green onion, sesame seeds, seaweeds and etc. At Sons of Thunder, we can get it over a bowl of white or brown rice, or warm tortilla chips. There is also a choice between shoyu or spicy sauce.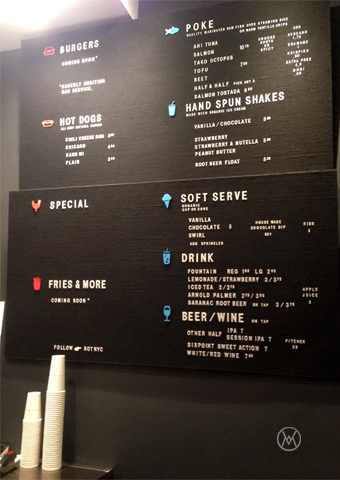 The place is like a chill surf shop, or a seaside shake. Distress floor, exposed brick wall painted in white with a surf board hanging with picture of Hawaii shores, its causal, relax, like it is suppose to, in Hawaii.
Sons of Thunder operates like a chipotle. Menu is on a black board hanging over the cash register. Order in the front, and the crew assemble the order down the line. There are other items on the menu, like burgers, hot dogs and shakes. But we are here for poke. We order 2 half and half bowls: one with ahi and tako with shoyu; the other with ahi and salmon with spicy. We were handed one of those buzzer device and proceed to the back of the restaurant.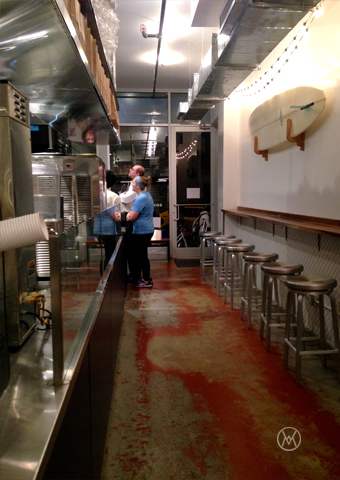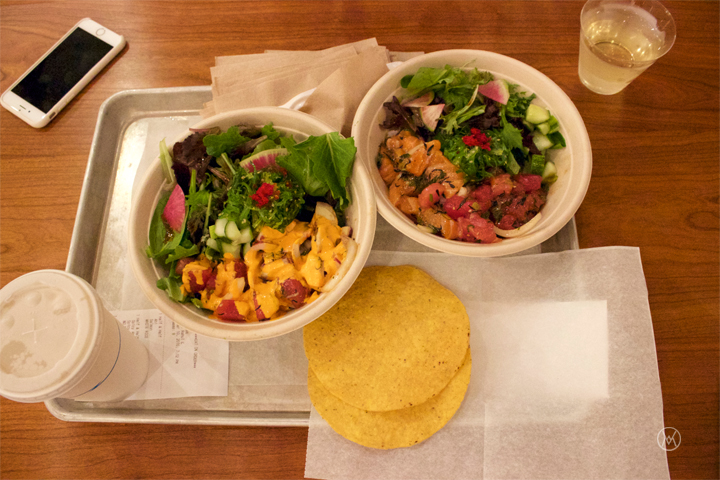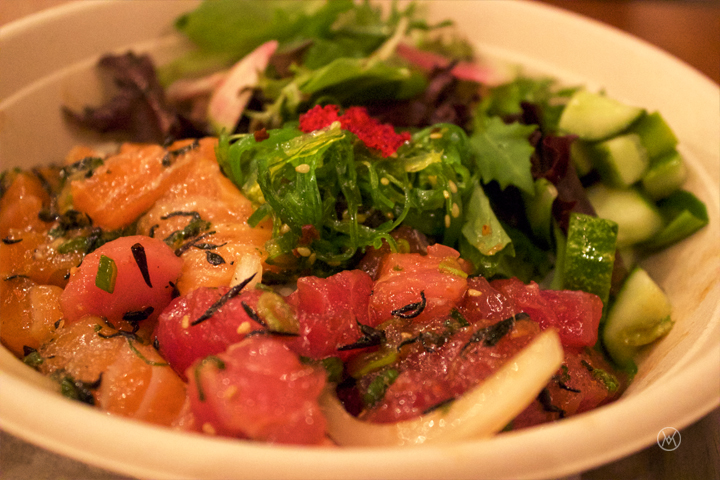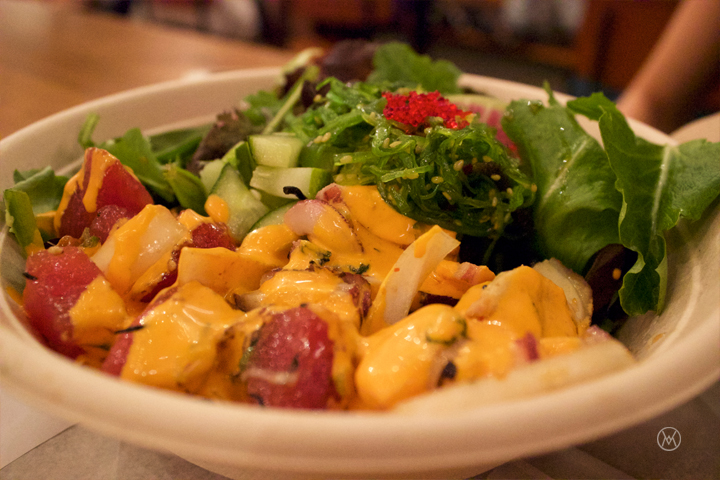 It is very affordable. For 10.75 a bowl, there is plenty of poke. It is not premium quality, but it is decent enough. Tako was surprisingly good too. We both like the one with tuna and tako, preferably with shoyu. Spicy marinade is actually spicy mayo. Could use a little more kicks in it. The seaweed salad and and pickled cucumber were great. The only thing is … the warm tortilla chips was … awkward. While it is perfectly crispy, poke and salad isn't things that we can exactly dip in. We ended up breaking it in pieces and try to stack poke and salad on it skillfully. Which fail all the time. Perhaps we should investigate to use the scope style tortilla chips. We ended up ate it as chips. And one more thing…. We would really much like to use chopsticks, please!
Cheap, healthy eats that we can keep coming back and not break the bank. If I live in manhattan, I'll never have to cook again…
Sons of Thunder | 204 E 38th Street | Feb, 2016