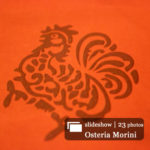 Michael White, a name that needs no introduction. The award winning, well acclaimed chef and his Altamarea group is an absolute power house in Italy cuisine in town. Between New York and New Jersey, the empire has no fewer than 8 restaurants, from causal pizza place to steak house, to upscale fine dining; Chef White seems to do it all. However, it is super tough to maintain standard and quality when one's tentacles are stretching into so many places. It was sad when his well appraised Alto shuttered. Convivio also abruptly closed about the same time. Costata in SoHo closed earlier this year due to supposedly "relocation". With all the closing, there's new blood starting to boil too though. Rumor has it; a new member to the family is slated to open in late August on Park Ave.
While I wasn't impressed by Costata or Ai Fiori, I absolutely adore Marea, the mid-town seafood place. I love their appetizers. Their crudos are excellent, pastas are exceptional. But I always stay away from the entrees. And who needs entrée when you have the most amazing, specular bowl of happiness name FUSILLI. Al dente pasta soaked in the bone marrow red wine sauce with the tender, mouthwatering braised octopus. I would lick the plate every time if I wasn't sitting among the well-dressed upperclassmen. Michael White is truly a magician in craving these hearty earthy goodies. Marea opened in 2009, later in the same year, came Osteria Morini.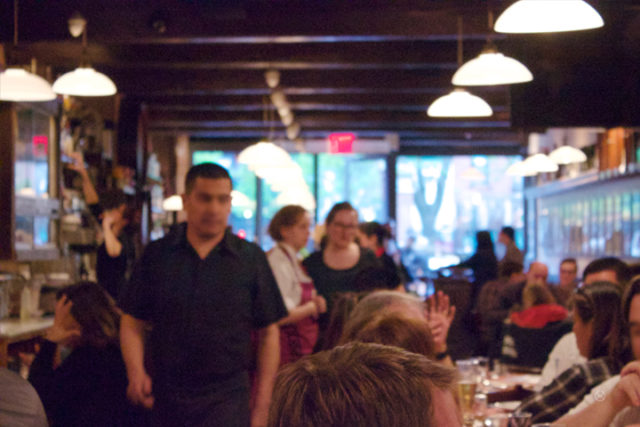 Comparing the menu, Osteria Morini is about $10 cheaper on entrée and pasta in general. Completely different than its Upper West classy sister, Osteria Morini went the farmhouse chic direction. Terra-cotta floor tiles, exposed beams, walls are heavily covered by framed photographs and mirrors. We found pots and farm tools hanging on the kitchen side too. The frame table paired with mixed color chairs or long wood benches, make the place very earthy, homey, but also made the place very loud, or "lively. And the place is tight, almost felt cramped sitting back to back with our neighbors on the crowded evening we were there. We often found ourselves bumping each other's chairs or completing to make ourselves be heard. Well, after a couple of luscious cocktails, we were all a little loud.
Shortly after we toasted with our sugerly drinks, our butcher board of appetizers arrived, along with different kinds of bread to spread on. While the prosciutto is smoky and flavorful; smoked trout is rich and smoothing; the savory duck liver mousse completely stole the spotlight. The sweet passito wine cleverly balanced the otherwise heavy liver mousse. Portion is generous too, we could have use a little more bread though.
And because I love, love, the braised octopus FUSILLI at Marea, how could I resist not to order the Polipo. The seared baby tentacles is a bit smaller, but same succulent. I always compare Chef Michael White's octopus to Chef Masato's. Different cuisine, different method, but both made me dream and drool. I wonder if Chef White massages his octopus as well.
As highly as I praised the pasta at Marea, the hand craved pastas at Osteria Morini are not at all inferior to its sister. Both squid ink pasta and macaroni are cooked to perfection. Torcia is as rich and flavorful as the FUSILLI. It would be even more fantastic if we could throw in some of that octopus to the dish. Well, one can dream. The Gramigna is on the lighter side, but just as delicious. Like I said, Chef White is a magician with pasta. They are immaculate.
If you have room, stay for dessert. I highly recommend the Affogato, although a little more gelato would make it more wonderful. Or if you crave for a lighter palette to end the night, get the Meyer lemon basil sorbet. My friends didn't like the taste of basil, but that just mean I got it all to myself. And I am loving it.
Osteria Morini | 218 Lafayette St | April 2016