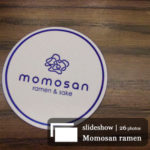 Don't remember when but ramen seems to have invaded the NYC dining scene. It wasn't a thing before Momofuku. I remember a time when Rai Rai Ken seemingly the city's only option, and I would have to cross the river to Mitsuwa to get a decent bowl. Thanks to David Cheung, all the sudden, NYers are obsessed. Nowadays, there is always a line outside of Ippudo; Momofuku became an empire; everyone is making ramen. The Japanese slurping culture became a trend here, a hip thing to do. Ramen places keep popping up all over the city. Minca, Mr Taka are among my favorites, to name a few. And now the Iron Chef decided he can make ramen too. Well, not exactly that he is "making" ramen. Morimoto team up with Sun noodle (US-based ramen manufacture, factories in NJ, LA & Honolulu) -to deliver his vision of ramen to NYers. Their love child- Momosan open its door on an April Friday evening near Grand Central.
We have heard on the opening night, the place was a mess. They don't have a reservation program, and as people flooded to the affordable casual dining place by the iron chef, the wait was well over 2 hours. Some had waited 3 hours to be seated. And it didn't get better in the weeks following. People have said they tried to get there at 4pm on the weekend, but the wait was still 2 hours long.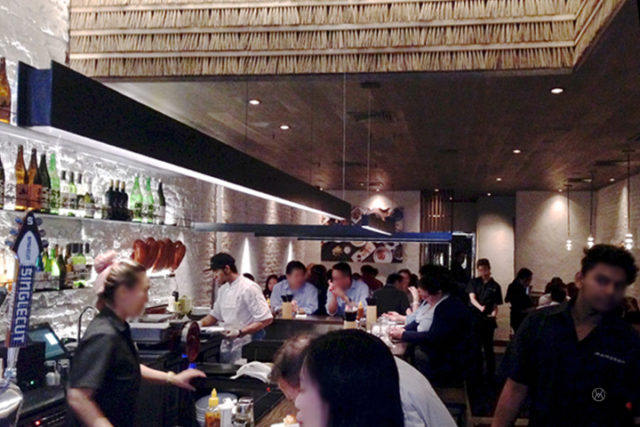 We decided to try our luck despite all the thing we have heard. A month after its opening, we arrived at 7pm on a week night, prime time for dinner. I guess we were consider very lucky, we waited less than 15 minutes. There were only 2 of us, that might result in lesser wait time. And we were not picky, bar is a good place to sit. The only uncomfortable thing is that, the bar is serving food as well, meaning there are no more waiting room. Patrons waiting for the next available seat is standing right behind. And occasionally their elbows bum into you, or the hand bags, their butts… it is crowd.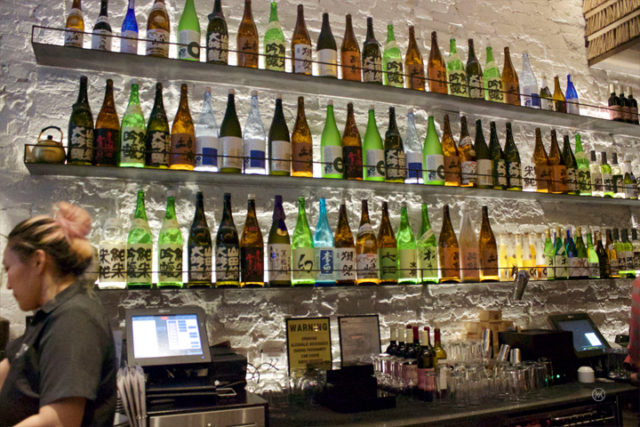 Momosan sits about 60 (including bar seats). It is officially ramen and sake bar, and the sake selection is extensive. The wall behind the bar is shelved with different colors of sake bottle and cleverly back lited on the textures wall, icolorful, very nice deco. And the fake skylight shinning above the bar is a nice touch. Not only it created a contrast with the wood flooring ceiling in the dining room, it makes the crowed bar seems airy.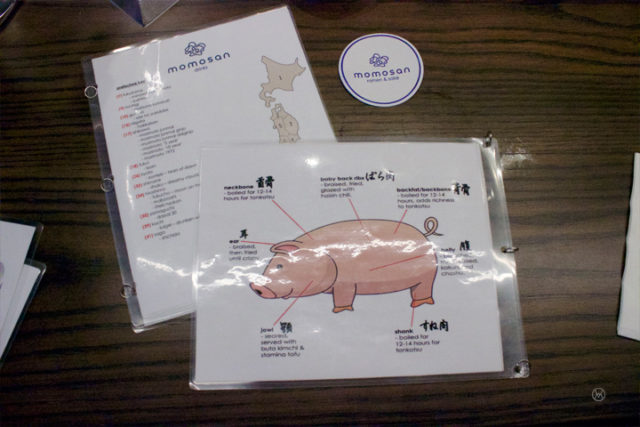 Momosan's menu is quite a read, but kinda unorganized. We were given 3 set of illuminated pages. The first is a dissection of a pig, detailing parts of the meat and the method they use to cook, quite interesting. The second is the sake menu, it illustrated the map of Japan, and in the menu, it labels where each sake is from. I think it would take me 2 hours to finish reading, nevermind understand it. The third is finally the food!!! With professional pictures highlighting some dishes. What are we gonna do?!? So many choices, so little stomach…
However, I don't mean to be picky, but the luminated loose pages feels cheap. I mean, the menu doesn't need to be fancy, but a man like Morimoto could definitely do better to put out a menu than what seems to be a 4 hours work by kinko/staples. It just seems odd that the place has every plate, every bowl, even the paper coaster engraved with the name. Hard to imagine he didn't put as much thought into the menu, I mean, the guy has two beer and a sake in his name.
We were disappointed that pork feet is off the menu, but we love the pork jowl, and it is excellent with kimchi. But there were only 4 pieces of jowl. I think I need the whole order just for myself.
The pig ear was something out of this world. It was flavorful and crunchy as hell. Somehow the pig ear retained the flavor after deep fried. It came with Japanese mayo, but it didn't need any. ah.. so turns out the pig ear was braised then fried. That explains a lot! Bravo!!
The sausage was served on a iron sizzling plate, then sake was pour on at tableside. But I felt it needs may be couple piece of lemon to balance the heaviness.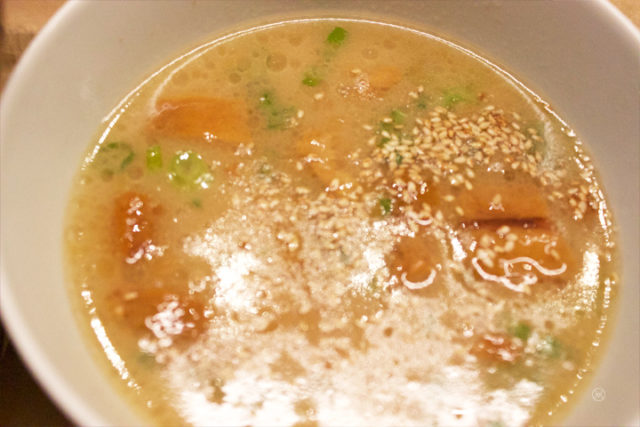 So moment of truth, as great as the appetizers are, we are here for ramen.
Surprising enough, there were no steaming coming out from the bowl. Instead, the top layer of both bowl of broth was chilled enough to form a solidified layer, one that a pair of chopstick can lift off. That tell us that both bowl of ramen have been sitting somewhere for at least 15 minutes before they arrived in front of us. My Tsujemen, since it is a dipping noodle, the soup is supposed to be steamy hot. But it wasn't, even without the noodle, it was just slightly warmer than room temperature. Added noodle, then it's cold. How disappointing. Odd enough, though the soup was not hot, the ramen itself had become soggy, aka Nobiru. Why? It might have been in the water for a minute too long.
The broth, although they were hot enough, the taste was excellent. Just enough fat to carry the flavor. Rich, creamy, satisfying. In the Tsujemen, there were small chunks of pork belly too. And the takana is a genius add to the bowl. But wait. Where is my toasted nori?
At the end of the dinner, we agreed that appetizers are great. As for the noodles, the place is still new, there are definitely a few kinks to work out. Given it time, give it time.It's a noodle place so turn-around time should be fast. By the time we finished slurping, it was just after 8. It seems there were more customer at this time. A big crowd is standing around scattered on the narrow sidewalk, blocking everyone trying to pass through. Time to think about pedestrian control, Momo San.
Momosan | 342 Lexington Ave | May 2016