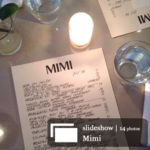 Thanks to all the food critics, Mimi is no longer a hidden secret in Noho. The pint size French bistro on Sullivan is jammed packed when we visited. The place hold only 10 tables with a bar that sits about 7, it is smaller than your average corner Starbucks. When I heard the chef is only 25 of age, I was utterly surprise. Because her resume is too impressive for a 25 years old. Already did a tour in Europe including the now closed but former world number 1 Noma, and also a stint in Japan. Chef Johnson really wasted no time and still got a full life ahead of her. What were we doing when we were 25???
The place is clamped, I squeezed myself to the end of the bar and ordered a drink as I wait. 8 different speciality drinks on the cocktails menu, and everything looks interesting. Another thing that caught my eye at the bar is the glass full of matchbooks. They are not printed in the restaurant's logo or name, but with a different print on it, back and front.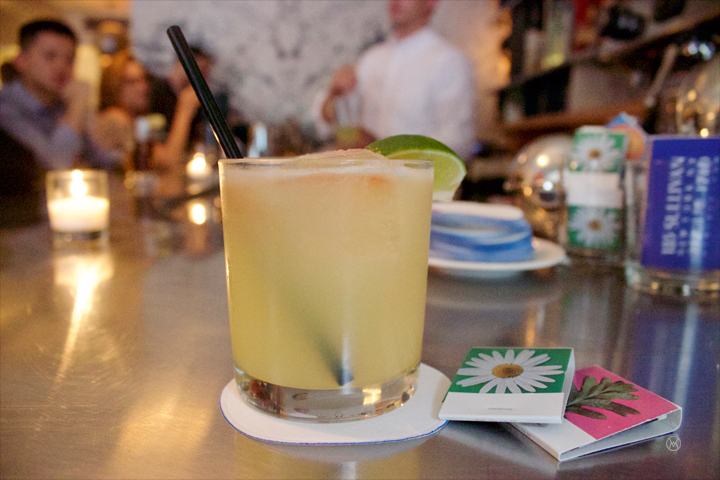 "Are you a collector?" The bartender asked when he place my Remy on the French flags printed coaster. I must looked too excited like a kid in a candy store.
"Yes I am" I said proudly as I restrain myself and put back a handful of it after I add two to my collection. "There ain't a lot of restaurant still make these little survivors anymore." its the little things that matter.
Around 730pm, the place is pumping at the peak point. The hostess had to turn away several customers since they didn't have reservation. And a lot of patrons actually sat and ate at the bar.
The menu is hand written everyday by the young chef. 4 sections on the menu but no escargot today, but our eyes are set on the Madai, and/or kinmeda. It is not often that I see Kinmedai on the menu other than a sushi place, we were intrigued. We would have ordered both, but there were way too many interesting items on the menu. The waitress informed us that the Kinmedai is actually cooked. Well, that helped with our decision, Madai it is.
Other than what's on the menu, there were also specials. And one of the night's special is sweetbread!!!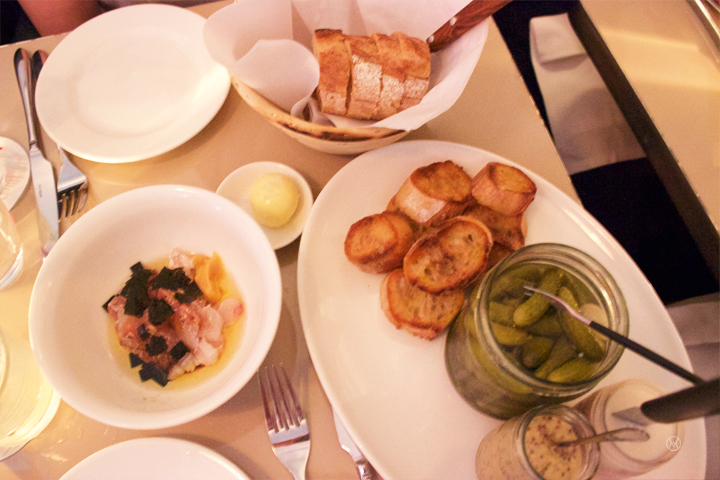 Firm chucks of sweet fish soak up in the comforting butter, with a little smudge of lemon condiment on the side. This is where I wish I have chopsticks. I would certainly have more handle on the fish. I tried the first bite without the the lemon curd. The brown butter neatly coated around Madai, and it is hugging me and my senses too. So cozy and comforting. Then I took a tiny bit of lemon on top of the Madai. A little acidity, then deep buttery taste, there is a hint of sweet in the brown butter, almost felt like it is chocolate, and after layers of flavor, the sweetness of Madai unveil, like a priceless jewel unwrapped under layers of prime beautiful gift wrap. This Madai had me thinking about it for weeks. This could be one of the best, if not the best thing I ate this year.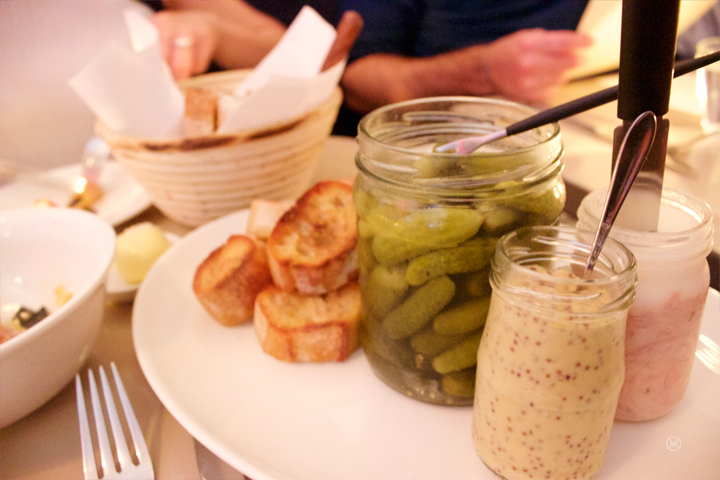 The pork rillette was like a full meal. A jar of pickles and a full mason jar of rillette topped with a thick layer of pork fat. My healthy eating conscious friend would be shaking their head if they were here. But they weren't!! And it"s my "cheat day". Serve with a board loaded of bread. Crunchy outside and soft inside. Half way down the jar of rillette, our conscious told us that we should probably lay of it and save some room for main course, but we couldn't resist dipping the bread into the mixture from Madai. Not that the rillette is not good, but the Madai is AMAZING. And we love the jar of little pickles, we couldn't finish all of it, and it is so temping to bring it home.
But soon, as our entree appears, we immediately regret having ate so much bread. The portion is huge!!! We were both surprise!!
Our lamb has two huge medallions with a huge block of potatoes scallop. For the price, it is very generous, especially in New York. At any other less popular place, for the same price, we would probably only get one medallion of lamb and one little square of potato, and not even half as good. This lamb is everything worth raving about. The tenderness and juiciness is out of this world. So fabulously roasted to medium rare with the aroma of charcoal. So soft that it melt between the teeth, and dissolve on my tongue. With a thin trim layer of fat on the outside. The redness of the succulent piece of lamb is beautiful!!!
and that's not all….. the potatoes dauphinois is specular. Layers of thinly sliced potatoes stack together like a mille feuille. It is a heart-warming bite with crispy layer, and it's hmm hmmm GOOD!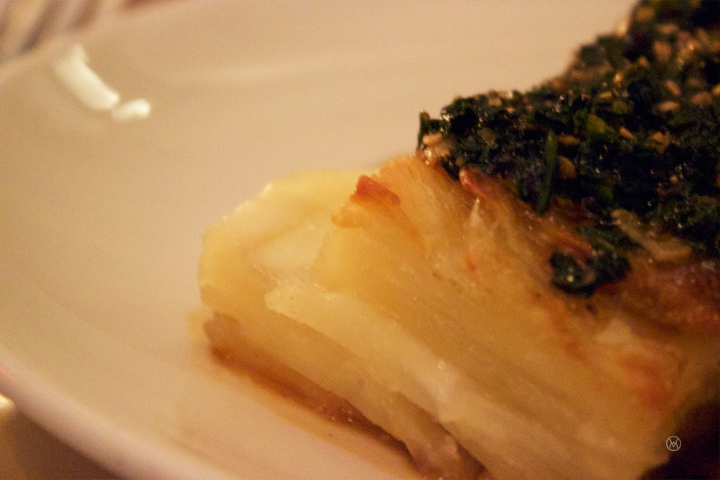 Sweet-bread with clams, buna-shimeji mushrooms
Like the roasted lamb, sweet-bread was a big plate. Even bigger potion than the lamb, and the whole plate is dosed with delicious buna-shimeji mushrooms. They are like little buttons all scatter around on four big pieces of sweet-bread. Sweet-bread is tender but firm. The outside is all crisped up, but smooth, tender and moist inside. With the rich sauce, It is a little salty, its a little heavy, but It is traditional french food at its best, hearty, and fulfilling that keeps us wanting more. And there a lot other items on the menu that got us curious too. We will be back. Next time with a even more empty stomach.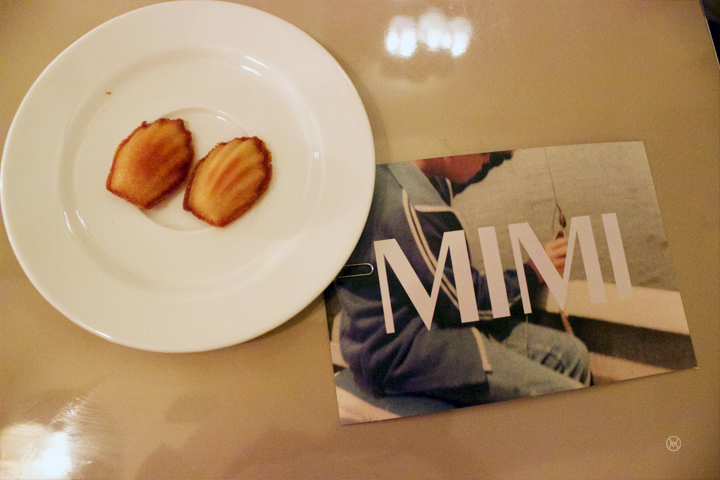 Mimi | 185 Sullivan St | July 2016