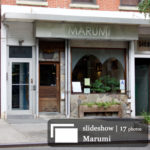 Marumi, the first sushi place in New York I fall in love with. It begins when I was a fresh grad who have no money, bold enough to sold my car and move to New York City with no job prospect in sight. I would work 20 hours a day, have only a plain bagel with no cream cheese for lunch (well, cream cheese cost extra $0.50 at the time). Drowning myself in cheap coffee and smoke way too much to keep myself awake and not feel the hunger.
It wasn't until my second Christmas in New York that I felt I can live here, not only survive. It was that winter, a friend invited me to a birthday dinner at Marumi. Right there, it was love at first bite. A favorite was discovered. That was 2002. It's been almost 15 years now, and I consider myself a loyal regular at Marumi.
Located on LaGuardia place, Marumi found a home on this relatively quiet street between NoHo and west Village. Surrounded by the apartments of NYU student and professor, it doesn't lack business. On Friday and Saturday evenings, there is always a line. They don't take reservation, and our wait is usually about an hour if we drop in at around 7pm. Lunchtime here is pack too, even on weekdays. Only Sunday evenings are somewhat quieter.
Marumi is absolutely a neighborhood gem, a place I would frequently get sushi takes out from; a place where I would not be ashamed to stuff myself with spicy tuna roll. Seriously, their spicy tuna roll is awesome!!! Their spicy mayo is very well balanced. Every time I come here, I couldn't resist not having it. It warms my heart a little, and it feels like home. So do the spicy scallop roll and the Ika uni roll. They all are my favorites. All my friends love Marumi. And we dine there very frequently. At one point in the past, I think I had dinner here at least once a week. Why not? It's affordable, it's decent, and it's reliable. Sure, over a decade, there were some "off" nights, but overall Marumi has been solid.
After revamping in 2014, Marumi upped their sushi game. I'm happy to find that they rolled out more appetizers and even offer Omakase. Yes, it is not as fancy as other higher priced sushi places, but it doesn't mean it is not as good.
The 10 piece Omakase I at lunch time is only $30, and comes with a miso soup.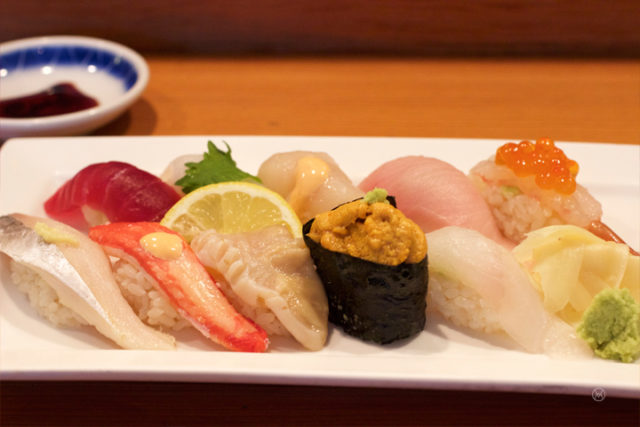 The ten pieces I had were (from top left): tuna, Ika with shiso leaf, scallop, Hamachi, botan ebi with ikura, mackerel, king crab, giant calm, uni, and fluke.
Giant calm is a substitution for salmon. I always tell them I don't eat salmon, it's a trick to see what they would give me instead. It always seems to pay off. To me, salmon is overrated. Of course there are a few exception, like the aged salmon at ichiumra, the marinated cherry salmon at 15 East, but at most places, salmon is just salmon, don't matter if they're are Nordic salmon or king salmon.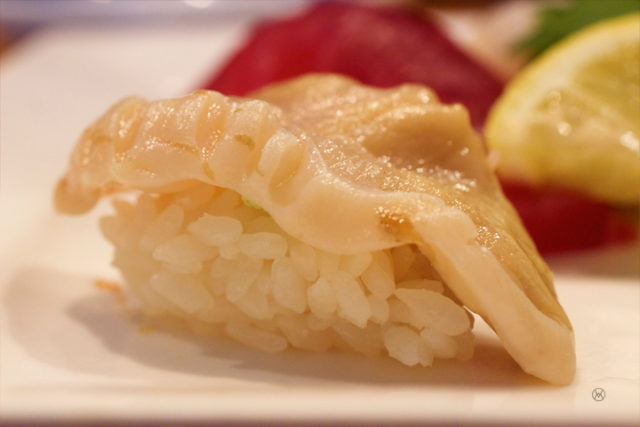 Back to giant clam, its sweet, it's crunchy, and so worth it. My other favorite is the Ika with shiso leaf. You can tell a lot from a piece of Ika. Like how fresh their fish is, the temperature in the fridge, the knife skill of the chef. I have had creamy, mushed Ika that made me run for bathroom but never at Marumi. Ika here is always crunchy, and the shiso leave that wraps around it is a great compliment to the squid, like it is meant to be that way. Shiso and Ika, the perfect pair, match made in heaven.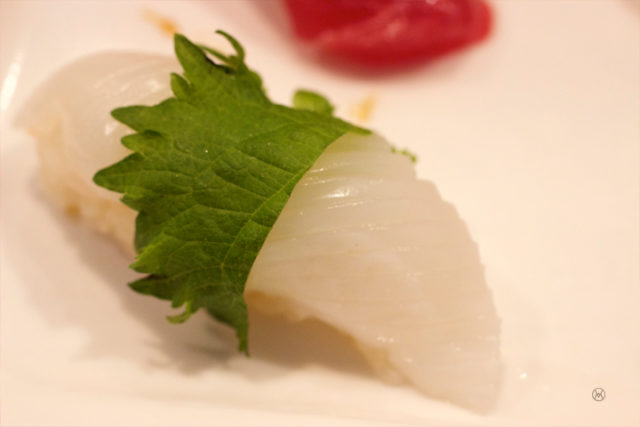 Hamachi and scallop were both great; the nori could be a little crispier; and the wasabi hidden under tuna was a little heavy, but I am not complaining. After all, this is a $30 omakase. It is like $3 a piece, and it comes with UNI!!! I should be grateful, and I am.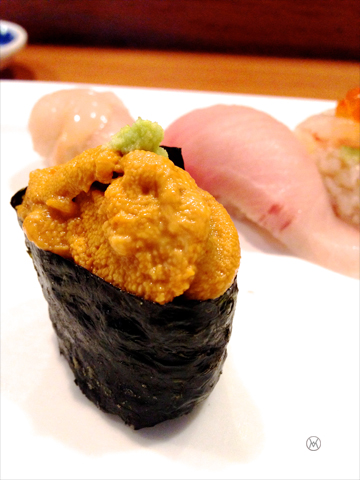 The appetizer at Marumi are excellent as well, I always order the Ika Naruto. It is a piece of tuna and shedders of cucumber wrapped inside Ika. Always refreshing! Then there is hotate uni cup. This is a rather new item on the menu. With $9, I got may be 4 piece of scallop, and 5 small pieces of uni. With that, I would forget that life is hard and tough, and everything is well, life is beautiful and full of happiness. Well, at least for the moment I'm enjoying this little cup. And look at the presentation, it certainly can match up to some other more pricy places. And don't discard the seaweed and the shiso leaf as decoration. It is totally editable. I would wrap a piece of scallop and uni with the shiso leaf, and voila! I made myself a hand roll. 

Sometimes, when I do remember, I would get the Spicy Sashimi salad too. It is a really great value. Generous slices of sashimi on a bed of salad. This could be a lunch by itself. Their kitchen items are just as good. On the few times I had the boil fish of the day, I am always satisfy with it. Some other favorites of mine are the beef tataki, age-tofu, kai-yaki (Baked clam, avocado, tobiko and Mayo); and Marumi makes a killer soft shell crab tempura!
Marumi is my go to sushi place. I don't have to spend a fortune, but always walk out happy. The last couple years, as my dining adventures take flight, I have not been to Marumi as often as I would like, but I always find comfort here. Like an old friend, or rather a first love, no matter how many more other fancy places I would have been to, Marumi would always have a place in my heart. It is my rock.
I love Marumi!!!
Marumi | 546 LaGuardia Pl | June 2016
On a side note; after more than 25 years in business, Marumi finally have a website. It is about time!!!