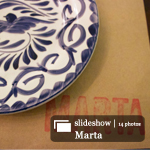 Yup, I said it. Marta is my new favorite pizza place. Danny Meyer and chef Nick Anderer has delivered a slice straight to my heart. Oh why? You say. New York has endless choices of pizza. Yes, I have not sample them all. But I'm just saying, the thin crust pie at Marta has won my heart over, thus far.
Roman style, the pies coming out from the black tiled chimneys is light, thin, and crispy. Yes, new yorker pride over our thin-crust pizza. But this is thinner than the thin we know of. And crispy, almost cracker/ chip like. And it is not floppy!!! It holds its own. And stays crisp, unbend-ed. Whatever the toppings might be, won't be dropping everywhere when you lift it one handed at the edge. And that tip of the triangle held its head too!!
It appears that Chef Nick Anderer and his crew has mastered this thin, cracker-like crusted, roman pizzas. But it is hard to imagine Marta as a pizza place. We are in the open lobby of the recently renovated framed Martha Washington Hotel, which once was the first women only hotel in the whole USA. A pioneer of its time, now a trend setter. Like any Danny Meyer's establishment, it is high end. The room is light and bright. High ceiling, marble bar, floor to ceiling window that can be open into sidewalk, the décor is a bit cold but elegant. Don't have a table yet? Grab a drink at the bar. And plenty of people just eat there. Or even better, grab a seat at the marble "breakfast" bar, where you can oversee the whole kitchen including the 2 wood fired pizza ovens, where the pizza god is smiling.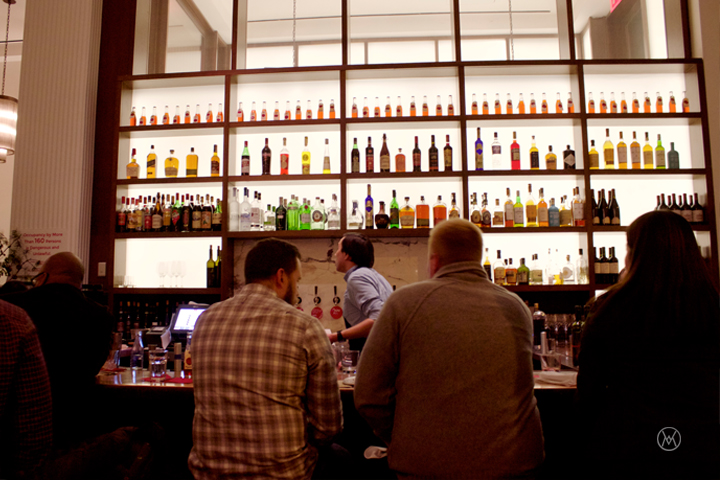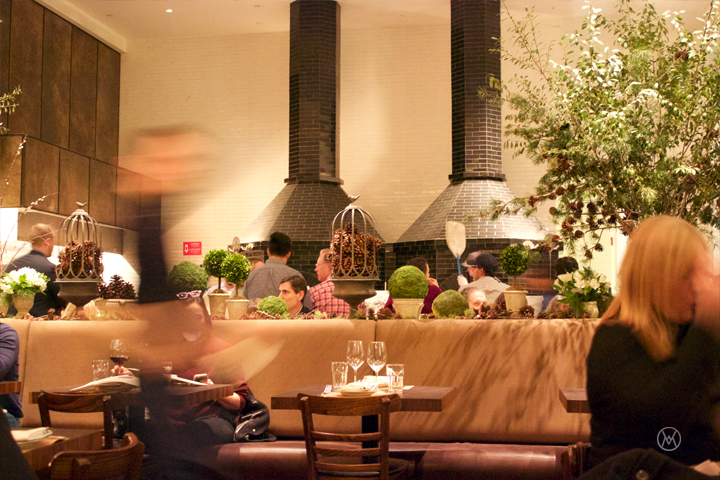 Marta not only serve pizza. It is a full restaurant and appetizers as just as good. The green risotto croquettes is a little heavy, but very tasty. The golden crust croquettes is every bit of crunchy. At the night we were there, Marta didn't have the revved rabbit meatball, but the chicken meatballs is very good as chicken goes. Moist, juicy and the soft ricotta is incredible. We didn't order any entree, but we had a red pie and a white pie. The sauce in the stracciatella pie is superb. Flavorful tomatoes and fresh basil, it is simple, but yet so balance. Just the right amount of sauce so the crust stays crunchy, and not dripping all over. Fantastic!!! the carbonara is more filling and nothing less of excellent. It didn't have an egg on it like all the picture we have seen on instagram. When asked, we were told that the egg has been beaten and mixed into the pie. Want that yolk flowing egg on top? That would have to be requested.Well, could have let us know. And since we are on the topic, we found the service though friendly, but a bit slow. It is a big crowded room, but doesn't seems to have enough staff. We often have chase down (with our eyes) to get our orders in or water refilled. And by the way, although Danny Meyer said he has implemented the no topping policy at all of his establishment, we later confirmed that is only at Modern. Gratitude is still very much appreciated at all restaurants under the Union Square Hospitality group except Modern.

Marta | 29 East 29th St | Jan, 2016