(start the day with a good breakfast, TEX-MEX style)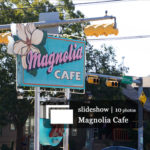 Magnolia Cafe has been a stable in Austin. Over 50 years in business, opens all the time. If there is a thing as 24/8, this will be it. In fact, there's a neon sign on the window highlighting "sorry, we're open". Obviously there's a market, there is a need to call for the place to open all the time. This kind of dinning establishment has been dying in NYC. So happy to see that it has not extinct like dinosaurs yet. Yes, indeed, we need food 24/7. I felt like I should have a shirt made that says "sorry, we are hungry all the time" to echo the message.
There are 2 locations to get Magnolia's 24/7 goodies. We went to the one on Lake Austin, the newer of the two. the place looks like a hunting lodge from outside; inside, it feels like a typical diner with a tropical feel. On contrary to the rustic look on the outside, it is quite bright indoor, colorful signs and furniture, flamingos as logo on the menus.The dinning room is spitted in two halves. On the left you have the typical diner settings. Bar stool, counter tables, and a small window peeking into kitchen; the other side feels more dinning room like, booth seats and typical diner tables.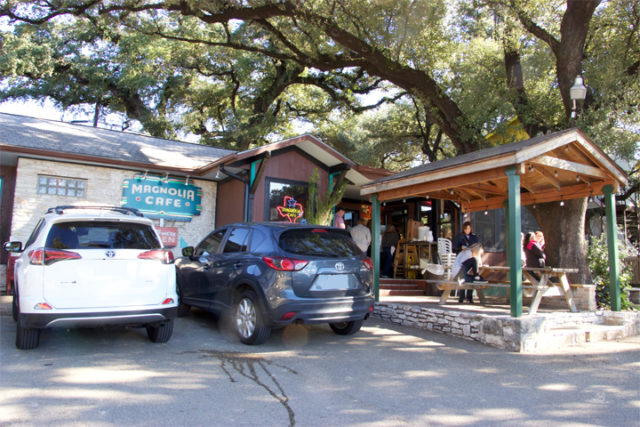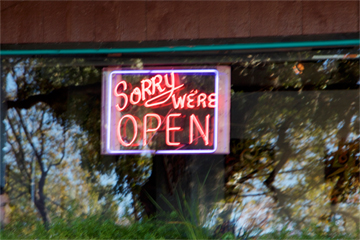 Like any diner, the menu is massive. Items ranging from nachos, quesadillas, pasta, salads, sandwiches, burgers, pancakes, omelets…. you name it. anything you can think of. Me? I am here for a good breakfast tacos, Tex-Mex style.
Pillow soft tortilla, with petty ordinary ingredients, but they are so good together. 4 pieces of tortilla were provided, clearly not enough to wrap this massive plate. We of course ask for more and obviously more napkins. Can't appreciate this authentically without getting our hands a little dirty. Nothing fancy, just heart-warming, fulfilling, satisfying, makes one feel strong and energetic, like I can take on the world. Exactly how a breakfast supposed to make one feel.
So Whenever you are in Texas, don't miss this place! Anytime if you need a hearty, filling, all-around good breakfast, this is the place. And yes, we need one in New York! PLEASE!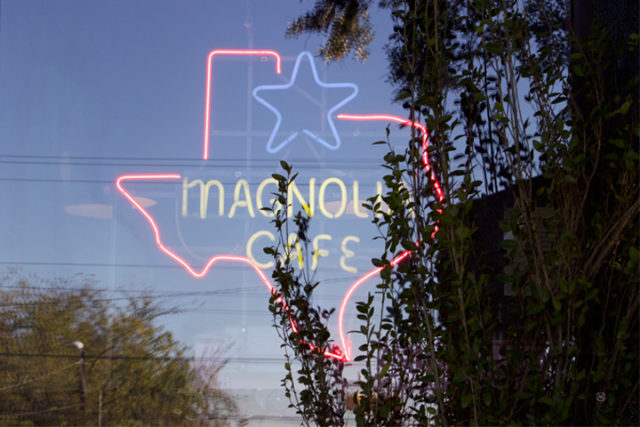 Magnolia Cafe South | 1920 S Congress Ave, Austin
Magnolia Cafe | 2304 Lake Austin Blvd, Austin