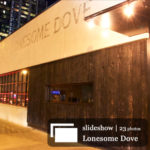 People who are over 50 years old may remember a highly popular TV western miniseries called Lonesome Dove. The tales of two Texas Rangers and their adventures. The series was a great success, and won multiple Golden Globes and Emmys. My guess is Chef Tim Love is a huge fan, probably the reason why he named his flagship restaurant after the award winning series.
Chef Tim Love is best known for his "urban" western cuisine. He has several restaurants in Texas, mostly in Fort Worth area. Chef Love's flagship restaurant Lonesome Dove opened in Fort Worth in 2000. 5 years after his success, he spin-off a sister bistro (Lonesome Dove Western Bistro) in Chelsea. It was not able to please the crowd in New York, it's door shuttered after a brief 6 months. This Lonesome Dove in Austin is a new baby in the family, only one year old.
"Game meat" was the term when my friend used to introduced Chef Tim Love's cuisine to me, as I am not with the term "urban" western cuisine. But the menu at Lonesome Dove is an interesting read. Terms like rattlesnake sausage, elk foie gras, wild boar, pork spinalis, certainly raised my eyebrows. Now I had to know, and there we were, sitting at Lonesome Dove's barn-like dinning room.
By the look of the setting in Lonesome Dove, one would guess easily that Chef Tim Love is a hunting man. Tall ceiling, exposed beams, metal cast chandeliers, and cow/sheep-hide chairs, exactly how one would imagine a modern western restaurant to be. Real or fake, there are no shortage of trophy heads hanging on the wall. 2 rows of horns displayed above the bar. It is all very cool deco, but I sincerely hope that they were fake, or road killed. The setting on the table on the other hand, were quite medieval. The decorative silver plate has a different pattern for each set, mine were plain, the other is wave, and the one other has horses heads. The silverwares, they all have "TEXAS" embedded in them.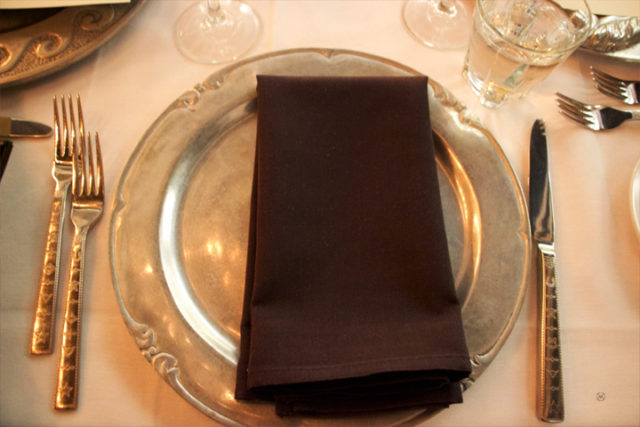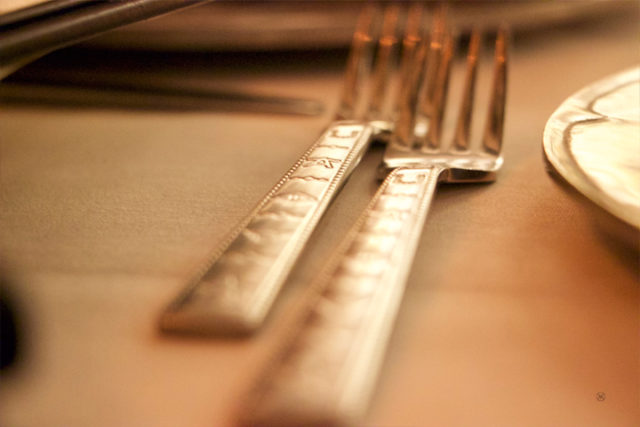 As I mentioned before, the dishes here are quiet "unique", and we order all the "unusual" items. This is no doubt one of the most "exotic" meal I have had.
As the appetizers got to the table, they look more refined and "regular" than I imagined. I honestly do not know what I should expect, may be in a more exotic form. Nope, they are quite typical, not in a bad way. Just more ordinary than I thought. The Elk foie gras sliders is more a tasty little burger, without the oiliness of duck foie gras, but also without the smoothness. The wild boar ribs is dosed with sauce, otherwise, I would imagine they are quite dry on their own.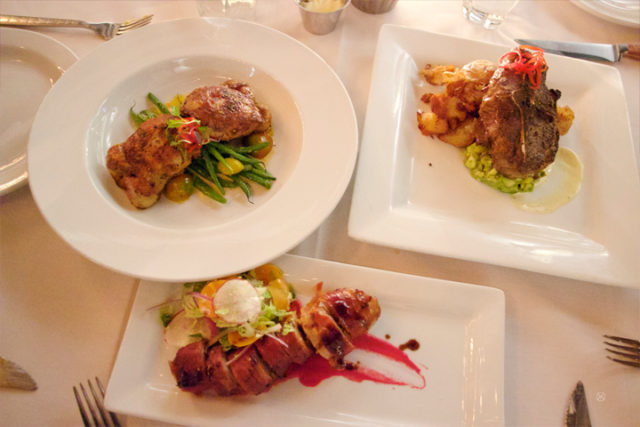 Here are the 3 main courses that we had (from top left): Roasted Quail, Rabbit-Rattlesnake/Foie Gras Stuffing, Haricot Verts, Sweet Corn Puree 32; Seared Colorado Lamb Saddle, Crispy Fingerlings, Avocado-Corn Salsa 38; Rabbit Roulade, Fall Herb Salad, Purple Potato Puree 46
So the main course were petty standard stuff. Yes we stayed away from the obvious streak and chicken, I was not going to order fish since we were in Texas. I hate to admit, all 3 dishes were a bit dry. As for the quail with the rabbit-rattlesnake stuffing, I honestly couldn't differentiate between the 3 kinds of animals. To me, some of them perhaps were more interesting in concept than in reality; or perhaps my expectations were taken too far by my imagination.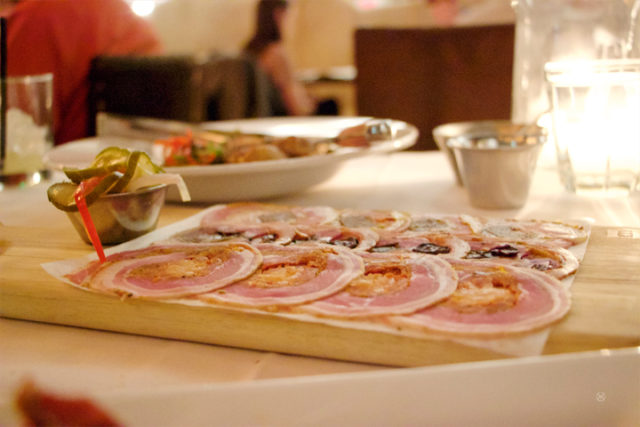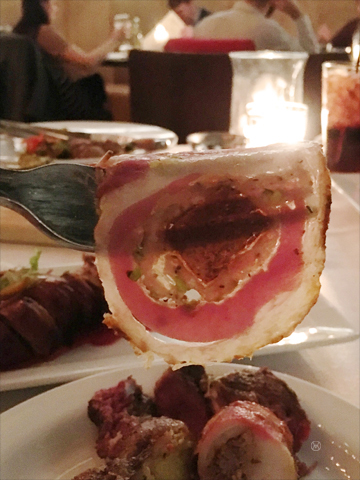 The Fettine Trio on the other hand is the most interesting plate of the night, although it oddly got to our table after the entrees. They were beautifully rolled up, and thinly sliced, display on a small wooden board. Thin enough that light would shine through them. Each of them has a different texture and different flavor. As it turns out my favorite is the duck-rabbit-rattlesnake with figs.
One side note, the staff here were extremely friendly, and our waiter was incredibility enthusiastic about the food he serves. As he explained the dishes to us, the more passionate he become. The way he describe the food was almost as if he was having it himself, certainly way better than I have done here. The sparks in his eyes is a rare thing we find in a restaurant these days.
Lonesome Dove | 419 Colorado St, Austin