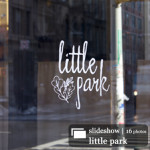 In recent years, David Chang, Rich Torrisi, Mario Carbone have taken over the New York culinary scene like a storm. All their establishments have been extremely successful, tables are continually high in demand, and food is outstanding too. They have become the new super stars in the culinary world, household names, even if you are not into the food scene, but if you live in New York, you would have heard of the names of at least one of their restaurants. They have changed the landscape of New York food scene. Behind the success of these rock stars, we have one guy to thank for (in part), a man who David Chang, Rich Torrisi and Mario Carbone consider as mentor- Chef Andrew Carmellin. A lesser known name, but a name we should know, and his restaurants have been popping up in lower Manhattan too.
The 2 times James Beard Awards winning chef made his name during his time at Café Boulud. After his Michelin star winning venue A Voce, Chef Andrew Carmellin partnered with NoHo Hospitality group and gave us Locanda Verde, the Dutch, Lafayette (By the way, I adore Lafayette), Bar Primi, and most recently, Little Park at the Robert DeNiro's Tribeca hotel The Smyth. All of these restaurants are participating in restaurant week, and we chose Little Park for lunch.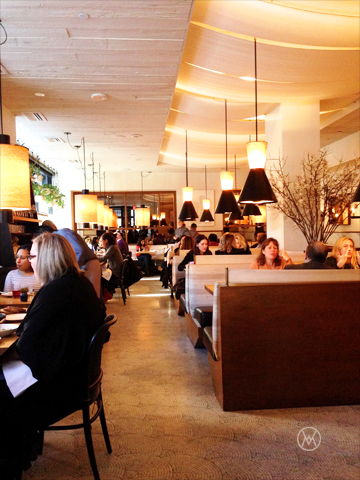 Little Park is a good looking place. Golden-wood toned, marble topped bar, golden lighting, flower box at the big window pouring in sunlight, to me, it very much resembled Lafayette, same vibe, different ways. It is posh and energetic.
This sleek, blondish hotel restaurant opened in November 2014. It is veggie/ health food focused. The vegetables here are excellent. It might not be as innovative or mind-blowing as Blue Hill, but it is still fascinating. The kohirabi salad is crisp, juicy as it can be. And the Brussels sprouts, so nicely done that we could have that as entrée. Honestly that was the highlight of my lunch. And I wouldn't be mad if it ended there. I think the Brussel sprouts are poached before it is fried. Tender all the way to its core, while the outer layer is crispy as chips. And there were different sauce at the bottom of the bowl, I think on one side is apple cider vignette, and the other could be smoked mayo, every bite keep us guessing, and we truly enjoy it.
Salmon is very nicely cooked, moist, tender, but the skin could be crispier. And I could use an extra drop of lemon juice. That's just me, I like sour.
The steak looks a little dry, but it is at no fault of the kitchen. My friend like the steak done… well done. However, I do think it needs a little more seasoning. And the cabbage on the side stole the spot light, soft, sweet, and so juicy.
Chocolate cake is excellent. It's crunchy on the outside, moist on the inside. It's not overly sweet. The grapefruit is lightly torched or bruleed. With sorbet, absolutely refreshing. The latte I had with dessert could use some more work. 
Once again appetizers stand our more than entrée. The veggies are the stars here. It is a lovely lunch. And it was restaurant week menu only. I am excited to see what dinner would be like.  
little park | Smyth Hotel, 85 W Broadway | New York restaurant week Winter lunch | Jan, 2016