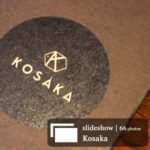 We visited Jewel Bako after Chef Kousaka's departure, sadly, we were not impressed. May be the year-new chef still need time to break in, or other things still need to gel. But we can say with a definitive tone that, we like Jewel Bako better when Chef Kousaka was behind the counter. That is not a fair statement, I know, but we miss Chef Kousaka. So late last month, we headed west to Kosaka.
On a quiet block in west village, Kosaka store front is hidden in plain sight. It's oversized storefront windows are all blocked by earth tone curtain during the day. Because of the ceramic vases display at the window, this looks rather like a pottery shop than a sushi restaurant. The year old sushi place is a little more pricy than Jewel Bako. Everything at Kosaka feels more refine, from the fine wood chopstick, the hand craft creameries, the artful stone plate to the thick cut business card, I can feel where the money is going… It is a tight place, seats 12 at the counter, and a couple tables in the next room plus a private room for larger party. If Jewel Bako feels trendy, Kosaka feels sleek and elegant. It wasn't pack on the late June weekday we went, but feels crowded. With our back to the street, facing sushi bar, it barely leave any space for the staff to pass through behind us. The space behind the counter, on the other hand, was quite roomy. Aside from Chef Kousaka, there are two other chefs manning the station, but all Omakese is handled by Chef Kousaka himself.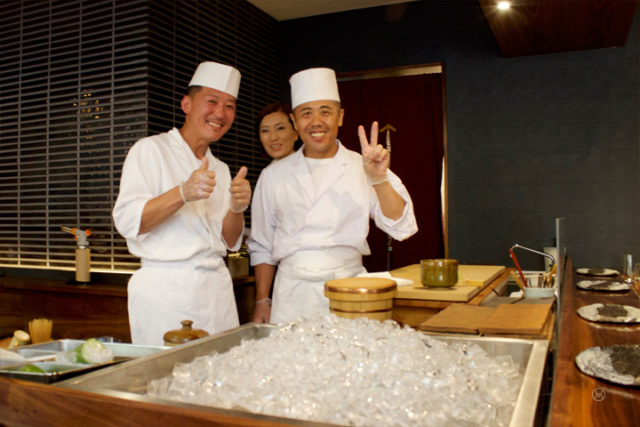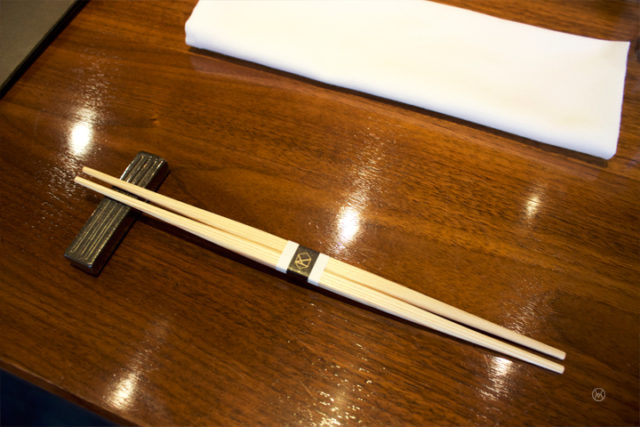 One thing however, Chef Kousaka is wearing gloves… Seriously, NYC health department is killing the Japanese culture!!! Maybe because of the gloves, the temperature feels a little off. Rice was a little warm, but still petty outstanding.

As O'deurves, the edamame tofu is devine, with excellent texture. A little firmer than regular tofu, and packed with edamame flavor in the chewy little cube. It actually feels like a more firm jello than the regular tofu. The thin slice of taro stem on top is just stunning… So thinly cut that it exposed the detail of texture. There is a lot of heart in this little bite.
Then comes the sushi course — — (cue the "food"porn)

Sushi are at excellent quality, the presentation and preparation are at fantastic. The combo pairing are just right, they did the job to brighten up the piece but not overpower it. The soy on every piece is just gently brushed, not even a drop over, perfect balance, impeccable skill, total control. Again the temperature still need a touch more control. The Kampachi we started with, the rice was a little too warm; The Hokkaido uni however was a little cold. Although stunningly beautiful, I can live without the ikura cup. But that's just me, as I am not really a big fan of ikura. The one thing we didn't had before was the Au. Ayu is a summer fish, we knew it as tempura, and would eat the little thing whole from head to tail, but never had it as sushi. I am really surprise with its texture. Firm, sharp and sweet. The botan ebi makes me smile a bit, not only because of how delicious it is, but it's the thoughtfulness of the chef, he remove the tail!! It is a very small gesture, but no one really do that. No, he did not cut the tail off and wasted that chunk of meat, he did squeeze it out, for the ebi to reach its full purpose!!! The highlight of the Omakase is Benito… Yes, toro and Otoro are as buttery as we can find and they are all outstanding, but this Benito piece is by far the best of its kind. Pair with truffle soy sauce, it brings out the oiliness of the fish, and the aroma is just breathtaking. I have yet have anything that pair with truffle that I can actually taste it but not overpowering. It shows skills and control. We are also happy to see grape seaweed. They are just beautiful. The tomago however, needs work. It was very cold….

Aside from the Omakase, we also ordered the uni platter. There are 3 kinds of uni: a white uni, a red uni, and a seared red uni and all from Hokkaido. The red uni is a summer thing, we have never seen red uni before… It is slightly different than the Santa Barbara or Hokkaido "white" uni that we are familiar with. The red uni has a more clean taste to it. It is sweet with a hint of saltiness. And it sharpen and refine the distinguish taste of uni!!! we love it
Of course 15 pieces hardly ever satisfy us. So we asked the Chef Kousaka for more, from his recommendation. Turns out he only have 2 mantis shrimps left, but we want it anyway. Being thoughtful as Chef is, upon finishing the nigiri, he cut it for us, for easy sharing. You would think how dare he cut the nigiri in half!!! In this case, I'm glad he did. By cutting it in half, we can take a look of the belly of the mantis shrimp. The beautiful inside is in fully exposed… Just stunning.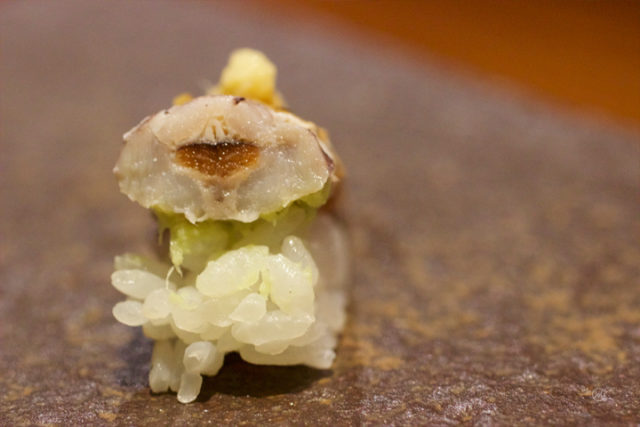 The next one is fluke fin, also chef's recommendation. Unlike the filet of fluke, fluke fin is more chewy, but totally chewable. And the more you chew, the more the flavor comes out. The shredded shiso leave on top bring a great contrast with sharp and clean vs the buttery taste…
So up till this point, my favorite of the night is the bonito with truffle soy sauce, but one chef started to prep our next piece, our eyes started to grow bigger, our conversation stopped, all eyes on chef.
Squid and seared uni- I don't think I have ever seen a more handsome piece of squid. I honesty think it says a lot about the chef from a piece of Ika. The lines says it all …. This one is jaw-dropping-ly gorgeous, remarkable. Ika and uni, what a perfect odd couple. So different in so many ways, yet seems like they were meant to be together. I really think this piece should be in the Omakase. It showcased what Chef Kousaka can do, it is certainly the highlight of our dinner. Should we had not ask for more, we would not have never met this little handsome devil. Why is it not on Omakase is the ultimate question!
Dessert is a small piece of cookie and a chocolate truffle. The chocolate truffle is dusted with green tea powder, just enough to to combat the sweetness, and still leave a hint of green tea taste. The cookie is so buttery and softy with the elegant aroma of roasted black and white sesame, although our sweet tooth is almost non existent, we still love this little piece of delicacy. Just enough to end the night with a smile.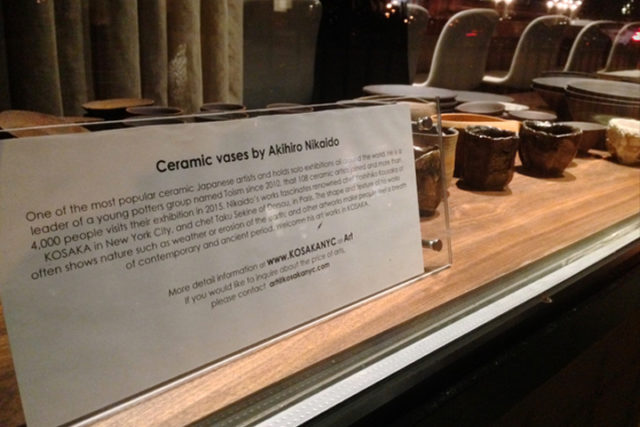 Kosaka | 220 W 13th St. | June 2016