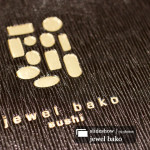 Last year we learned that chef Yoshihiko Kousaka has left Jewel Bako, and opened Sushi Kosaka, and since, it has been on our "to eat list". While we have yet found the time to find out what Kosaka offers, we revisited Jewel Bako to learn what has changed.
On a quiet block near St. Marks, Jewel Bako is warm and intimate. On a cold winter night, the light spilled out from little square window feels welcoming and cozy. Curved ceiling dinning room is branched with bamboo, and the mirrored glass makes it looks like a jewelry box, hence, Jewel Bako. The clever design making the place bright and light.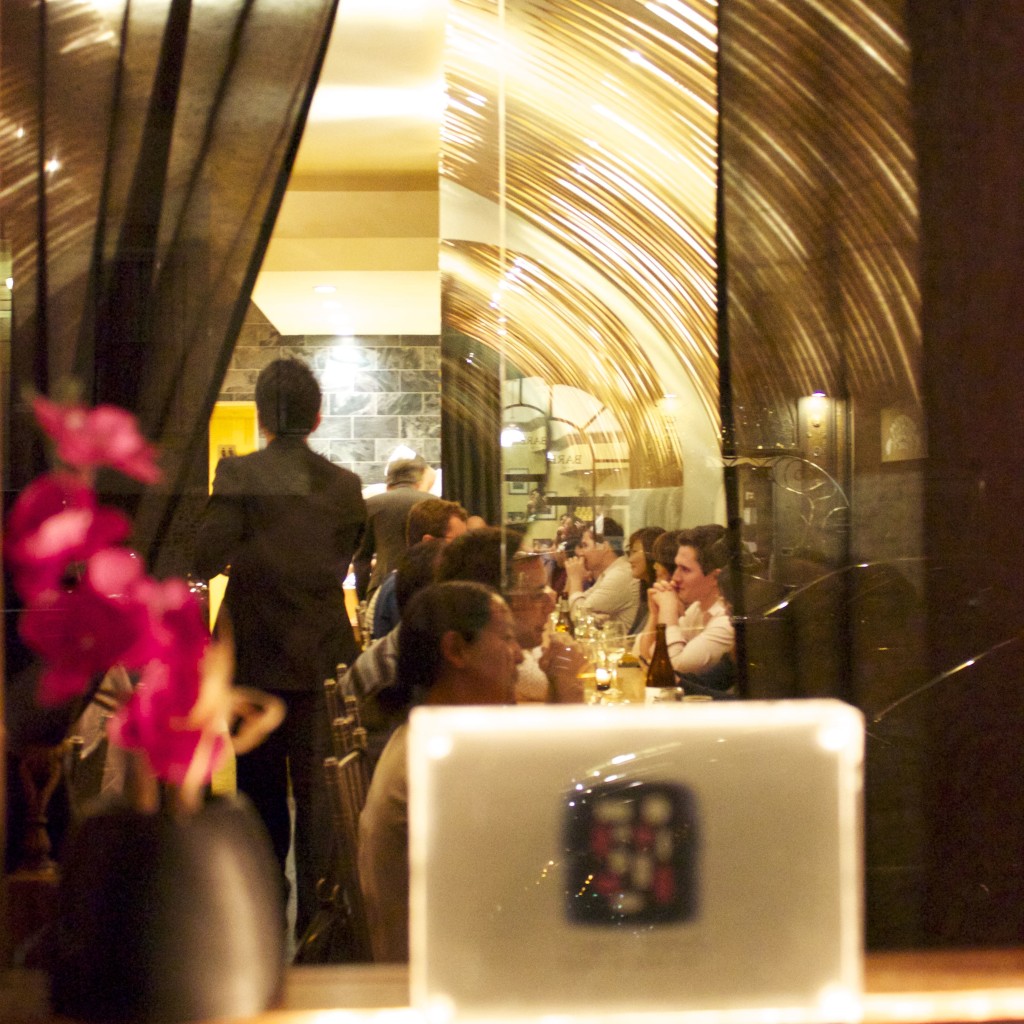 We are no strangers at Jewel Bako. During Chef Kousaka 10 years tenure there, we have visited the place numerous time. And it has been very consistent, Jewel Bako holds a michelin star for 11 consecutive years. Until last year, along with 15 East, Jewel Bako is one of our more trusted "go-to" place for sushi in that price range. Coincidentally, both Chef Masato Shimizu and Kousaka has found themselves a new venture.
We love Jewel Bako because of it's reliable standard, impeccable quality and reasonable pricing. Of all the times we have visited, Chef Kousaka always served up the freshest ingredient, with outstanding technique. Even with the utmost quality, the pricing is still fair in comparison to others with similar standard. The last time we went, the sushi omakase was at $85/pp with 17 pieces. This time, with new Chef Shimao Ishikawa, Omakase comes in 2 different pricing, 85 for 15 pieces and 120 for 18 pieces. We settled at the sushi bar (sit 8), Chef Ishikawa greeted us with a warm smile. He is an older gentleman. According to Jewel Bako's website, he has over 40 years experience in traditional sushi. And here is his Jewel Bako, piece by piece…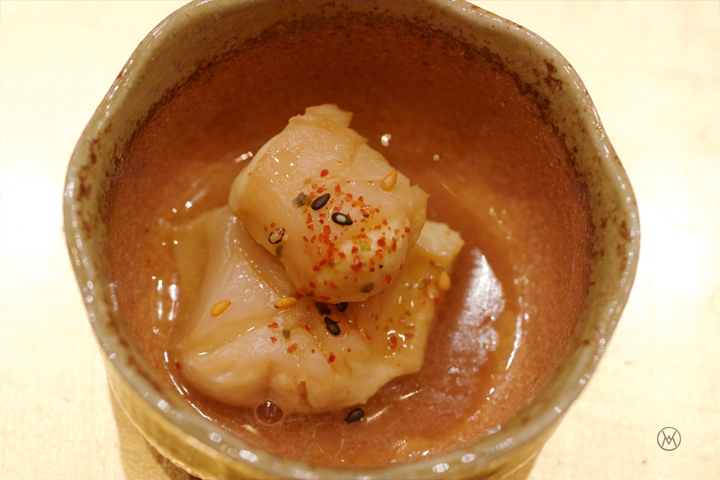 Grilled giant clam with pepper. Complementary from chef. This is great. We love giant clam, sweet and crunchy!!!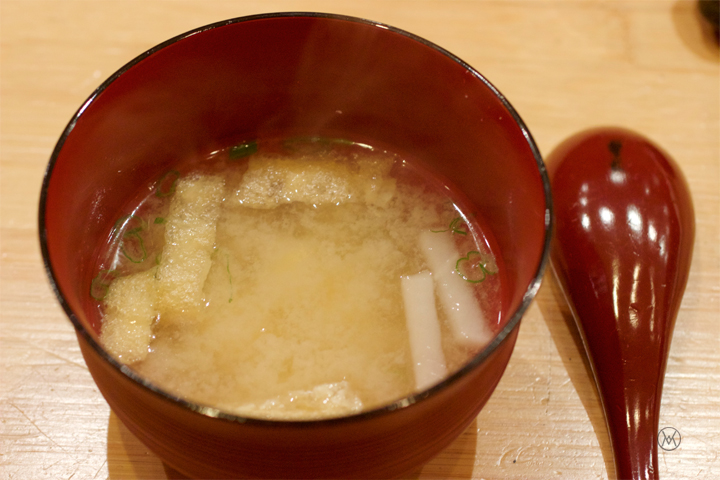 Miso soup- what's wrong with miso soup lately, everywhere is very light, or is it just me…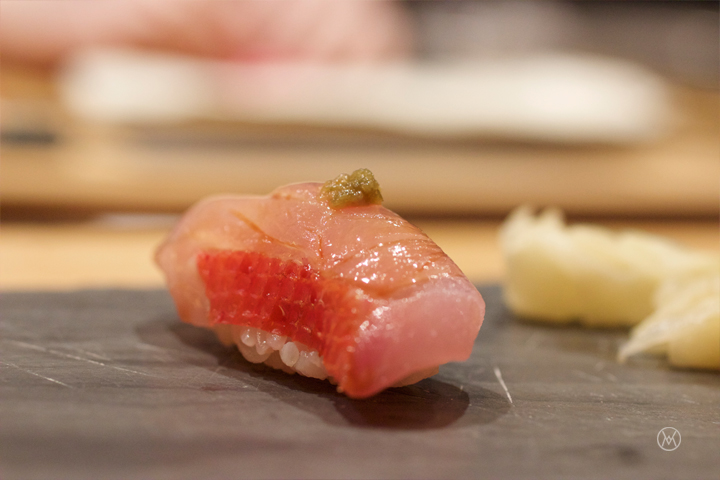 Marinated kinmedai with yuzu pepper- I love Kinmedai, and I admit that I might even like kinmediai more than toro. I would like this kinmedai as much,, if the skin had been torched a bit more.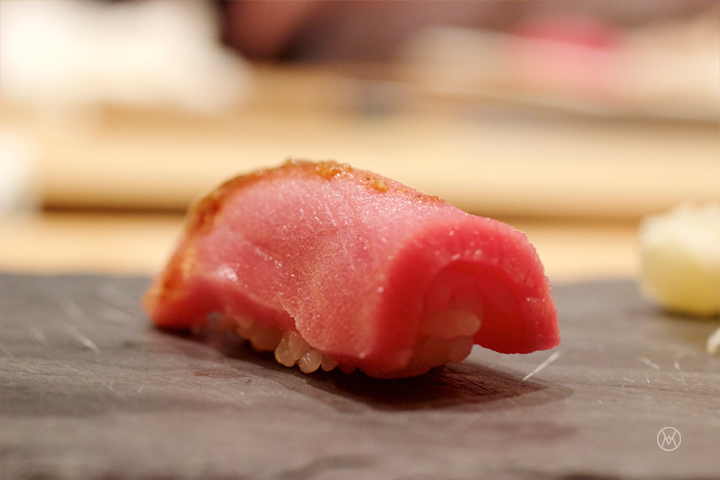 Akami- chu toro was a little cold…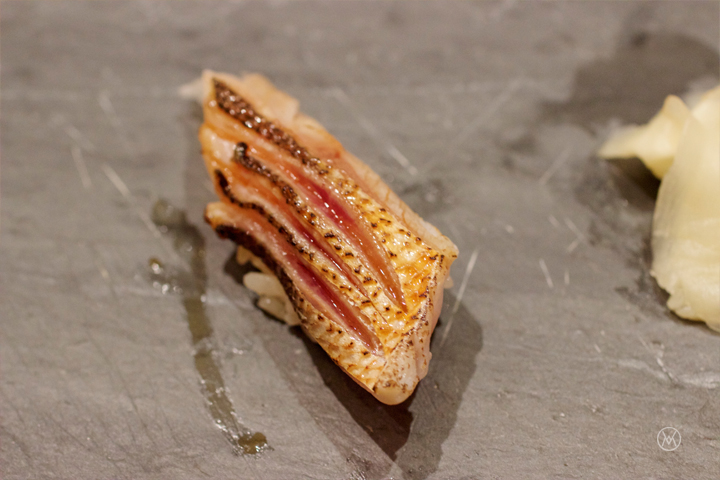 Kamarsu (Japanese barracuda)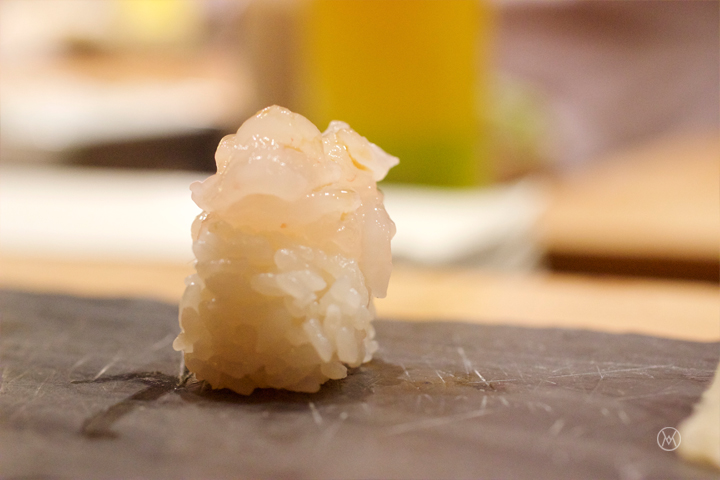 shiroebi- still a little cold, actually it was too cold to taste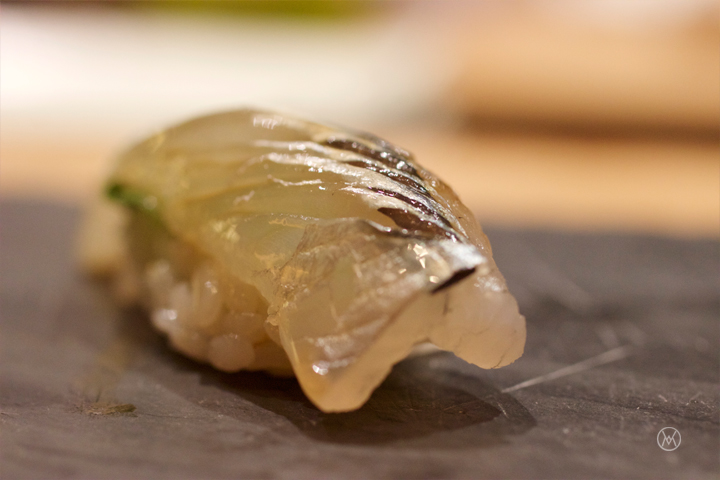 Sayori with shiso leaf and lemon juice. Excellent texture. The zest of lemon is awesome. Shiso is still strong but yet still balanced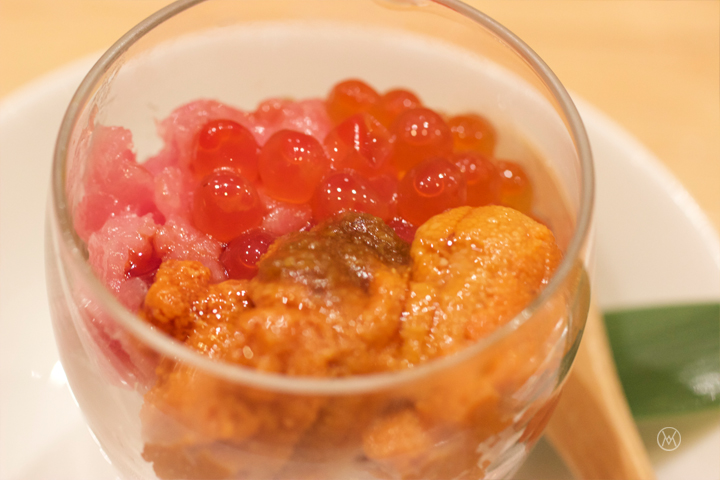 Trio- toro chopped, Maine uni, ikura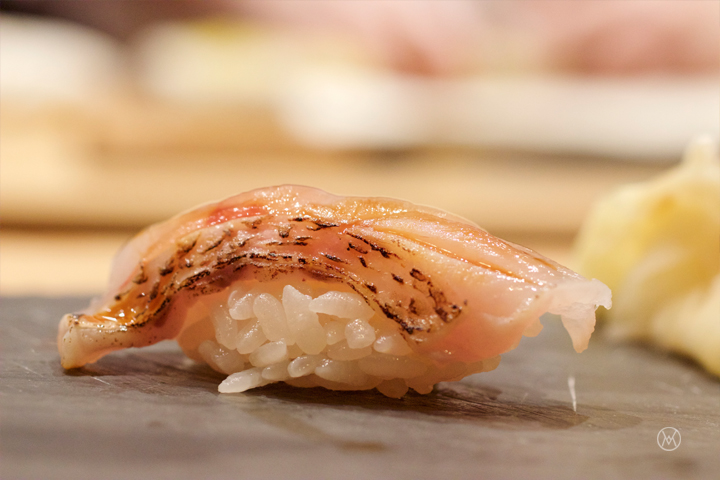 Akamutsu (Torched sea perch)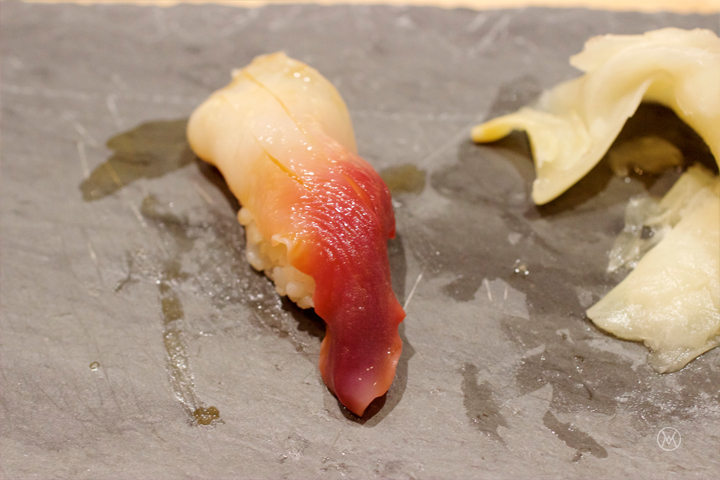 Hokkigai with lemon- this was surprisingly good. Totally changed my mind on hokkigai.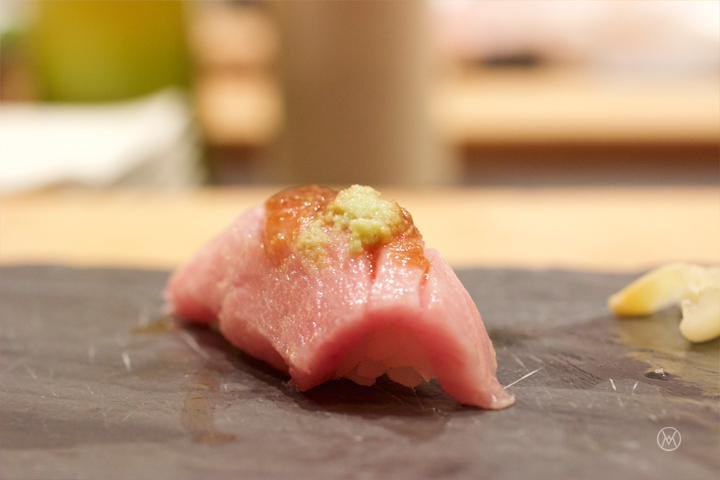 O toroooooo so metly. This is heaven. Yes, hallelujah. There were light beams coming out my mouth.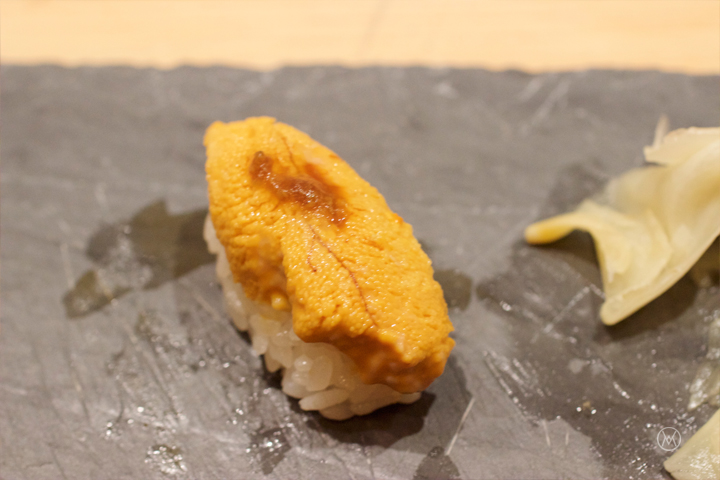 Santa Barbara uni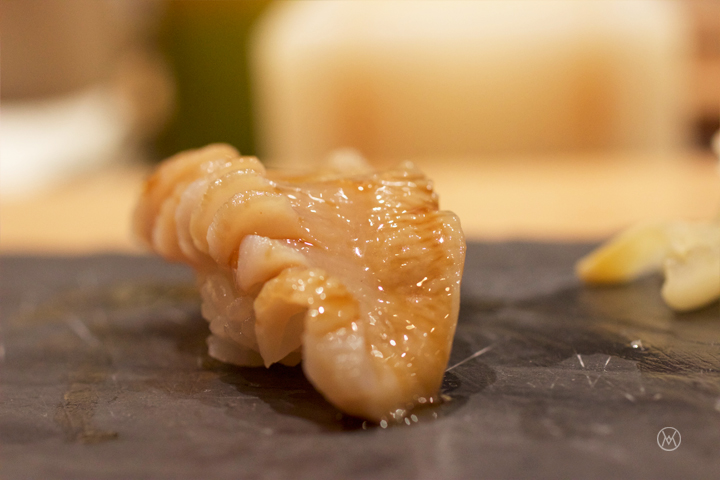 Geoduck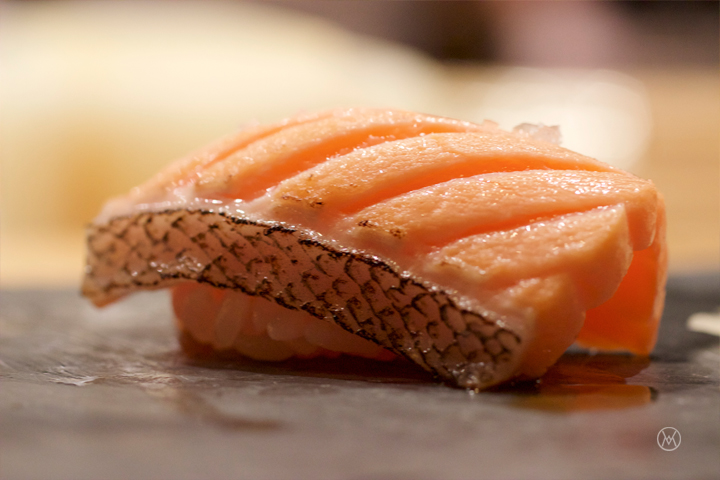 King salmon with sea salt and lemon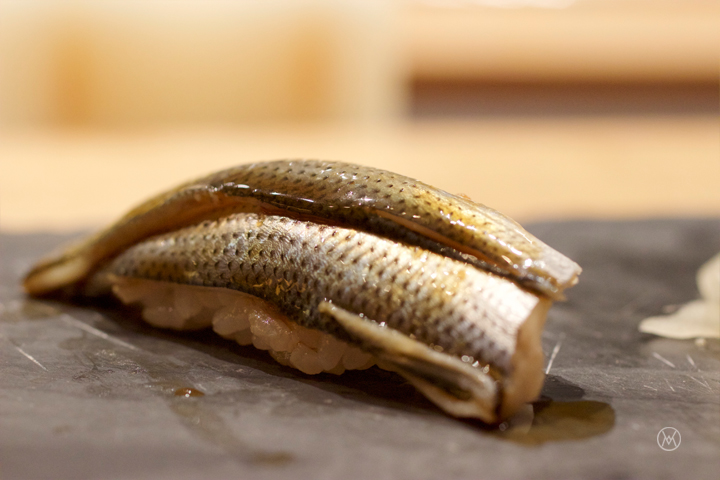 Mackerel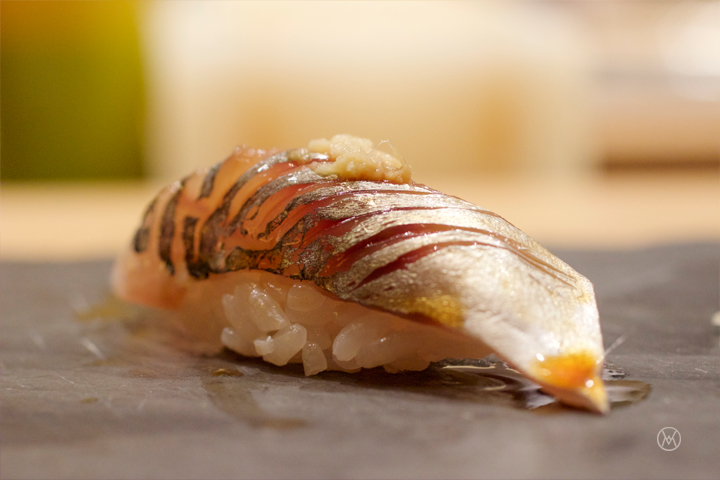 Aji with ginger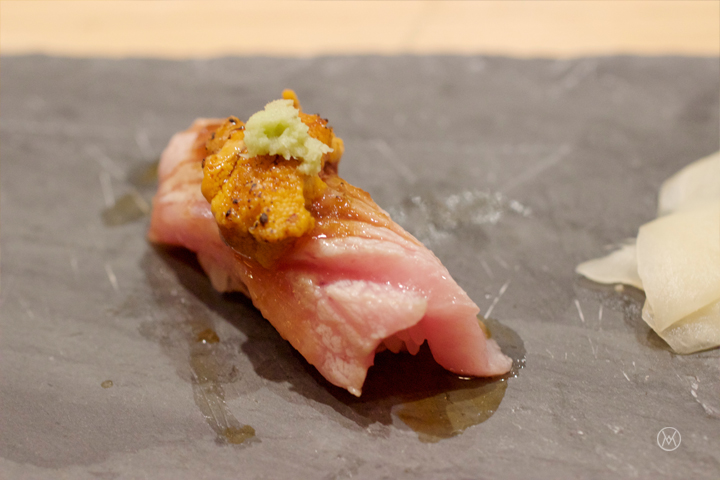 Otoro with Santa Barbara uni – uni was torched, but honestly kinda unnecessary because toro is so great and got all the attention. When Toro is shining like a bright star, let it shine, don't overcrowd it.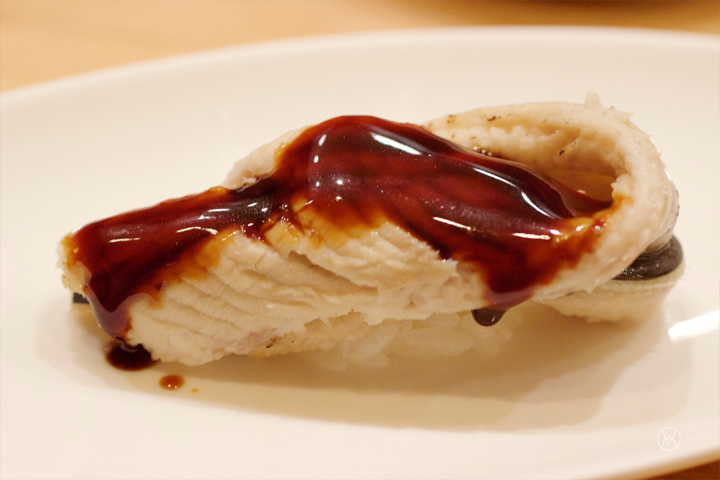 Unagi baked first then torched in banyan leaf
So the $85 omakase stopped at 15 pieces; the $120 has 3 more pieces, which were, Mackerel, Aji, and Otoro with uni. While, i'm glad I had the experience, I would gladly stay at 15 pieces next time and order some more on the side. The mackerel and aji was a little disappointing. After the course was over, we asked Chef Ishikawa what else we should try. While chef was struggling with translation, the very friendly staff came to rescue. He patiently explained and translate the chef's recommendation, and we ended our meal with 2 more pieces, sea bass and cherry blossom snapper (sorry, forgot to take picture…)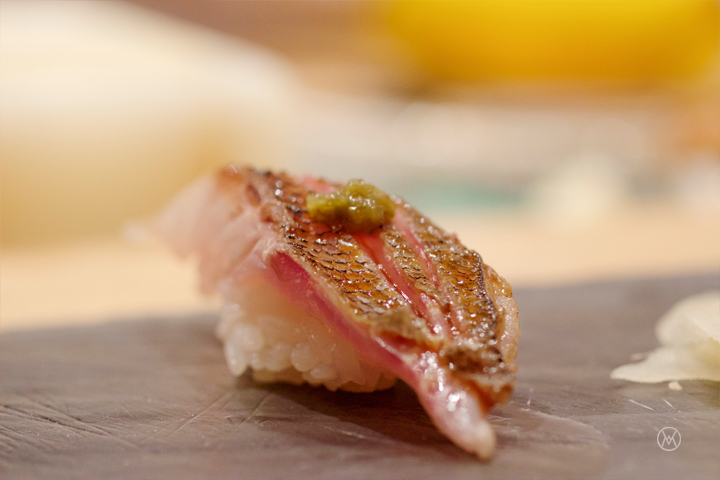 Sea bass with yuzu pepper. Yuzu pepper was a little strong, and the sea bass didn't have the crispiness I was looking for.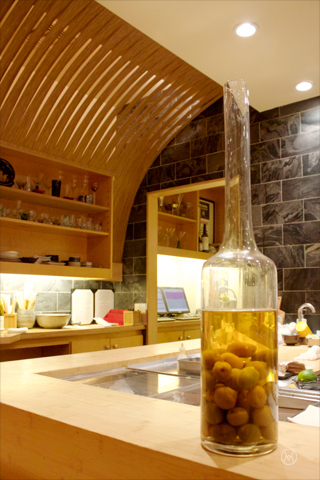 At the end of the night, a large bottle of plum wine was brought in front of us. And the staff skillfully filled a tiny glass for each of us as dessert wine.
Overall, I think with Chef Ishikawa, Jewel Bako has kept it's fish quality, but I felt the presentation and attention to detail is not up their previous standard. Pay close attention to the plate, often it was smeared with a little too much sauce. And when there were left over "juice" from the previous piece, but no one care to clean up. I know, I know, i'm nitpicking. But it is important! Our eyes eat first! It looks messy, and the left over sauce could potentially ruin the following one. Also, there were a few pieces that the temperature could have been control better. And take a look at the "uni cup", it's hard not to compare. The presentation speaks for itself.

On a side note, although we didn't order any maki roll, we watched those huge rolls being constructed in front of us at the sushi bar. Chef Ishikawa doesn't make maki, his focus is on sushi omakase. His apprentices, 3 other chefs cater to the table services. But it was painful to watch. We watched the makis being prepared, cut and served by a younger chef directly in front of us. We watch the nori being broken, rolls cut in various sizes, and lousily plated. I'm almost certain, no 2 pieces were the same size. This young apprentice obviously have years ahead of him, but we wonder if he has any respect for the trade. Sushi/ maki making is an art form, to serve up such lousy looking pieces, is a disgrace. But he didn't seems to bother to try. Roll after roll, we watched in horror. It is a waste of such premium ingredient.
On the bright side, the "oh so melty" o-toro blows our mind. The word "buttery" can't even describe it. It's easily the star of our night. However, I found myself thinking about the Sayori more. The shiso and lemon created the perfect balance and that mild crunch when I bite into the Sayori, and that sweetness mixed in with the zest was just fantastic.
Jewel Bako | 239 E. 5th Street | Feb 2016