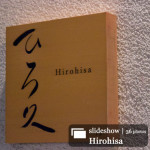 There were 4 new Japanese restaurants made their first appearance on the 2016 Michelin (New York): Tempura Matsui is new to New York, we have yet able to convince ourselves to drop $200 on tempura; Sushi Yasuda is not unfamiliar to anyone; we visited Cagen late last year and were amazed by the variety of fishes, the last of four is Hirohisa. The 2.5 years old restaurant by Chef Hirohisa Hayashi (Former Sushi Samba) is located on a quiet block of Soho. The place can go easily unnoticed. All white facade with only a small rectangle window peeking in and a small square bamboo plate by the door that indicates its present. I must have passed by the place a million times without knowing its existence.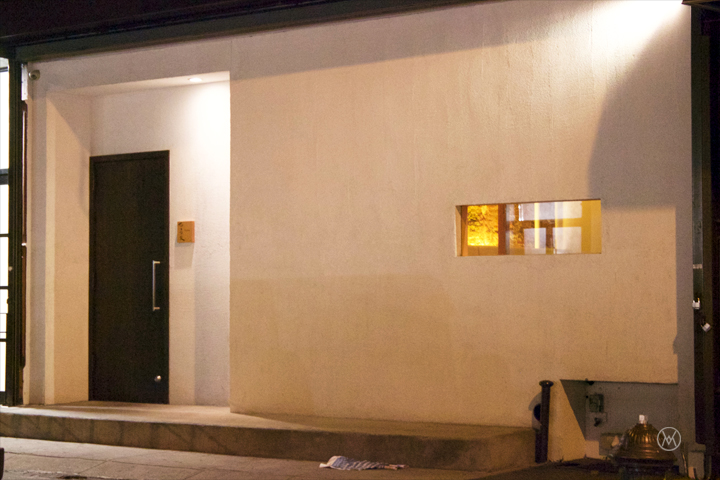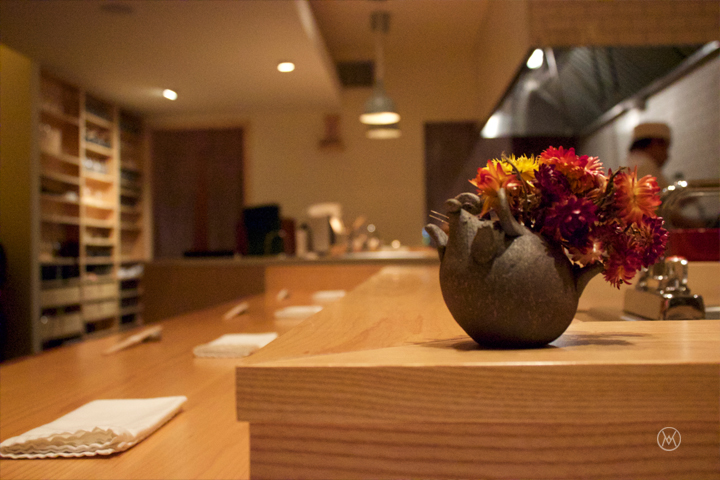 We came to this zen place on a chilled evening in January. Step inside, the minimalist place is even more quiet, but I was a little overwhelmed, by the aroma of miso. The open kitchen hides nothing, everything is in display, for sight, and for smell. Hirohisa serves refined "seasonal" cuisine. The menu is simple with very few items, mostly traditional cooked dishes. But the Omakase part is confusing. And we were even more confused after talking to the staff. We wanted to know what the 7 course vs 9 course are consists of, mainly we want to know if there were sushi within the course. We are all sushi addicts. Apparently the waitress is new (we think). She did not know what the courses are, we turned to Chef Hirohisa for help. And here are the 9 course, plate by plate…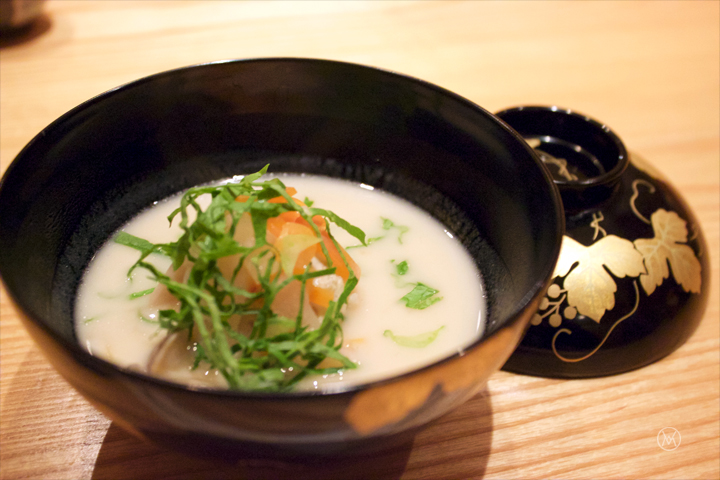 Lobster ball with sake leek soup
Very blend… the soup is a lot more "clearer: than it looks.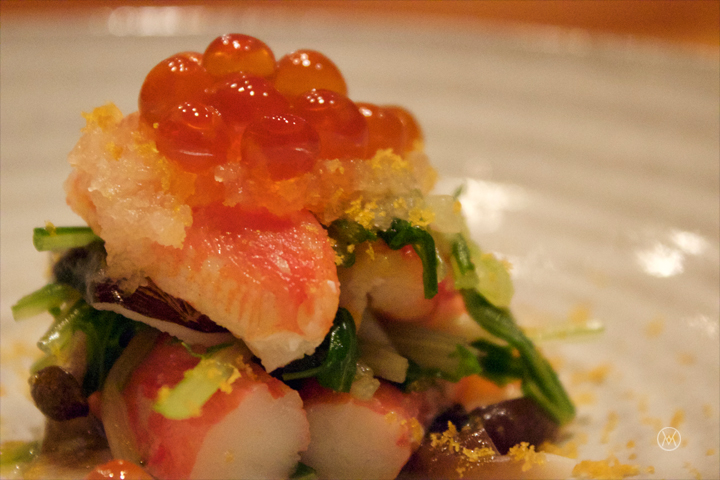 Snow crab winter green and ikura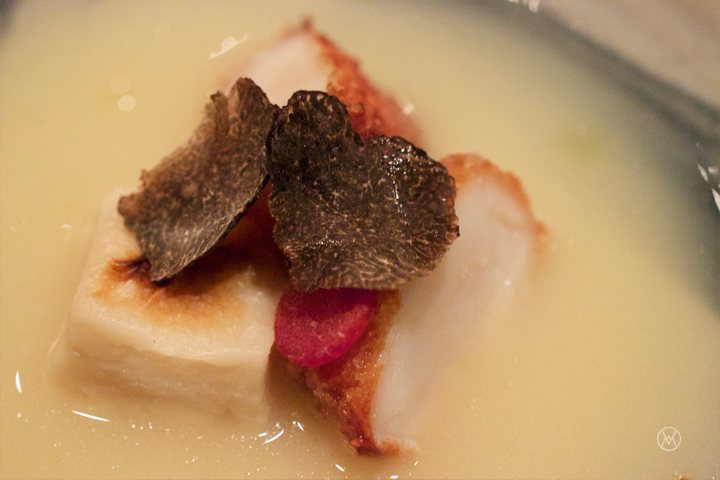 Scallop, sesame tofu, black truffle
There was only a hint of sesame. Scallop is very nicely done. But is the broth necessary?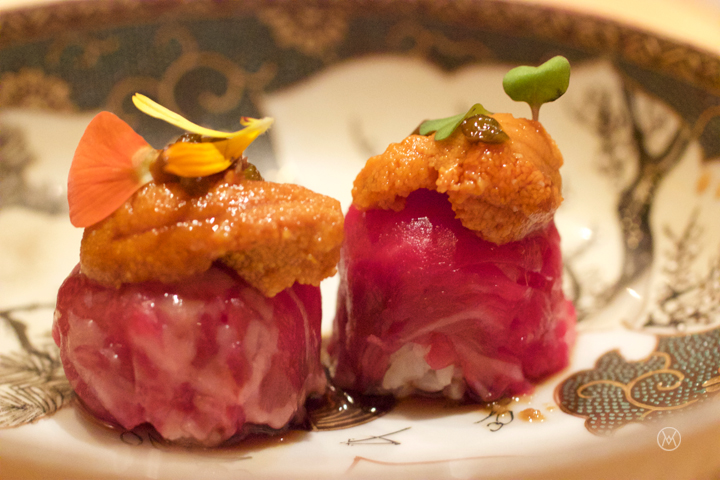 Wagyu wrapped sushi and uni
Now this is what I'm talking about. Sweet juicy wagyu beef, one from Japanese, one is american, both topped with Maine uni. Hmm hmm hmm …
and look at that dish they came in, that is one beautiful tableware.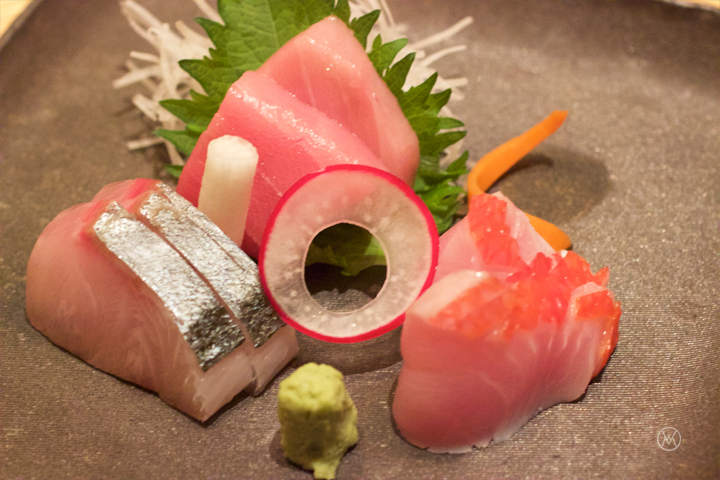 Sashimi: Shima Aji, tuna, Kinmedai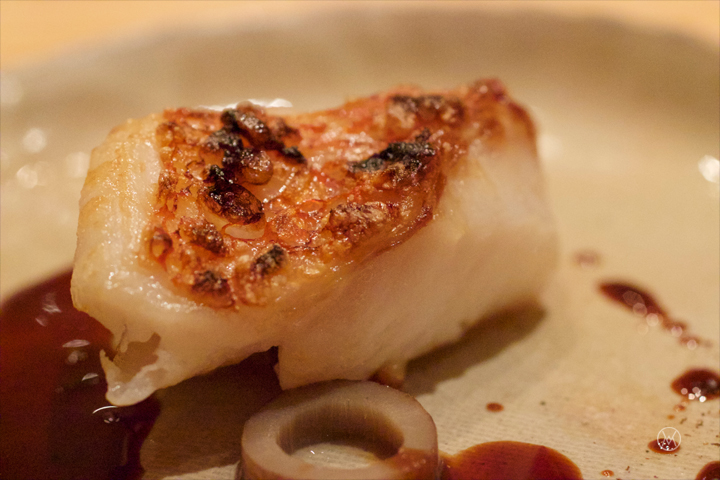 Red rock fish
Skin is very crispy and tasty but fish body is just ok. Very well cook but not much taste. Need seasoning…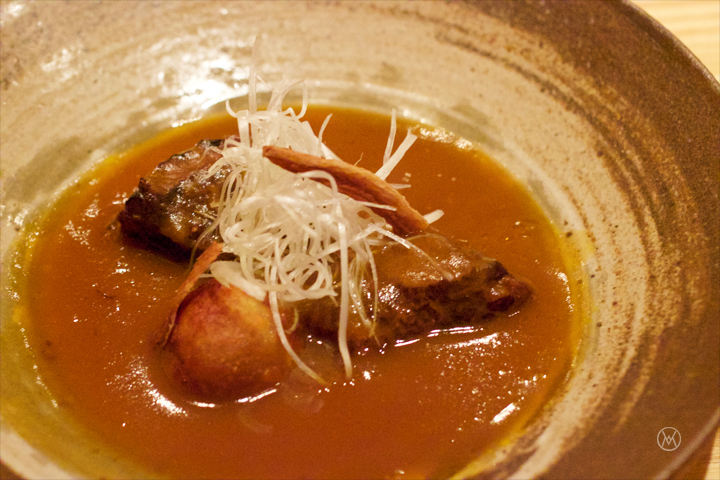 Washu beef stew with sweet potato ball
Washu beef is very nicely done, tender and falling off on its own, but too much sauce, and very salty. This could be a very nice dish over a bowl of rice. But as rice was not present, the melty Washu beef is drowning.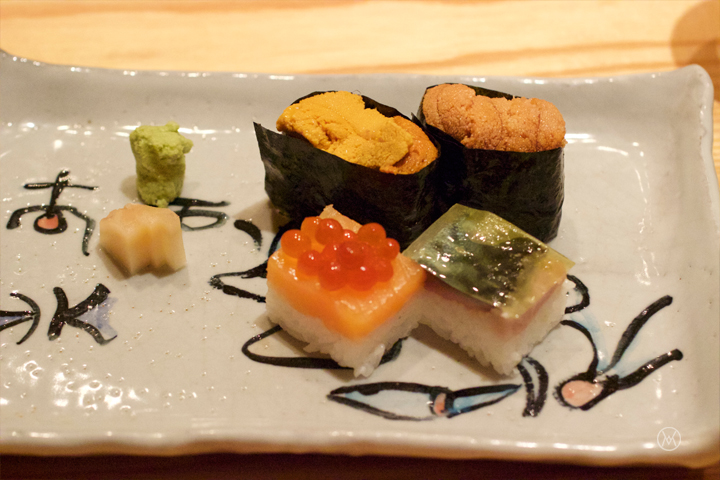 Sushi, pressed (from top left): Maine uni, Santa Barbara uni, Arctic char, and mackerel. We opted out of the eel over rice as main course, instead we got 2 extra pieces of uni, one from Santa Barbara and one from Maine. We gonna need more…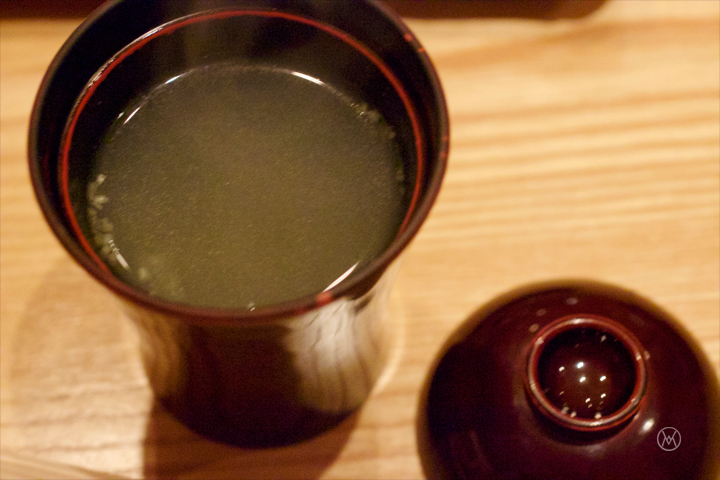 Miso soup
Light, las light as water. There was no taste at all. I would like to call it… dish water soup… I only took a sip.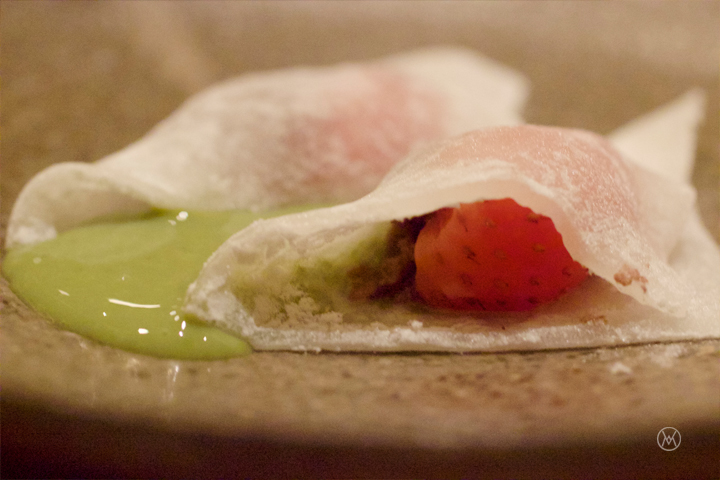 Mochi wrapped strawberry and green tea syrup
We observed the dessert chef took the mochi paper out from a box piece by piece. Then meticulously scarped off the extra white power off each mochi paper. It took him about 15 minutes. Strawberry and the red bean paste balance off each other, but the green tea syrup was too sweet for me.
There you have it, 9 courses Omakase. Everything was decent, sophisticated but not memorable. Nothing really stands out. The beef wrapped sushi topped with uni was the only highlight of the night, thanks to the very fresh ingredients. Chef seems very focus on technique, but could careless about customer interaction. We were the only diners at the counter that night, while we can appreciate the process and preparation Chef Hirohisa to the food, we felt no connection. Staffs are nice, warm, but attention to details is not… we asked for tea when we sat down, then shortly after, we ordered sake, however, the tea never came. True, I forgot about it too, perhaps is my bad that I didn't ask for it again.
Hirohisa | 73 Thompson St | Jan, 2016