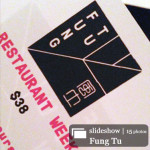 When Chef Wu left Per Se and opened Fung Tu in lower east side back in 2014, we were curious what would be serve, but we putted off stepping through the door for a long time. Reason being we were worried that it would end up being another hipster American-Chinese restaurant that is overpriced and overhyped.
To be honest, I was still skeptical when I looked at the menu while making reservation for restaurant week. I meant, egg roll, rice noodle, curry pot pie, Char Siu braised short ribs? All hinted to me as "americanize". But after last night's meal, we decided that if this is the new evolved "American-Chinese", we can get with the trend. Yes, we are impressed!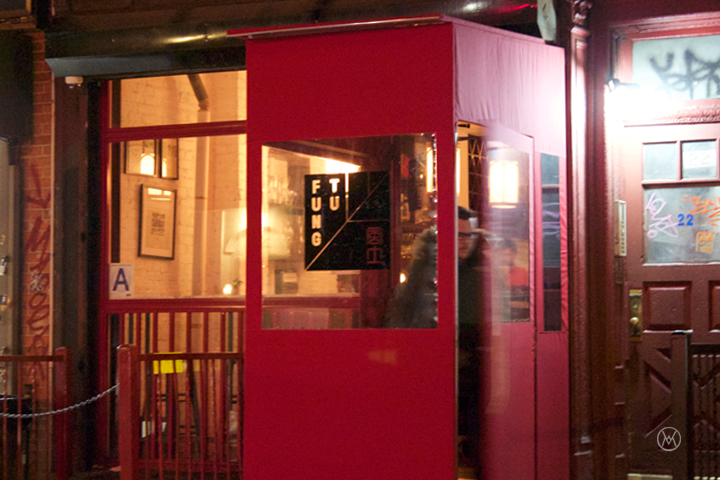 Located in lower east side, Fung Tu is in the middle of this trendy, gallery filled, hipster neighborhood with plenty of great food spots. The Fat Radish is right across the street; Mission Chinese food and my beloved Lam Zhou Hand-pull Noodles are right around the corner. Fung Tu could easily be overlooked and gone unnoticed if not because of it's Per Se veteran chef reputation.
Like many places on the block, the place is long and narrow. Dimly lit, dark wood furnitures, with red leaf pattern wall paper, the place is intimate. I understand this is sort of a family business, with Chef Wu in the kitchen, his wife whom is a jewelry designer created the space. Thank you so much for not hanging any lantern!!! And I love those wired light fixtures! Wine racks double as décor hanging on one side of the wall, cleverly used of space.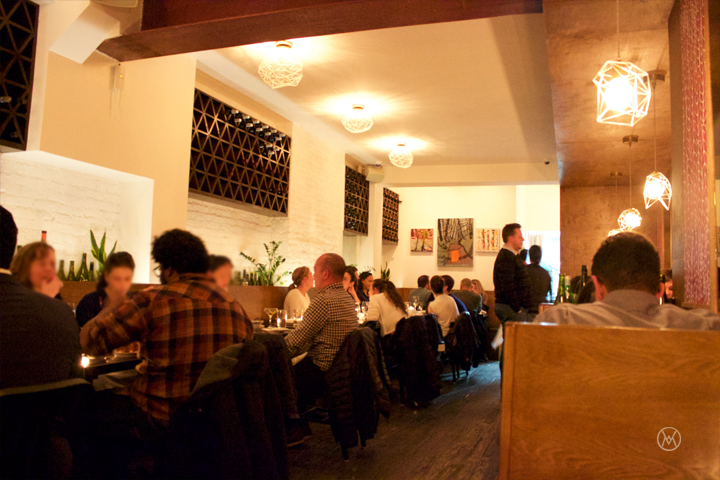 The most expensive bottle on the wine menu is $120; by glass is about $13 each, there are also sake and interesting beer selection. But we are more interested in cocktails mixed behind the white marble topped bar. There are 9 on the menu, all look fantastic. As I was scratching my head having trouble deciding which, the very friendly staff noticed and came to rescue. He even suggested if I don't know what I want, he would be happy to give me samples… wow… Check for service. With his help, we happily slipped our superb cocktails.
They are not kidding with that chili infuse. It is spicy. The good kind of spicy.
So we didn't all ordered from the restaurant week menu, it's not because my skepticism, but because we saw something more appealing. But first, let's talk about the things we did get from the restaurant week menu. We selected the egg roll, Char Siu braised short ribs. And when the egg rolls arrived, we were surprised, by it's portion. It is huge! The initial instinct was, did they make a mistake? Is this the portion for two orders??
No, it is one order. We confirmed. And they admitted it is a great value too. Look at it, how could we not mistaken it as 2 orders. And this is no ordinary egg rolls. First, those are not traditional egg roll skin, they are almost crepe/ puff-like. Crisp, layered skin wrapped. And is that olives in my egg roll? Feels like a egg roll shape of a very good pork pastry. It's a bit salty, and even more salty with the mayonnaise dip.
I'm a bit of a Char Siu snob. To me, a piece of good Char Siu is a piece of art. The perfect cut of pork loin, just the right balance of fat and meat, preferably marbled cut, marinated for hours and slowly roasted on a long steel fork to the perfect charred outer rim and occasionally brushed with honey. It is a symbol of Hong Kong cuisine. And frankly, we cannot find any place in the East coast to even come close to the authentic taste. The Char Siu in New York are often all color but no taste, or too sweet. I could say I'm more than obsessed with Char Siu. So when I bit into this Char Siu braised short ribs, imagine my surprise. lightning had stroked, my brain is confuse. It is the right taste, not the right texture. It an extremely well cook piece of beef short ribs that has the perfect balance of sweet and saltness of a Char Siu. Short ribs is tender and melty. It even have the Char Siu aroma… wow! WOW!
This could easily be the highlight of our dinner, except what came next is even more impressive.
First, it took us by surprise that "WHOLE" fish is being offered. Whole as in head to tail. Tonight's whole fish is sea bream. Yes, it looks simple, but it is easy to make, tough to master. Every elements needs to be perfect: right temperature, right amount of water, timing, even the plate, has to be perfect. Steam too long, the fish become tough; too short, it's not cook. This is something that almost all moms in Chinese culture tried to master, some eventually did, some, never get it right. And even the most expert grandma wont get it right every time. These elements need to be adjust accordingly to the size and kind of the fish too. But it seems that Chef Wu is a master at this. The fish meat is … silky! The "right" steam fish would maximize its taste and color. And this sea bream is perfect in everyday. It is deboned, and stuff with fennel. The chili oil, scallion, black beans, soy sauce mixture helps highlight the aroma and taste of the fish and not overpower. The fish is still the star. I gotta tell you, out of all of China Town (Manhattan, Brooklyn and queens included), we have yet had such a perfect steam fish. We were utterly amazed and impressed.
Our dinner ends on another high note. The Oolong ice cream is "THE BOMB". Before this meal, my favorite ice-cream was Earl Grey from Van Leeuwen. But this Oolong ice cream clearly won me over. It's light, creamy with strong oolong flavor, and not too sweet. My dinning partner is one of those rare people who does not like ice-cream. But we did not only lick the bowl, we both ended up getting an extra container of ice-cream to go. Yes, we like it so much, we asked the staff if they would sell it to us. Our extremely friendly waiter so nicely accommodated our request. We each left with a quart of ice cream and a fully satisfied belly.
Once again, we are very impressed.
Fung Tu | 22 Orchard St | New York Restaurant Week Winter | Jan, 2016