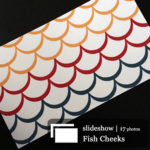 Fish Cheeks– My new fav Thai in town, and we don't have to go to the outerborough.
The less than a year old restaurant is hidden on the quiet street in NOHO. It offers simple traditional Thai fare, nothing too crazy, just simple, fresh, authentic Thai dishes, that make us feel at home. Before our visit to Fish Cheeks, Sripraphai in Woodside holds a dear place in my heart. There were a few Thai places popping on and off our "go to" list, but none make us feel complete. Fish Cheeks might come close.
The long shape dinning room is gently lit by the bamboo bended lamp hanging over head. The bar, awkwardly is tucked away in the end of the dinning hall, overlooking the semi-open kitchen, which is also the "waiting" area. Thanks to the new era of online reservation, otherwise waiting for a table would have been a torture. Passing through all the happy people having a nice meal and looking at all the fresh seafood getting prepped; what a way to make hungry customers to drool even more. The bar look like a fishing boat to me. The light above are pairs of fishes caught on line, and the tiles underneath the white bar top are colorful waves or fish-scale. A couple drinks down, we might actually feel floating at sea, although the cocktail list might need some work. There are only 5 listed, but you can always spike up a Thai Ice Tea.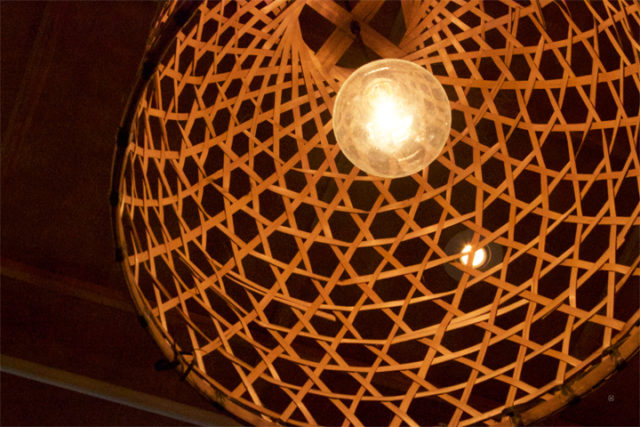 Aside from the gigantic "bird cage" lamps, the place feel modern. But do not judge it by it's cover, the food is petty authentic.
The menu is only one page, consider very short comparing to other Thai places in town, which often hand over a 2lbs booklet filled with pictures. Sorry, this menu offers no pictures. And don't expect to see pad Thai, pad see ew or drunken noodle. Not that pad Thai is not good, but that's all most people associate with when they think of Thai food, and seriously, we need to change that. There are so much more than pad Thai in the Thai culinary world. The spice, the fresh seafood, the balance flavor of salty and sour, are what we crave for in Thai. The dishes are family style. Like most Asian cuisine, it is meant to be shared. And like many other Asian restaurants, we only wish we have the whole gang here.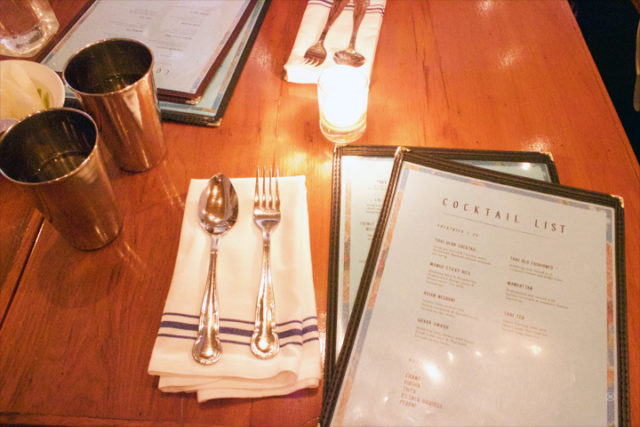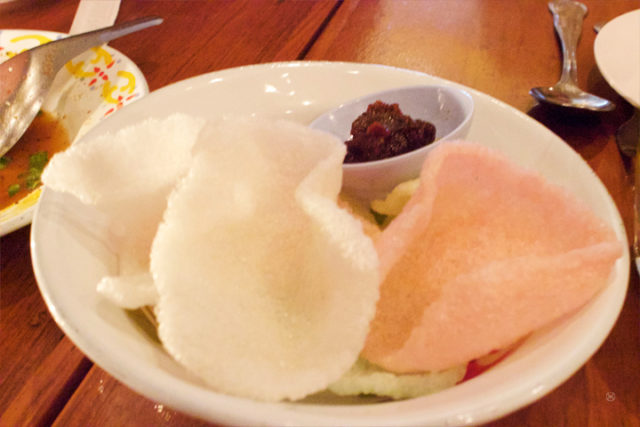 We are greet by a bowl of shrimp crackers and red chiles dipping sauce. Oh!!!! I love shrimp cracker!!! The best snacks!!! Go easy on the chiles sauce, spread it out. As they might choke you to tears… HOT!!!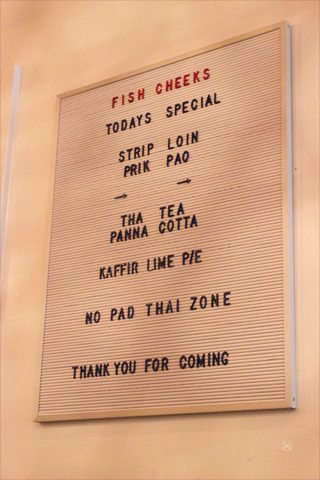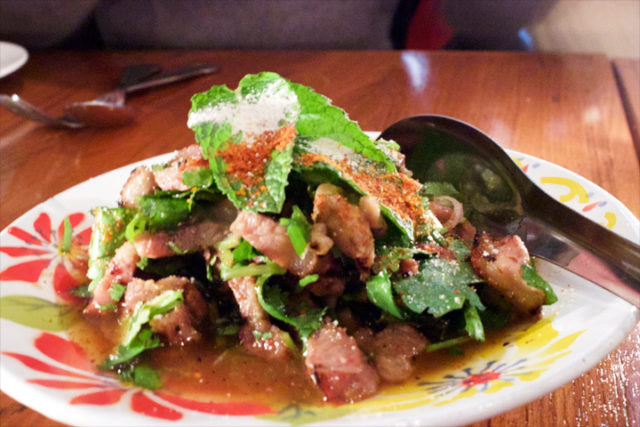 There is also a special menu. A little white broad hanging on the side, declaring "no Pad Thai zone". Only a couple items on special. We order the Prik Pao (strip Loin) off the special menu. The grill pork came with a bed of mint and cilantro in a pool of sauce. It is sweet and spicy. I wish the grill strip loin would have the same charred as Kor Moo Yang.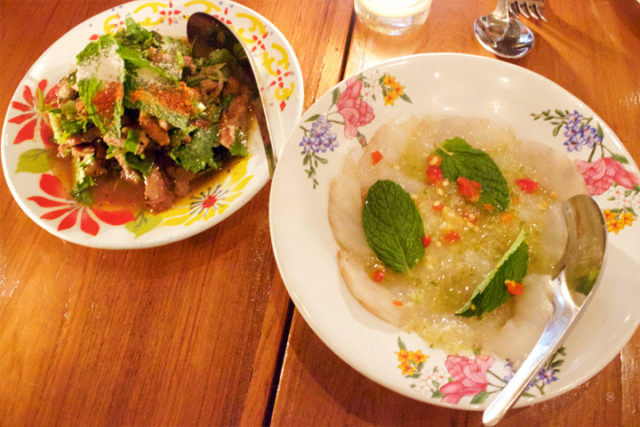 Then we moved on to the Shrimp in 3 crabs sauce (raw shrimp with lime juice, garlic, bird's eye chili & mint). Fresh is the keyword here. The heat level is rather mild. But the lime brighten my palette. And those shrimps are sweet!!! #YUM
I love carb, and I love coconut. I should love coconut crab curry. The plating of it is not very consistent, I did a quick search on Instagram. Some pictures has more crab than the others. Some has scallions on it, with a little swirl of coconut milk, but ours didn't. On this night we were there, it was just a pool of yellow sauce. It still tastes great, may be need a more heat.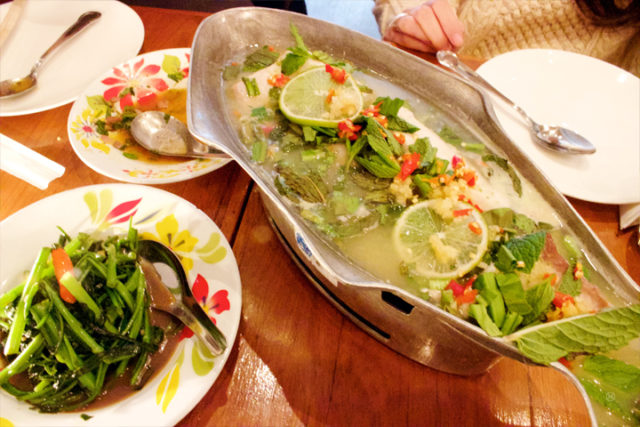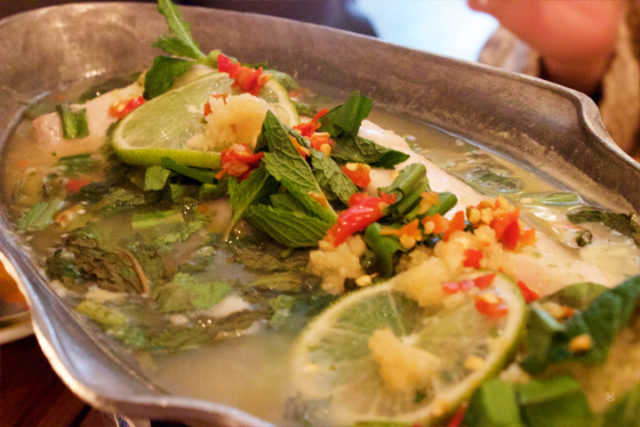 We also have the steam blue fish with Thai herbs with a side of watercress. The blue fish is serve on a fish sharpe pot with a little stove fire under to continue the bubbling. It disappointed me a little as it is a filet with no skin… i love steam fish, and skin is essential. It traps the fat and oil of the fish and make the fish even more silky. Especially for this version, as it continue the cooking with the bubbling broth, over time, the fish easily become overcooked. I actually prefer it doesn't come with the hot plate. The broth is a great mixture of nam jim sauce, rather mild, and there are fresh bird's-eye chiles sprinkled over the top. And be mindful of those little chiles, the carry great punches. One of us had a big bite, and immediately started tearing up. Luckily, Thai ice tea was there to rescue.
It is not mind blowing, just genuinely great Thai home cooking. We would definitely come back, and also wish there was mango sticky rice to end the night.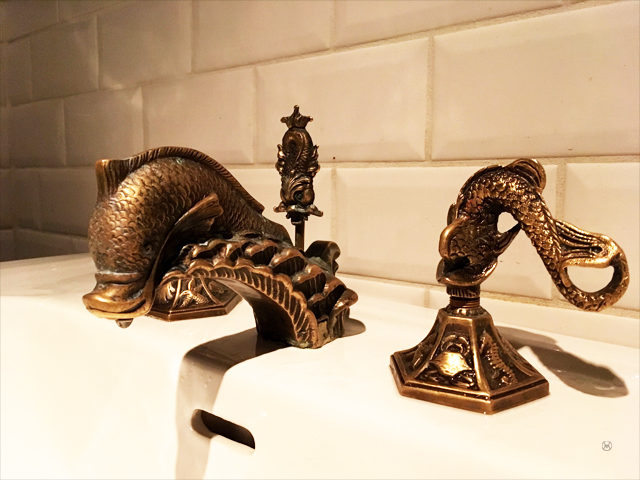 Fish Cheeks | 55 Bond St | December, 2017