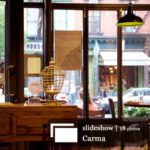 It was quiet on this side of west village. Barely any traffic on this particular late summer night. When we arrived at Carma, it was empty. We didn't get to sit in the patio, as it was booked for a private party, but it would be an awesome place to hold one. It is a rather interesting setting, the bar is all the way inside, and the dining room is divided by a load-bearing wall. Dimmed lighting bouncing off the brick walls, it is warm and cozy.
Happy hour till 10p, but our host got confused, and thought it ends at 7p. She did let us order more than 1 drink each at happy hour rate, then later on apologized for the mistake and the confusion continues.
So we each ordered 2 drinks each, but because some were available, and some weren't, there were a mixed up with what we ordered. It took a while to arrive, and cocktails are mostly a little too sweet. Petty regular stuff, they just substituted sparkling wine or champagne for Sake and call it a new cocktail. Unfortunately they were out of one of the sake, making 2 out of the 6 cocktails not available.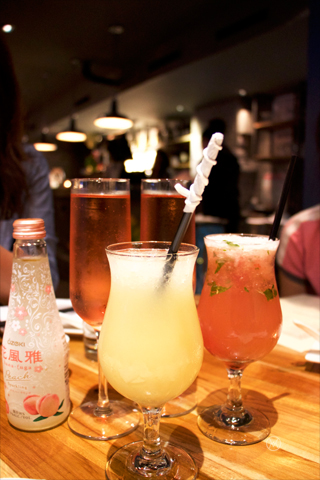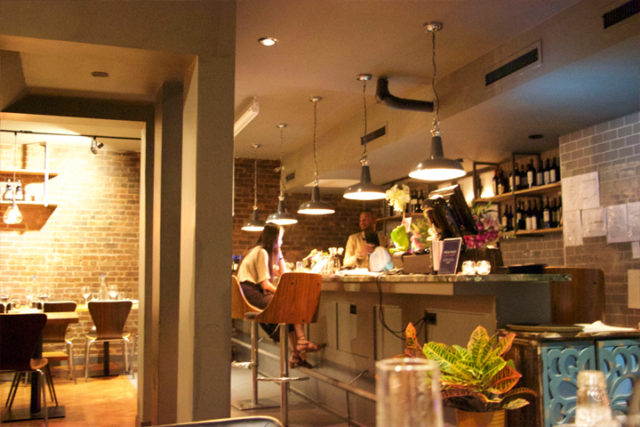 I was pretty excited to have the soup dumpling since the menu is supposedly created by Executive chef of Din Tai Fung. But creating the menu and actually overseeing the service is 2 different things. Din Tai Fung is famous of their Xiao Long bao (aka soup dumplings). It is legendary. The quality is highly monitored. The dumpling skin is almost paper thin but yet still able to hold all the goodies (including soup) inside. It has to be 18 folds, not 16, not 19, and every soup dumpling is the same quality and quantity balance of soup and meat. When it is done right, it is heavenly. Unfortunately, the success of Din Tai Fung in Asia did not transfer to here in the USA. Neither did the Din Tai Fung in LA or Carma here in NY succeed in replicating the technique. Perhaps we just don't have the same ingredients here. I remember Din Tai Fung did culinary expos here in NY years ago. Their chefs came from Taiwan and took over the kitchen in Flushing Sheraton and offered their famous Xiao Long Bao, but it just wasn't the same.
But as far as soup dumplings go, it is not bad. The dumpling skin is a little thick, and because the way they are folded, the tip of it is rather doughy, it is good enough to cue a little bit of our cravings. Although we really couldn't tell if there is actually foie gras in the higher priced dumplings.

The beef noodle soup was disappointing. We know this can be done here in the states, as good as in Taiwan. We had some very amazing beef noodle soup in LA, and somewhat notable one in NY, but this bowl just don't measure up. The soup was too watery. It helps sweeten a little with the radish, but still missing that thick, deep, complex flavor.
On the bright side, the wosum salad and the sautéed mushrooms were quite a surprise. Salad was amazing crisp. It is refreshing. The mushrooms are very crispy, almost deep fried like, but still juicy inside. The great mixture of salt and pepper makes it the best side dish to go with drinks. It was so good, we ordered 2.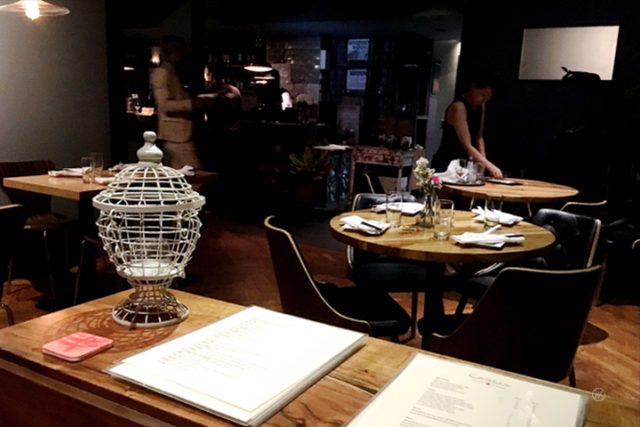 Carma | 38-40 Carmine St | August 2016