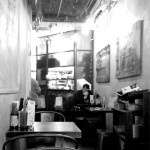 Because of the cold weather; because my friends been bombing me with Instagram photos; because, just because… I've been craving for a bowl of pho…
Imagine the goodies in the hot simmering broth. Sweet onions, soft tendon, moist homemade beef balls, tender brisket, meaty thinly sliced flank, oxtail…..
Awwww… Just thinking about it makes me drool. So on this cold afternoon, I travel to lower east side to get a taste of An Choi, a much revved about place in LES.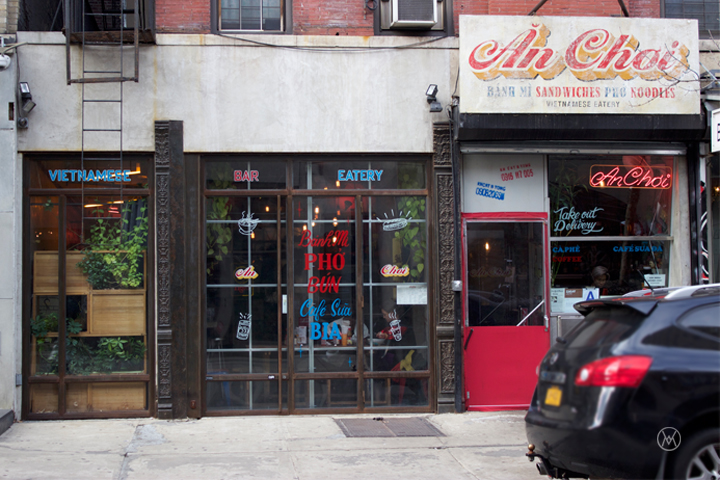 From outside looking in, it's tough to get a sense of what I am walking into. It is dim lighted. The darkness gave the place a mysterious vibe. Bare dry walls, pipes, and an immobile street cart in the front double as take out counter. Little table with little steel stools, the place reminds me of those noodle stalls or street hawkers in the alleys of Asia. Where it's dark, shady even dirty, but have unbelievable good food. I did spent a fair amount of my teen years squatting at those places. An choi seems to disguise itself as one of those places. Especially the bathroom. The red lighted room totally feels like those questionable back room, where graffiti and posters are on top of each other, you'd walk half way in, took a peek and walk back out. This however is a more coordinated effort and it do the trick. I applaud the effort, the place is cool…… The food….. Not so much….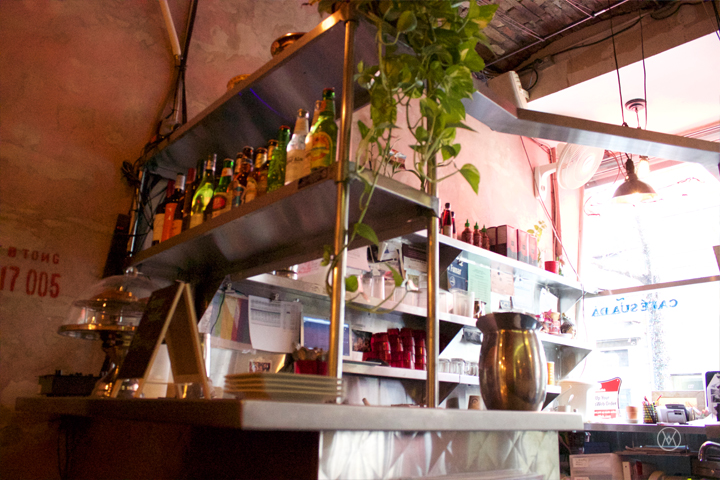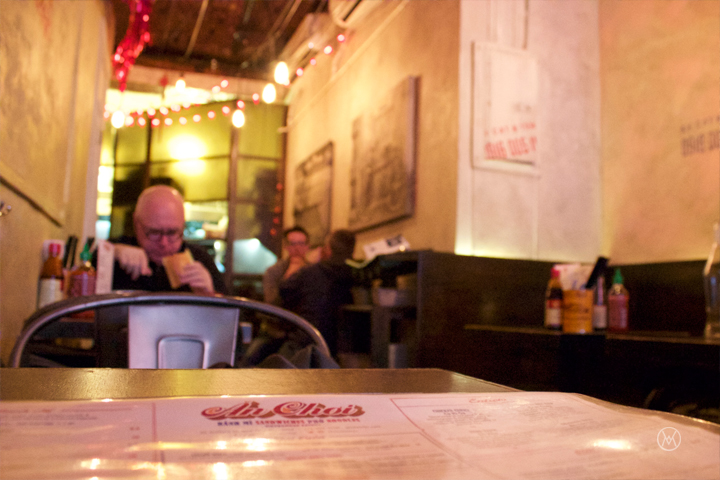 Price is about a dollar or two more than my "go-to" Viet place on Bowery street. I ordered the pork and crab spring roll, and the deluxe pho, the stable of any Vietnamese noodle place.
Spring rolls came in 3s, arrived just minutes after my order was taken. By the look of it, immediately I have my doubt. The color is not right. Too light, looks like they only took a dip in the oil and didn't swim long enough to get the color nor the crispy skin… And only a piece of lettuce? The roll itself…. Blend.. Without the fish sauce, absolutely tasteless ?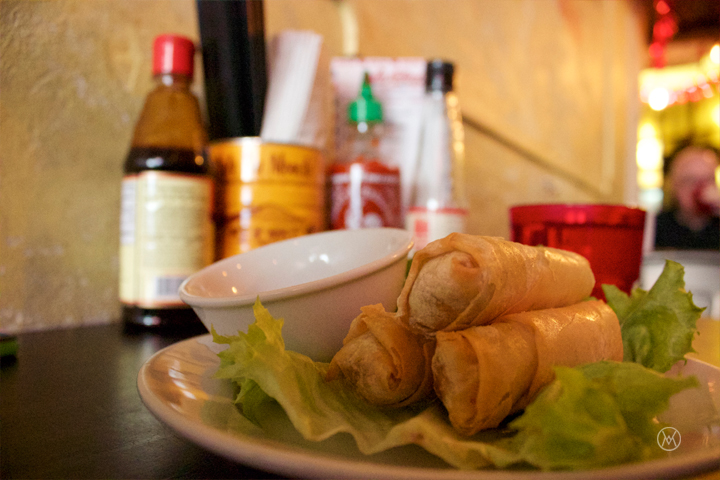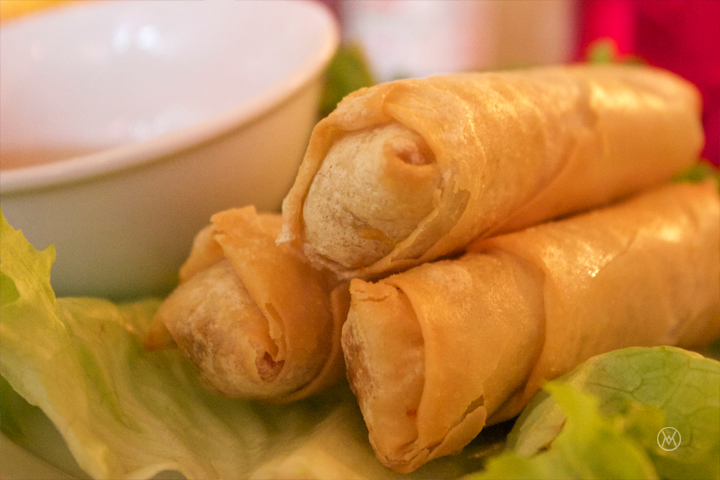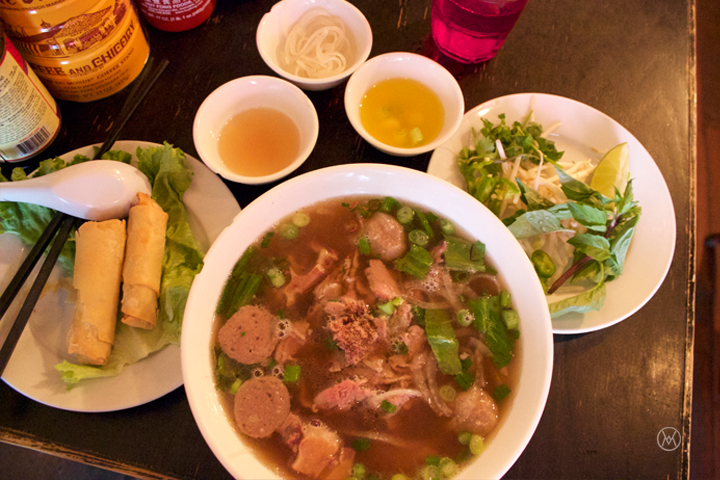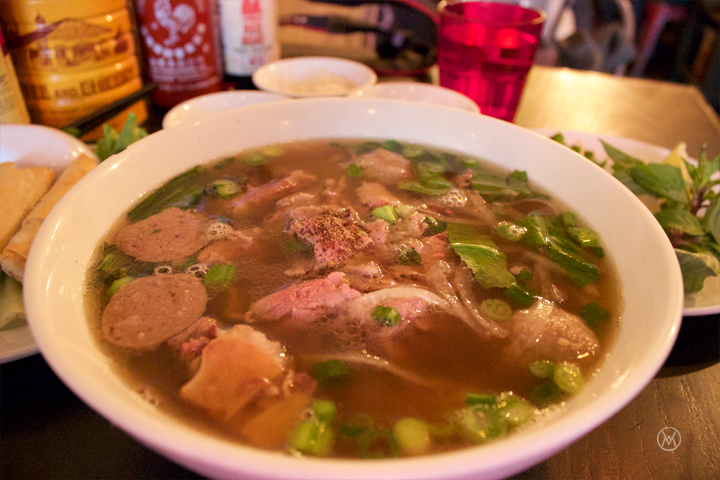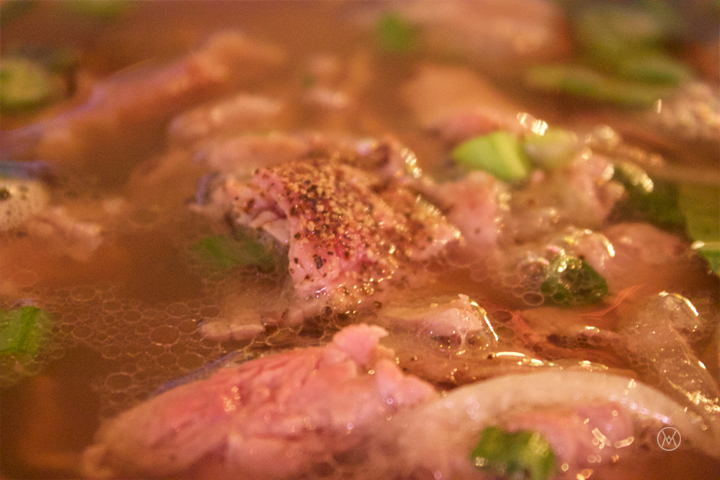 The pho landed the table not long after spring roll. It came with a separate bowl of pickled onions and the usual side plate of bean spout, pepper, basil and cilantro. The pickled raw onion was crazy good. A little sour, a little salty, and fresh, sweetness.
At first look, this deluxe pho looks great. Nice amount of thinly sliced flank, the broth is clear, and there's even oxtail in it…. But once the chopsticks sunk in… Mayday! Mayday! Houston, we have a problem. The rice noodle stickers together!!!!? why!?!?! This is a number one offence of any noodle dish!!!! Certainly should not happened to a hot bowl of pho…I can feel my heart tying up as I try to untangle the noodles. And because the noodles didn't get the cold water treatment, they are on top of each other and continue to cook. And some broke in pieces, some became mush. Ugh!!! At this point, I'm very annoyed. No matter how good this bowl will be, the crime has been committed. And the bowl wasn't nearly as good as I hope it to be. It's not rich enough To carry the noodle. Most place use tons of msg to make up for not enough time in slow simmering the broth. An choi seems to have hold back on msg, but time still need to be spend…. Although they have oxtail into the soup, which should add creaminess and enrich the broth, but the oxtail I had seems to have just been in the soup for less than 2 hours. What a shame… I'm speechless, disappointed…. ?

An Choi | 85 Orchard St | Jan, 2016